Decentralising free, nurse-based HIV/TB care & treatment at the primary health care level in rural Lesotho
2007 mid-year progress report
In January 2006, Doctors Without Borders/Médecins Sans Frontières (MSF) and the Ministry of Health and
Social Welfare (MOHSW) launched a joint pilot programme with Scott Hospital Health Service Area (HSA)
to provide HIV/AIDS care and treatment, including antiretroviral therapy (ART), at the primary health care
level.
Because of the saturation of existing hospital-based ART sites in the country at the time, the
overwhelming need for dedicated HIV services in Scott Hospital HSA, severe human resource shortages,
and geographic access constraints for patients, the goal from the outset was to decentralise all HIV care
and treatment activities rapidly to the health centre level and bring nurse-based care and treatment as
close as possible to those in need. The programme, known as SELIBENG SA TŠEPO ("Wellspring of Hope"),
is the first in Lesotho to achieve full decentralisation of HIV care and treatment throughout an entire HSA.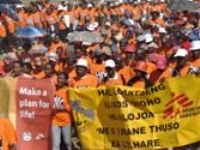 Decentralising free, nurse-based HIV/TB care & treatment at the primary health care level in rural Lesotho