Tens of thousands of people in northern Cameroon are in need of humanitarian aid after fleeing attacks by Boko Haram in neighbouring Nigeria. MSF teams are scaling up their assistance to the refugees and to local communities.
Between 100 and 200 refugees from Nigeria arrive each day in Minawao camp in north Cameroon, which is already sheltering some 45,000 Nigerians, according to official figures. Some 90,000 Cameroonians from the area bordering Nigeria have also been forced to flee their homes, as incursions and violent attacks by Boko Haram continue unabated.
"Boko Haram burned our house and took all our cows and belongings," says Samuel, 45, from Nigeria. "They kidnapped my wife and two of my children and held them in one of their jails. My wife managed to escape and is trying to join me in Minawao, but I don't have any news of my children. I don't even know if they are still alive."
Weeks or months after being forced to flee, many of the refugees and displaced people are extremely vulnerable, with insufficient food, shelter and access to medical care.
The poor living conditions pose additional health risks in a region often stricken by food insecurity, and where access to medical care is limited. As the rainy season sets in, MSF teams are seeing increasing numbers of patients with malaria. With people unable to plant or harvest crops after fleeing their homes, there has been a significant rise in admissions to MSF's nutrition programmes in recent months. The number of children treated at MSF's intensive therapeutic feeding centre in Mokolo has more than tripled since May.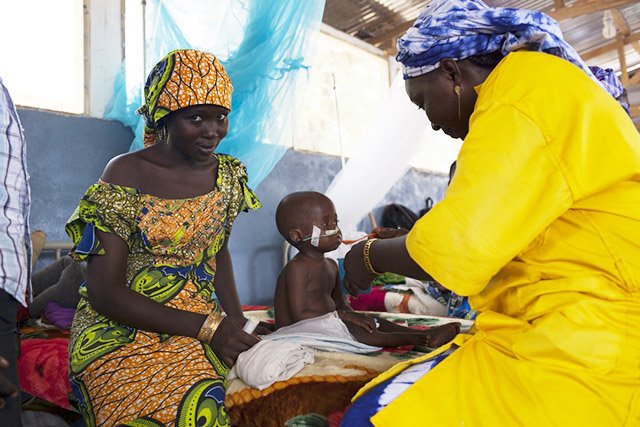 "The rise in admissions is a first warning sign," says MSF head of mission Hassan Maiyaki. "To respond to the increasing needs, we are reinforcing our capacity to treat malnourished children at the hospital in Mokolo, and we are also starting to offer intensive nutritional care at the hospital in Kousseri."
Cholera is endemic in Cameroon, with outbreaks occurring almost every year, but the refugees are particularly at risk due to overcrowding and limited access to clean water in Minawao camp. On 18 August, MSF teams began a month-long mass vaccination campaign to protect some 58,000 Nigerian refugees and Cameroonians living in and around Minawao against the waterborne disease, in collaboration with the Ministry of Health.
The teams will also vaccinate some 14,600 women of childbearing age against tetanus and will screen all children under the age of five for acute malnutrition.
Minawao camp is situated in a desert-like region where water is scarce. MSF currently provides some 55 percent of the camp's overall water supply by trucking water from the town of Mokolo, some 40 km away. Refugees in the camp currently have an average of 16 litres per person per day, but the constant arrival of refugees from Nigeria means that increasing quantities of water are needed.
 
---
MSF started working in Cameroon in 1984. In the north of the country, MSF teams currently provide basic healthcare, malnutrition treatment and mental health services in Minawao camp; paediatric care and intensive therapeutic feeding at Mokolo district hospital; and surgical support and nutritional and paediatric care at the regional hospital in Kousseri.
MSF also provided support to local health authorities to treat the wounded following two suicide bombings in Maroua in July 2015. In Batouri, eastern Cameroon, MSF provides malnutrition treatment for refugees from Central African Republic and the local population. MSF currently has 574 staff in Cameroon, both international and Cameroonian.
Find out more about MSF's work in Cameroon.