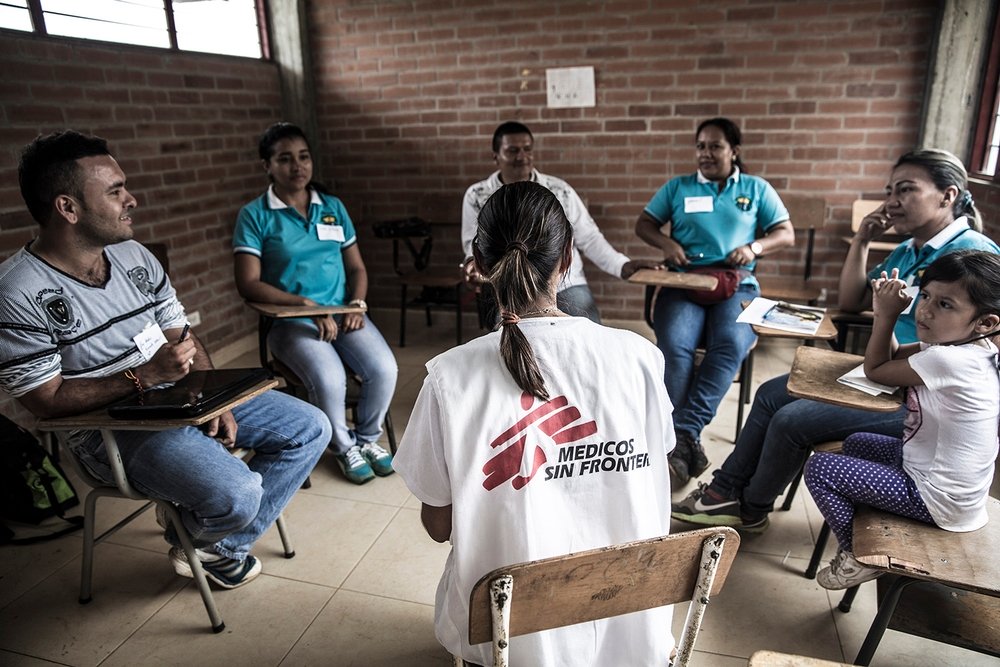 By Juliana Puerta, clinical psychologist, MSF program manager for Mental Health in Cauca Pacifico
 
Rafael is in his 40s, a man with a restless and disciplined spirit, who has experienced the conflict that as he says "thankfully has never touched me". He is referring to the fact that it has not left him with "visible wounds" as he calls them, but he has seen armed hostilities and combat first hand and has buried friends because of the violence, "innocent civilians" he says.
 
Rafael lives on his land with his wife, five children and grandson, in a village in the region of Alto Río Guapi, a territory made up of 10 villages inhabited by 638 families. 
There, on 21 May, Colombia's military forces began a military offensive against the FARC. "The planes, helicopters, bombs and blasts, they were things that people didn't know about over there. 
There was a lot of nervousness, there were people who could not cope with it, the children were crying too much, they didn't feel like eating, my daughter was one of the people who was greatly affected... I told them that while they were with us (daddy and mummy), nothing was going to happen."
On the morning of the third day of fighting, all the inhabitants of the village where Rafael lives (about 160 people) decided to leave their home. "No one stayed. The only thing you could bring was clothes. In the past we've had reasons to leave because of the violence, but we resisted; this time it was too strong, so we left."
On that day, people from other nearby villages began to leave too, amounting to 110 families (468 people), who arrived at the urban area of the municipality of Guapi in canoes, seeking humanitarian aid and the homes of relatives who would take them in.
"The subsidies are not enough, we don't have pots, a stove or buckets for collecting water. The food that is delivered isn't enough for large families", he says, as his eyes start to well up.
"Now the community is feeling better, we are very united and we all work together to make sure the aid is shared out among everyone.
Those who are arriving only now (from other villages who for various reasons were unable to leave earlier), they aren't doing well. I told them to go to see MSF so they can receive emotional support, so that they are not locked inside bad thoughts and can see good things too".
"We are even more concerned about those who are still there, who are unable to leave, frightened and hungry because they cannot earn a living."  Given the situation in the area, the productive activities of hunting, fishing, agriculture and artisanal mining have been suspended.
Rafael has healed 6 people suffering from espanto (a word meaning fright, used as a traditional name for acute post-traumatic reactions) through traditional medicine of African descent, and he will continue healing "all those who need it, because I learned this knowledge to help everyone".
Since its arrival in the urban area of Guapi, a team of psychologists from MSF has worked in coordination with state agencies and other NGOs who are present there to address the psychosocial needs of the populations. 
The team has provided training for identifying mental health warning signs and on Psychological First Aid to 24 people who are carrying out psychosocial and primary health care activities with the people affected.
It has also conducted group psychoeducation activities with 140 people from the affected communities (most of them have attended several sessions), in order to normalise the reactions, identify people who need individual, family or group clinical care, and revive and strengthen individual, family and community coping mechanisms, which have enabled them to cope with the situation.
The team has treated 23 children and 31 adults in clinical consultations who have demonstrated reactions that are expected in these cases: 55% for post-traumatic symptoms, 43% for other anxiety symptoms and 2% for depression-related symptoms.
 
While these are normal reactions to violent events, it is vital that the importance of providing early psychological care for these people is recognised, in order to promptly alleviate emotional pain and prevent the development of disorders like post-traumatic stress disorder, a condition that causes a huge amount of suffering and often becomes chronic.
The MSF Colombia mission is actively working to ensure that the psychological care service is a priority for the health authorities, especially in the areas where the armed conflict is taking place.
Find out more about MSF's work in Colombia.