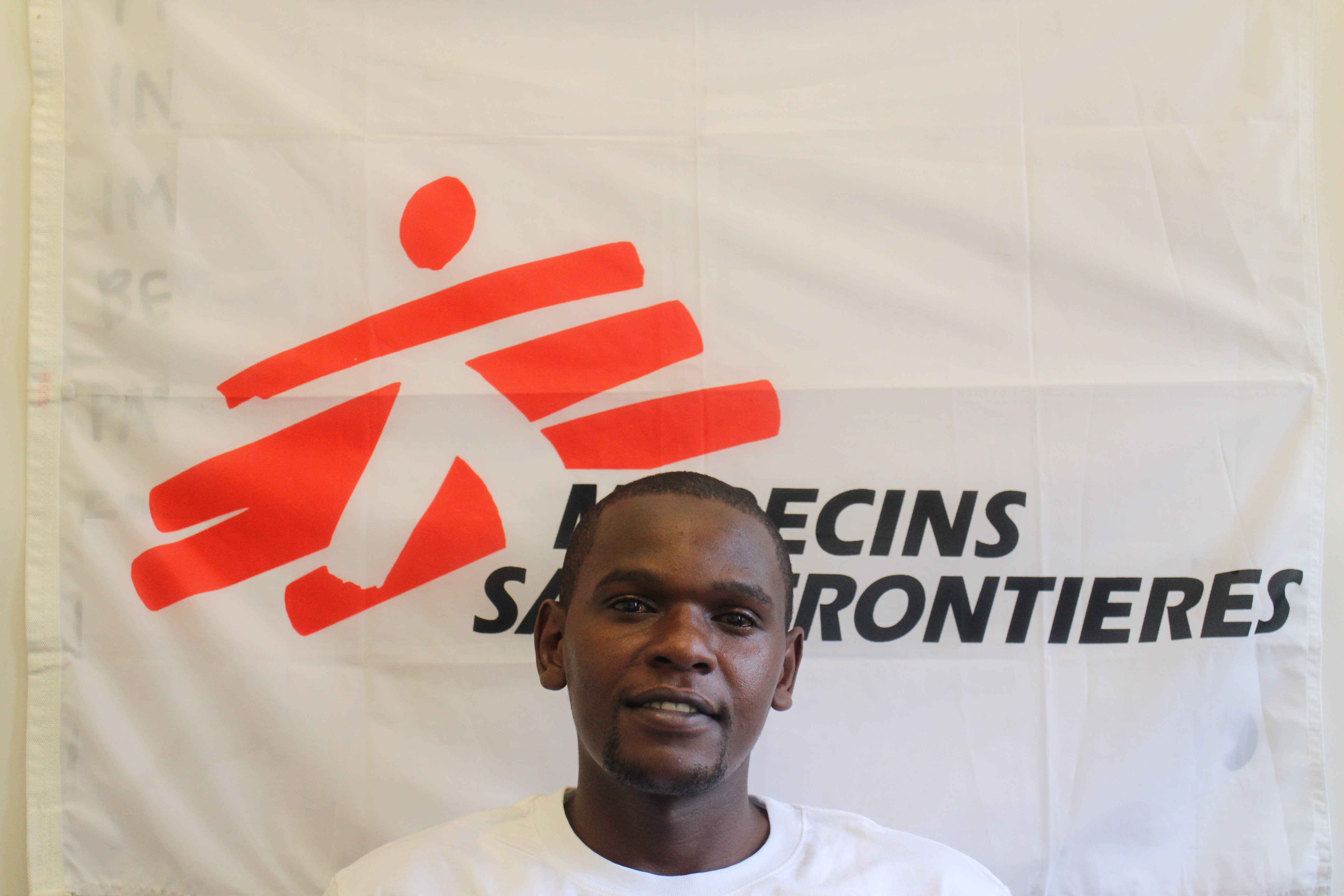 Simon Njoroge, 34, spent eight months in Juba, South Sudan for his first assignment between 9 January and 5 November 2015 where he worked as a Flying Technician and an Electrical & Biomedical Engineer. He joined MSF in November 2014.
Simon is a Logistician by profession. He has a qualification in Electrical Engineering and is a Fire and Safety Technician specialist. He was born in Kenya and grew up in Nakuru in Rift Valley.  After being offered another assignment to go to Afghanistan to work as a flying electrician, Simon says he is looking forward to going to Afghanistan.
 
 
What were some of your roles and responsibilities in South Sudan?
Ensuring the smooth running of the generators and all electrical gadgets in the 5 different MSF projects
Ensuring biomedical equipment were well maintained and up to MSF standards
To identify external technicians to help with complicated issues and needs
Flying to 5 different projects to attend to their needs, offer support and fix any complex electrical problems/ matters
Writing reports
Overseeing the team in the field and at MSF Co-ordination offices in Juba
Trained pharmacists, logisticians, doctors and nurses in the different projects so that when I was not available they could monitor the cold chain/freezer to ensure good temperatures are maintained on vaccines.
 Can you describe what a typical day was like for you?
It is difficult to describe what a typical day looked like because at times I would be called in the midst of the night or weekends to work when there were any emergencies at projects. However, under normal circumstances, I would wake up at 6am and work until 8pm from Monday to Sunday in most cases. Most of the times, I had to be always alert and make sure I am prepared to work because our main machine, the oxygen concentrator should always be maintained so if it gives lower or too much oxygen, patients can die. This means I had to be always in contact with the medical team to guide on amounts of oxygen to supply to patients on oxygen machines. Also, I had to make sure the compressor was working efficiently and that its outlets and filters were clean. If 10 babies were born probably at the same time or same day, we would not sleep because depending on their condition, most of them would require to be on oxygen machines, hence I had to give advice to the medical team on the quantities of oxygen to supply and had to monitor.
Also, vaccines and samples need a lot of attention which means I had to monitor the cold chain or the freezer three times a day to make sure the vaccines were not spoilt.
It also depended on which project I was visiting. There was no time to relax really.
 
What are some of the challenges you faced while in South Sudan?
Language
Weather – it is extremely hot and humid in South Sudan with temperatures reaching 45 degrees
Malaria – I suffered from malaria several times while I was there
Transport – during the rainy season it is inaccessible because the soil is very loose. It was difficult for us to reach some places, we could not use a normal vehicle, but experimented on power trucks or asked people to deliver drugs on foot.
Fighting – Although I did not witness much in terms of fighting, there was gun shooting one day for close to three hours very close to where we were, but we never knew what was happening. In the morning we received several patients. It was reported that 27 people died. We stayed in a safe house for two days.
 What was the hardest part of your job?
At times I had to work in the ceiling where electrical wires were mounted and it was extremely hot.
I was demotivated one day when after working on a concentrator and everything was working was told the following day the child died. It did not sit well with me. Although it was not my fault, I just felt bad that this child died on a machine I had worked on.
Some cultural practices were hard for me to believe or understand. The way they dispose of dead bodies leaves a lot to be desired. People are buried without caskets, they just dig a hole and wrap the bodies in plastics or blankets. The challenge comes when it rains if these people died from cholera for instance. The bodies are dug up and this exposes a lot of people to cholera.
 What was the best part of your job?
The South Sudanese community are great people, they have so much respect for other people. I felt I could walk high because they would appreciate the work we are doing there. Being appreciated made me see the importance of my contribution.
 
What motivated you to keep grounded?
Off course there are people who always motivated me like my line manager, Ebrahim and Job Nyaga a fellow MSF field worker and my fellow countryman who was also in South Sudan at the time. The two really supported and guided me a lot. However self-motivation comes first, a lot of people depended on my skills so it means I had to work extremely hard so my team could be motivated. Remember if the head is chopped off, then the rest of the body becomes helpless. I had to lead by example and be motivated all the time.
 
What was the most memorable moment for you during your assignment?
When we set up a cholera treatment centre, we had a lot of arguments with my team members, there were doubts if everything was going to work. I insisted on my suggestions, but almost everyone was doubtful. I was so excited and over the moon when we switched on everything and all was working perfectly well.
Another memorable moment was when I managed to restore an electrical system at one of the projects that had stopped working. I could not believe I managed to work on this system because it was my first time to work on it. Everything I did was experimental – but I had amazing results.
 
What did you achieve both personally and for MSF?
Both professionally and personally I learnt a lot of new things from culture to new electrical systems. As a result, I kept the electrical systems running smoothly in almost all the five projects. Although it was a tough challenge, I will always cherish the experience I gained from this assignment. This was worthwhile.
 
Why did you choose to work for MSF?
I got inspired to join MSF during the Ebola crisis. I looked at how MSF teams were working in the field and helping out and felt challenged to also be part of this awesome organisation. This is when I made an application to join MSF.
 
How supportive is your family of your career with MSF?
My family is supportive and now they understand why I decided to join MSF. In the early days when I had just left for South Sudan, my wife told me that my kids were very lonely. For the first three months, my daughter would wait at the gate for some time hoping to see me coming from work as always, but it never happened. My eight-year-old boy would get emotional in the evenings or when I spoke to them via Skype.
 
What are your plans going forward?
I have been offered another assignment in Afghanistan where I will be working as a flying electrician, so probably I will be leaving in January. It's really amazing and I am looking forward to it. For now, I will take a break and wait for my next assignment.
Find out more about MSF's work in South Sudan