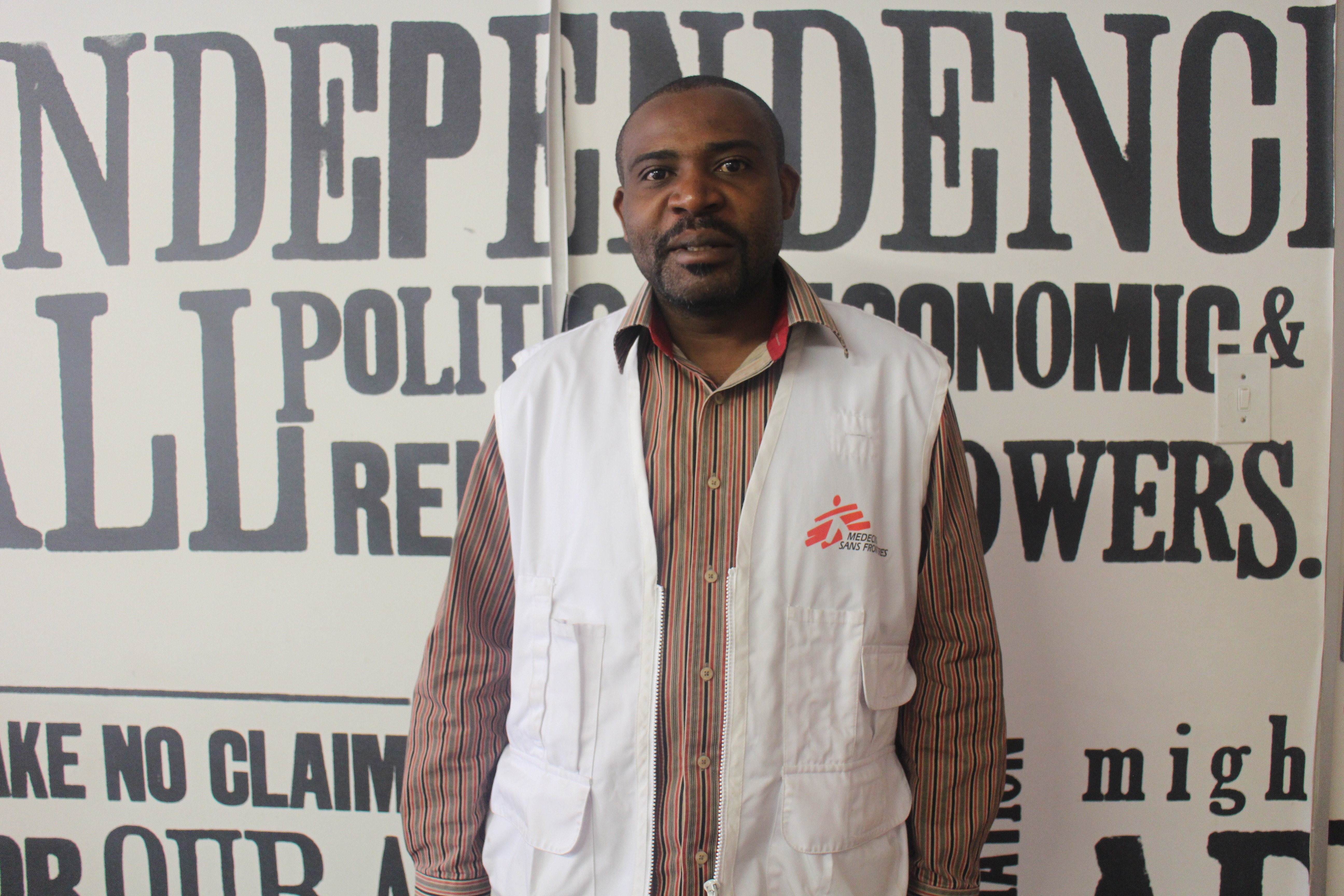 Adolphe Bakenga (38) has just arrived back from working as an anaesthetist doctor in Burundi for six months. He describes this second assignment with MSF – where he treated war-wounded patients - as very demanding, yet extremely rewarding.
In his first assignment, Adolphe worked in the Central African Republic (CAR) and put his skills to good use in the Castor Hospital, an MSF-run hospital providing maternal and child care along with support to survivors of sexual violence. Unfortunately, the conflict in CAR became so intense that he and other MSF staff evacuated the country. But after a short break Adolphe returned for another assignment, this time to strife-torn Burundi.   
Originally from the Democratic Republic of Congo (DRC), Adolphe lives in Rwanda with his wife and three children.  
 
Why did you choose to become an anaesthetist doctor?
I chose to specialise in this field as there is a shortage of anaesthetist doctors within the DRC, Rwanda and Burundi region.
What were your responsibilities while working in Burundi?
I worked in the MSF Arche Trauma Centre in Bujumbura, the capital of Burundi. This centre specifically focusses on treating victims of war with wounds from knife attacks, gun shots and grenades.  I treated patients who were undergoing operations, those in intensive care and children. I also supervised the anaesthetist nurses that I worked with.   
What were the challenges of carrying out your work? 
I worked day and night - I started work at 07:00 and then knocked off at 22h00. I even worked on weekends. The reason is that I was the only anaesthetist doctor in the centre working closely with five anaesthetist nurses and two surgeons. It is also the only trauma centre in the whole of Burundi which offers free services.
The surgeons would often stay for a short period and then leave. This meant I regularly had to inform newly appointed surgeons about the project which disturbed the rhythm of our work.
 
What was the most satisfying part of your job?
Saving many lives was very rewarding. I also really liked the team that I worked with, who were composed of both MSF and staff from the Burundi Ministry of Health. We worked well together, tried our best and were all prepared to put in extra effort. Our dedication motivated us all.  
 
What incident sticks out in your mind from your time in Burundi?
I'll never forget one night in November 2015 where there was intense fighting which lasted into the next day. All the medical professionals from MSF had to move into a safe room inside our house. It only had a small window in the corner and a strong, steel door.
When it was safer, we went to the trauma centre to assist the many people wounded in the violence. We slept in the hospital for three days because of the numerous roadblocks. 
 
What did you learn while you were in Burundi both personally and professionally?
I learned the true value of teamwork. Even if you're in a difficult situation, if your team is good and works closely together, the job will be done well.
I also realised that I have huge resilience as I could work in stressful situations for very long hours.   
 
You worked in CAR on your first assignment with MSF. What were some of the similarities and differences between working in the CAR and Burundi?
The major similarity is that these countries are both at war. However, the situation in CAR was far worse than it was in Burundi.
Differences were that in Burundi, I provided medical services to victims of conflict, while in the CAR I focussed on obstetric and neonatal care as well as treating survivors of sexual violence. Another difference was that in the CAR the workload was less than in Burundi.
 
 Why would you encourage other medical professionals to join MSF?  
Working for MSF gives you a totally different experience to your own country and everyday working life. Through MSF, you can save the lives of people facing very difficult circumstances – war, the consequences of natural disasters and more.
Some people may think that only Europeans and Americans can work for MSF, but Africans need to understand that they can also join the organisation.
 
What are your plans for the future?
I want to continue working for MSF throughout 2016. I then plan to study public health so that I can contribute to better organisation of the healthcare system in the DRC.
 
Find out more about MSF's work in Burundi