Laurent Seale, 29, a logistics supply coordinator from Cape Town, recently helped refugees and migrants in Serbia who made the perilous journey across the Mediterranean Sea seeking refuge in Europe.  MSF teams have been in Serbia since late 2014, responding to medical and psychological needs of people forced to flee violence in Afghanistan, Syria and Iraq during their transit route to other European countries.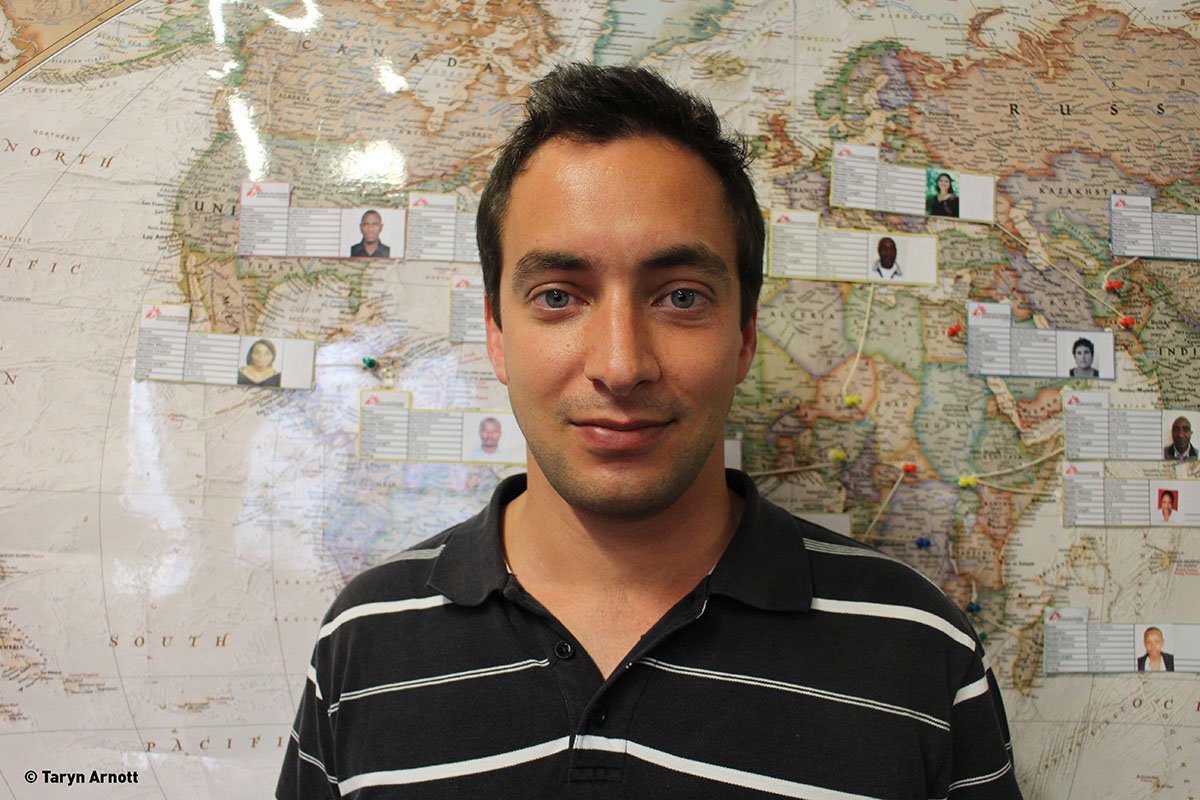 Over his seven months in Belgrade, Laurent managed a team responsible for accessing medicine and other items for migrants and asylum seekers.
Back in 2015 Laurent supervised the supply team at the biggest Ebola treatment centre in Monrovia, Liberia, for four months.  
Afterwards, he set off to Nepal to close projects after MSF completed assistance to survivors of the devastating earthquake.
When Laurent isn't hard at work on assignments around the world, he works at MSF's Operational Centre in Brussels, one of five operational centres that manage MSF's medical humanitarian programmes.  
What kind of work were you doing in Serbia as supply coordinator?
My main responsibility was ensuring that the supply team set up a stable project and focused on maintaining MSF policies and procedures. My supply team and I were responsible for accessing medicine and various non-food items such as clothes, energy bars, torches, soap, cooking pots, jackets and blankets for the refugees and migrants.
The medical team we supported provided them with mental health support and medical services. A large number of the people we helped suffered from respiratory tract infections and joint pain from walking long distances.  
We worked to make peoples' lives better and their onward journey to other countries easier. As Serbia was a transit point, people fleeing violence couldn't settle there but had to move on to other European countries where they would seek asylum. Many of them were trying to reach relatives in Germany and Sweden. 
Throughout 2015 up until May 2016, MSF teams provided 70,000 consultations through the project.  Unfortunately, the EU-Turkey deal will soon shut the project down. Under the deal, refugees are now expected to be sent back to Turkey if they don't apply for asylum or if their claim is rejected.
What did you find most satisfying about working there?   
It was great making a difference in people's lives. Without the dedication of MSF, people would have been stranded with no support. I also really loved the Serbian people who are fantastic; they are very warm, open and friendly. I was sad to leave when my assignment ended.
What memories are will remain with you?
On the road close to the border with Serbia and Macedonia, I saw wheelchair tracks in the mud which is something I'll never forget. That heart-breaking image reminded me that old, desperate people were crossing the border in wheelchairs in the dark and extreme cold.
MSF teams also placed wooden freight pallets over a swamp to help people to cross it. I remember children's shoes stuck in the pallets which was really sad. It highlighted the long, hard journey people were travelling in search of a better life for themselves and their children.
What lessons did you learn?
I learned that micro-managing staff isn't always necessary to maintain high standards of work. Activities can run fantastically well when people are responsible and given autonomy to do their work. I also became very aware of how lucky we are in South Africa as we don't have to deal with civil war or such extreme temperatures.
What difficulties did you face?
The temperatures were freezing – between -5⁰C and -10⁰C! Walking in the snow was also tough as I had never done that before. But being in snow for the first time was also lots of fun!  
What keeps you motivated to work with MSF?
On MSF assignments, I have the opportunity to make a difference in peoples' lives during difficult circumstances, while meeting really special people which gives me great personal pleasure.
Find out more about MSF's work in Serbia