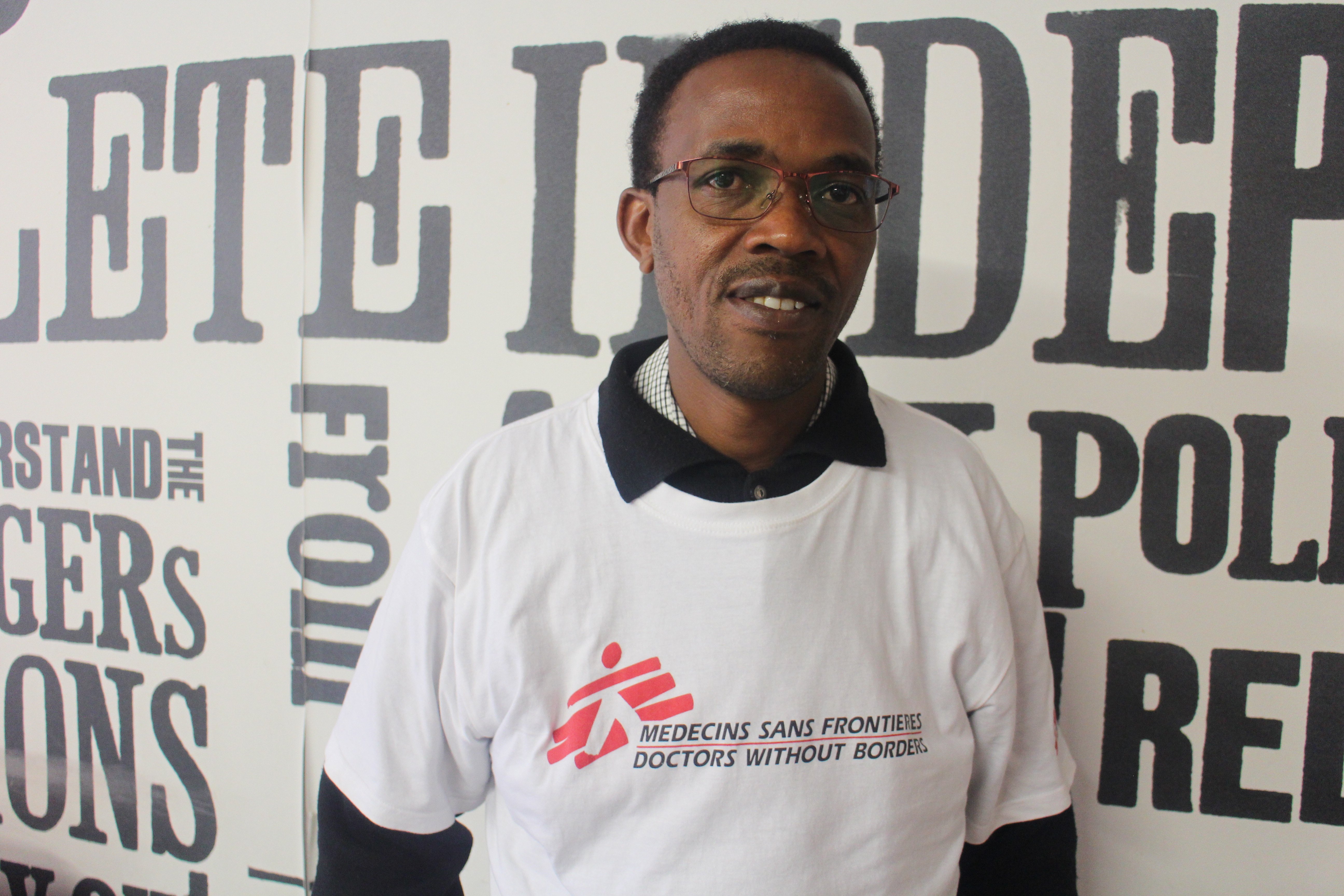 Gabriel Makau, 46, has just returned from working as a surgical nurse in Yemen, an active war zone. In this assignment, his second with MSF, he provided life-saving medical care in various parts of the country, including Taiz, a besieged city of over 615,000 people.
 
Amid the sound of gunfire, shelling, snipers and tanks, Gabriel and his colleagues treated people who required emergency and trauma care. He played a major role in getting a trauma centre up and running in just 16 days.  Prior to working in Yemen, Gabriel worked with MSF in Papua New Guinea (PNG) in the South Pacific, where people suffer under extremely high rates of interpersonal and family violence.
 
Born in Kenya, MSF has strengthened Gabriel's belief in the importance of helping people in distress regardless of their nationality, language, religion or culture. He's in MSF to stay and is not going anywhere else.
 
Why did you join MSF?
I chose to work for MSF because I wanted to be part of a successful team impacting positively on healthcare for populations in need. MSF's logistics and ability to get things moving so people in need can access healthcare quickly is incredibly amazing. In a crisis, it takes not more than 48 hours to get medical services to people on the ground.  MSF is organised and puts the necessary resources and systems in place to enable us to get on with our work without delays. 
 
What work were you doing in Yemen?
I worked in various parts of Yemen over a period of six months. I was a Project Nurse in the MSF mother and child hospital in Taiz, which provides services to women and children under 10. My job involved setting up an operating room to perform caesarean sections and other gynaecological procedures. 
 
I also worked at the MSF-supported Al Nasser General Hospital in Ad Dhale, an active war zone. My role was to help make recommendations for the improvement of services in the emergency room, operating room, inpatient department, ICU and the waste zone. I also carried out the same work in Al Salaam hospital in Qataba, a nearby town.
 
From there, I went to Al Houban district, an area on the outskirts of Taiz - the third largest city in Yemen - which was undergoing a very intense part of the conflict. Taiz wasn't easily accessible and to get medical supplies in, the MSF project coordinator or medical team leader had to negotiate with militia on the frontline. In six months, the militia only allowed MSF to bring supplies into Taiz three times.
 
In response, MSF identified Al Resalah hospital, just outside Taiz city, to provide free emergency services such as caesarean sections and treating the war-wounded and car crash survivors. I was in charge of supervising all of the hospital's activities. 
 
As some challenges hindered us from continuing our work there, the medical team leader and I established a fully-funded MSF trauma centre in an abandoned building nearby. This was my biggest achievement while in Yemen, especially as we set it up in just over 14 days! 
I also set up the paediatric department at the mother and child hospital near Taiz.
 
What did you find most satisfying about your work in Yemen?
I really liked being part of a team that was caring for people in desperate need. People could call us at any time of the day or night and we were ready for them. 
 
What was it like working in an active war zone?
I wasn't far from the frontline while working on the outskirts of Taiz, so I heard the sound of shelling day in and day out. I got used to the intense fighting; the shooting and bombing. In fact, I worried that I was getting too used to it so wouldn't react quickly enough when things became really life-threatening.
 
MSF provided us with strict security regulations to reduce our risk of getting hurt. We couldn't walk around freely and our lives centred on work and home. In a war zone, you give up your freedom to save lives. Danger was always there. Anything can happen in a war situation; the unexpected can always become a reality even if all precautions have been put in place.
 
Which incident sticks out most in your mind?
I'll never forget people rushing into the hospital carrying a man with a bullet lodged in his head. They were so hopeful that we could save him, but it was too late. Some of the injuries I treated, which people suffered because of the war, are also hard to erase from my mind.
 
How did your family react when you told them you were going to work in Yemen?
At first, my wife didn't object to me working there, but as she realised the intensity of the conflict she and my children wanted me to come home.  They always had endless questions about my safety and whether I was OK. I regularly communicated with them through social media to reassure them.
 
The MSF project coordinator made sure we could always phone our families to tell them we were fine after stories of heavy fighting appeared in the media. Eventually, family pressures meant that I had to leave Yemen after six months and not nine as I had originally intended.
---
In the wake of a spate of attacks on health facilities in several countries – including Afghanistan, Syria, the Central African Republic, South Sudan, Sudan, Syria, Ukraine and Yemen –  MSF has launched a social media campaign using the hashtag #NotATarget. Use this hashtag to support our call to protect hospitals, patients and medical personnel because hospitals are not a target.
 
Find out more about MSF's work in Yemen