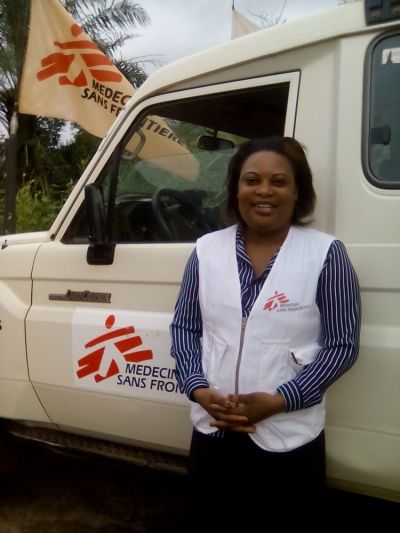 Diagnosing HIV and providing care to sufferers living in isolated areas is never easy. It is even less so when a war is raging and health structures are crumbling. Doctors Without Borders (MSF) launched the pioneering "test and treat" project in Yambio, South Sudan, over a year ago. Its aim is to screen isolated rural communities for the virus and then supply drugs to those found to be HIV positive. Hazel Mutinta Milimo, the health promotion activity manager in Yambio, talks about the project:
Yambio is in the Western Equatoria province of South Sudan, which borders the Central African Republic (CAR) and the Democratic Republic of Congo (DRC). Historically it was a peaceful area, but in 2015 fighting erupted between government forces and local armed groups. That escalation of fighting saw many people seeking shelter in rural areas outside their towns and villages, in small holdings known as 'shambas'.
One of the main reasons MSF works in Yambio is because of the significant presence of a rural population without access to HIV treatment. South Sudan's collapsing health service is unable to reach some of the more inaccessible places near Yambio. Western Equatoria also neighbours the DRC and CAR, countries with much higher prevalence of HIV. As HIV does not respect man-made borders, infection can pass to our zone of operation easily.
We wanted to see if diagnosing HIV and treating it at community level could be an effective way of addressing transmission of infection and extending life in unstable areas with a poor health network. If successful, this model can be used in other parts of Africa.
In the field, our teams come together to decide on pre-planned routes for the weeks ahead. It is really important that the local community knows when we are coming. The information education and communication (IEC) team will pass through the designated villages and meet with the elders. Together they will agree on when a mobile team should make a visit and how to get word out to the villagers. 
When one of our five teams arrives in a village, community health workers will pass through and announce our arrival with megaphone. People are generally happy to be screened. The very best days to visit are market days, which are generally on Saturdays or Sundays, when the local farmers come out of the bush to sell their produce. We can see up to 70 cases on these days.
Accessing isolated communities
The road network in this area is bad and getting to the more isolated communities is complicated. During the rainy season, tracks wash away or turn to mud so progress can be difficult if not impossible. Another major problem was the outbreak of war in 2015. While we were still able to reach some communities, others just disappeared and we could not track their whereabouts.
When clashes erupted in the town of Birisi, most of the population fled into the forest near the DRC border. For a period of one year, from July 2015, we had little or no contact with the villagers. We were very anxious as many people who were HIV-positive were not getting the lifesaving antiretroviral drugs (ARVs) they needed.
The isolation of these communities can also cause problems. If an area is inaccessible, a community health worker from the villages will come out to meet us and take back several weeks of supplies for the patients in his or her area. This is one way we can guarantee the supply. The project also has a contingency plan. Our patients are provided with two months' medical supply when access is blocked. This really helped when the fighting was bad.
While it is still early days for the project, so far we have tested 10,433 people. Of these, 417 were found to be HIV-positive and 323 are getting treatment. This proves that we are able to screen large segments of even the most isolated communities and they are able to receive treatment. 
When the trial period comes to an end, we will help the South Sudanese Ministry of Health to take over parts of the project and, especially, HIV care for the patients we currently provide with ARVs. 
The lessons learned from the project should have great relevance for those who are HIV-positive and living in a rural setting.
Find out more about MSF's work in South Sudan.