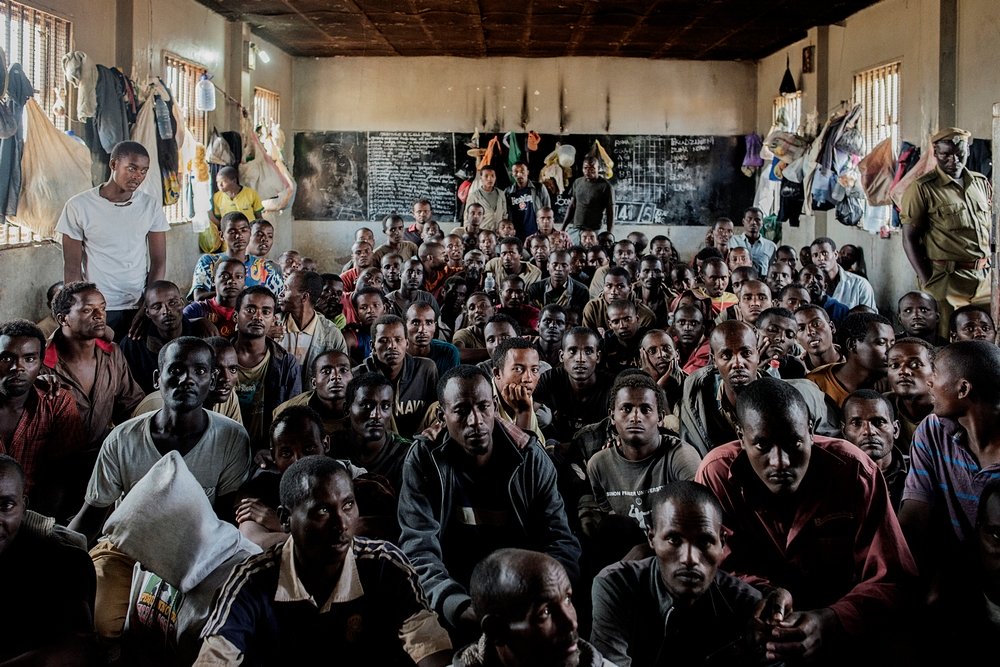 Testimonies from Ethiopian migrants in Maula Prison
As of July 21st, there were 270 foreigners in Maula Central Prison in Malawi's capital Lilongwe, including 232 Ethiopians incarcerated as illegal migrants. They say they were on their way to South Africa in search of opportunities for work.
In Maula– built to accommodate 800 inmates but housing 2,400 – detainees face poor conditions, including food shortages, poor hygiene, and overcrowding. Despite many of these detainees already completing their three-month sentences, they are still in prison.
Many lack financial support as they do not have any relatives or friends near the prison, or even in the country. Ethiopian migrants are also being detained in other prisons in the country, including a further 63 migrants in Nchisi prison and 32 in Dedza. MSF runs a prison clinic in Maula treating detainees for conditions such as malnutrition.

Malawi's harshest prison: "Now in prison we are not human anymore"
Maula Central Prison, Lilongwe, Malawi. June 2015
Abebe Aleme, 41, is an Ethiopian from Addis Ababa. He left Ethiopia for South Africa to look for a job, but was arrested en route in Malawi for illegal entry.
"Many Ethiopians are in South Africa. This is why we go there. We don't have enough to live in our country. In South Africa, if I work for a few years, I can buy a house. In Ethiopia, even if you work for twenty years, you can't buy anything. This is why we leave."
"Where we come from is extremely poor and we don't have money to get a plane ticket. We had to walk. Now in prison, we are not human anymore. We've lost everything. We sleep on the cement. We have pain in the morning. The food is bad, too bad. No soap. We pray every day to be free soon. But even if we come back to their country, what can we do? Many of us cannot work anymore. Many are sick, blind, and too weak to do any kind of work."
 
Not enough food and continuous drought 
Maula Central Prison, Lilongwe, Malawi. June 2015
Tasfaya Lanago, 18, left Ethiopia due to economic hardships and arrived in Malawi in December 2014. In Malawi, he was arrested for illegal entry and sentenced to six months at Maula. He was supposed to finish his sentence in July 2015.
"Hosana in Ethiopia, where I come from, is a farming area. I have a large family and the little income we have from my father is not enough for us. Faced with little food and continuous drought, I decided to leave. I worked in South Sudan for two years, moving around, and doing whatever I could. I farmed, worked in small shops and transported goods. But South Sudan is unstable, at war, and the people there did not want us to stay."
"After that, I went to Uganda, and then to Kenya. But I wanted to go to South Africa, because there I can work and make real money. When I arrived in Malawi I was detained. At first I stayed in Dzaleka Camp (a UNHCR-managed refugee camp in Malawi). But when I left I was detained again and the police brought me to the Police Station."
"Then, I was taken to Maula. After a month I was still not taken to court. Here in Maula, immigration officials say, 'You will be repatriated! Tomorrow, tomorrow…!' But it's been months – nine months, I think., I wouldn't do it again. If I could, I would just stay in Ethiopia. This prison is terrible. We don't have food, clothes, or soap. We are dying. I thought Africans were all brothers."
Looking for greener pastures
​Chichiri Prison, Blantyre, Malawi. June 2015
Emmanne Shahah, 30, is a student from Durame, Ethiopia. He left Ethiopia for South Africa to look for greener pastures but ended up arrested and imprisoned in Malawi due to illegal entry.
"Most of the people in my hometown of Durame try to make a living from agriculture, but there is not enough land for everyone. There is an economic crisis in my country. My father doesn't have enough land for my large family, or for my brothers to study." 
"We heard South Africa is a place where we can improve our lives and find jobs. We arranged to have someone in South Africa meet us. On the trip, I became very tired and I decided to stop in Dzaleka in Malawi for some time. That's when I was detained. When I'm released, I'm going back to to stay in Ethiopia."
Facing hardships en route to South Africa
Maula Central Prison, Lilongwe, Malawi. June 2015
Tamsgen Bakele, 18, left Ethiopia for South Africa in October 2014 to escape poor economic conditions and search for a job to help his family in Addis Ababa. He is one of the few Muslim Ethiopians in Maula. He planned to go to South Africa to look for a better job. His passport and money were stolen en route, but he continued his journey. In Mzuzu, Malawi's capital, Malawian Police arrested him for illegal immigration.
 
"My family does not produce enough food because we are poor. I've asked to be repatriated to Ethiopia. The journey to South Africa is too dangerous – especially without legal papers and money. I fear for my life. Without money or the support of family that can bring proper food, I risk malnutrition. My sentence ended in May, but I am still here. I want to go back home – I have faced too many hardships on my journey to South Africa."
Food crisis and harsh economic conditions
Maula Central Prison, Lilongwe, Malawi. June 2015
Zayine Dana, 27, left Ethiopia for South Africa due to a food crisis and harsh economic conditions. His friends in South Africa sent him transport money.  He left Ethiopia by bus and went through Kenya, Tanzania and then to Malawi. 
In Malawi he was arrested because he had a passport that only enables travel to Kenya and not beyond. Upon arrest, he was sent to Dzaleka Refugee Camp.  In court he was sentenced to nine months imprisonment for illegal entry and sent to Maula. His sentence was meant to end in June 2015, but he has not been released – like many others with him.
 
Find out more about MSF's work in Malawi.