Current projects
Kananga (Kasai Central): MSF has been supporting Kananga Provincial Reference Hospital (HPRK) since May 2017, with surgical activities for violent trauma, medical and psychological care for victims of sexual violence and psychological support for people traumatised by the conflict.
At present, 76 MSF staff are working to provide free, quality care to patients in these specific categories.
After completely rehabilitating the hospital's surgical wing, including a new extension that can accommodate up to 72 patients, MSF teams performed 1,502 emergency medical consultations, hospitalised 430 patients and performed 1,624 surgical operations between May and December 2017.
The most common injuries were firearm and stab wounds, with a gradual reduction in the number of victims of conflict-related violence.
This prompted MSF to redirect the medical services it provided to Kananga Hospital, and to focus more on victims of sexual violence, while maintaining an emergency response plan to be reactivated when needed, in case of a sudden influx of violent trauma cases.
Since the beginning of 2018, persistent pockets of tension in the area and the resultant movements of civilians, who struggle to access medical care, have led MSF to re-engage in the provision of surgery and inpatient care for victims of violent trauma since September.
This includes providing postoperative bandaging and follow-up, and mental support when needed.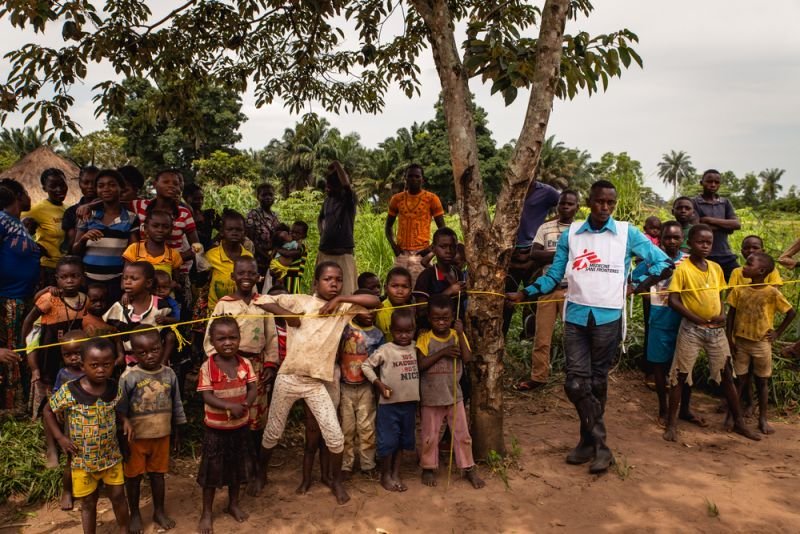 Tshikula (Kasai Central): In early October 2018, MSF launched an intervention to support Tshikula General Referral Hospital and six health centres in the area.
The population is estimated at more than 140,000 people, and the local health structures have been strongly affected by violent clashes.
In the coming months, a team of almost 60 people will support nutrition, maternal healthcare and paediatric activities, as well as mental health services and medico-surgical emergency management, providing the population with free access to healthcare.
A referral system will also be established so that patients requiring emergency intervention can benefit from the surgical care available in Kananga.
MSF aims to contribute to the sustainability of access to healthcare in the area by rehabilitating the six health centres it supports.
Closed projects
Tshibala (Kasai Central): During the violent clashes that swept the province of Kasai Central, the Tshibala health zone – which has around 266,000 inhabitants – was one of the epicentres of the violence. A lot of lives were lost and significant numbers were displaced.
After an exploratory mission in September 2017 to assess the needs in this area, which revealed worrying rates of malnutrition,[i] MSF started activities in December 2017 to provide care for severely acutely malnourished children under five years old.
MSF teams launched a total of 12 ambulatory therapeutic nutritional centres (CNTA) for severe malnutrition cases without need of hospitalisation, and a 40-bed inpatient therapeutic nutritional (CNTH) centre for children requiring hospitalisation.
Between December 2017 and September 2018, 2,248 patients received outpatient care[ii] and 437 were hospitalised to treat malnutrition and other diseases that often affect children in distress, such as severe anaemia and respiratory infections.
In addition to medical care, health promotion activities in local communities were carried out throughout the project to encourage families to refer children with signs of malnutrition in the shortest possible time, and then to follow up at home, to avoid cases of abandonment.
Tshibala activities ended on 21 September 2018 as a result of both a decrease in the number of patients, and field teams have then focused their efforts fully in Kananga.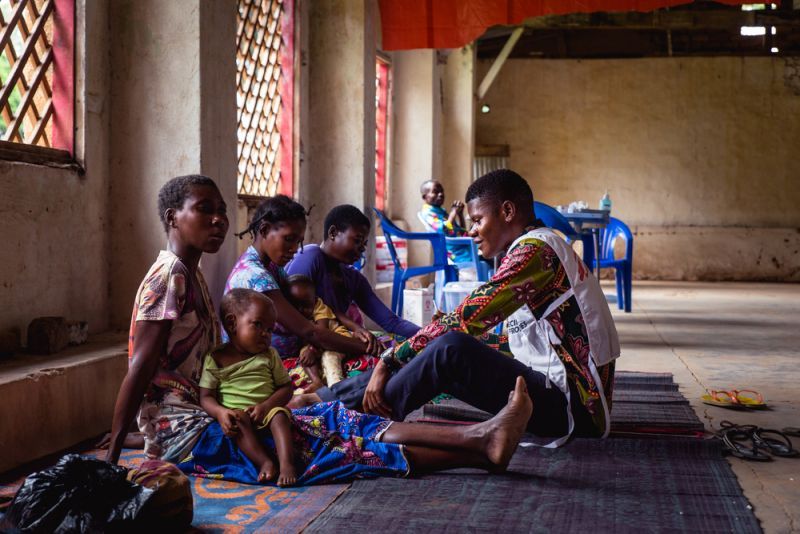 Kakenge (Kasai): MSF supported the complete resumption of medical activities at Kakenge Reference General Hospital and a network of 14 health centres in the region after a spike in violence and resultant displacement earlier this year.
After three months, the situation improved and MSF handed over the project to the Congolese Ministry of Health and other organisations.
Between the beginning of April and the end of June, MSF teams carried out more than 20,000 medical consultations, hospitalised 600 patients and treated at least 842 children, mainly for malaria, respiratory tract infections, diarrhoea and malnutrition.
Tshikapa (Kasai): Between June 2017 and April 2018, MSF conducted an intervention in Tshikapa and surrounding rural areas to assist the population affected by the conflict.
MSF supported a hospital and three health centres in Tshikapa, and gradually expanded its operations to the periphery, where gaps in the provision of humanitarian aid were very significant and the population was more affected by the violence.
MSF donated medical and logistical equipment and trained staff from local health centres that had been looted, burnt or destroyed during the violence.
MSF teams treated at least 245 victims of sexual violence, conducted more than 500 mental health consultations and performed nearly 450 surgeries and more than 9,700 paediatric visits.
The organisation also set up 18 nutritional centres and treated 5,755 under-fives with severe malnutrition. In early 2018, the arrival of other humanitarian organisations allowed MSF to gradually hand over these activities and focus on other emergencies in the region.
---