What is the situation like in northeast Syria at the moment?
After a period of fighting, the situation in the governorates of Raqqa, Hassakeh and Deir ez-Zor is relatively calm now. However, people are far from being safe. Many of those who fled that region in the past years are now returning home to find their villages and houses littered with remnants of war and booby traps.
To make things worse, and particularly in Deir ez-Zor, many hospitals and clinics are damaged or abandoned. So for someone affected by such an explosion in Deir ez-Zor govenrorate, the nearest free of charge hospital – the one MSF supports in Hassakeh - can be up to 6 hours ahead.
Who put these explosives there?
This is not something that we have asked our patients, or that they have shared with us. It is known that parts of this region were under the control of the Islamic State group (IS) at a certain point. Then other armed actors became involved.
The main point for MSF is that civilians returning home after fleeing violence for long periods of time are still getting killed or severely injured. This is happening at a time when these people thought their suffering has finally ended, and they were returning to the safety and security of their own homes. Only to be met with indiscriminate killing devices put there to inflict on them as much misery as possible.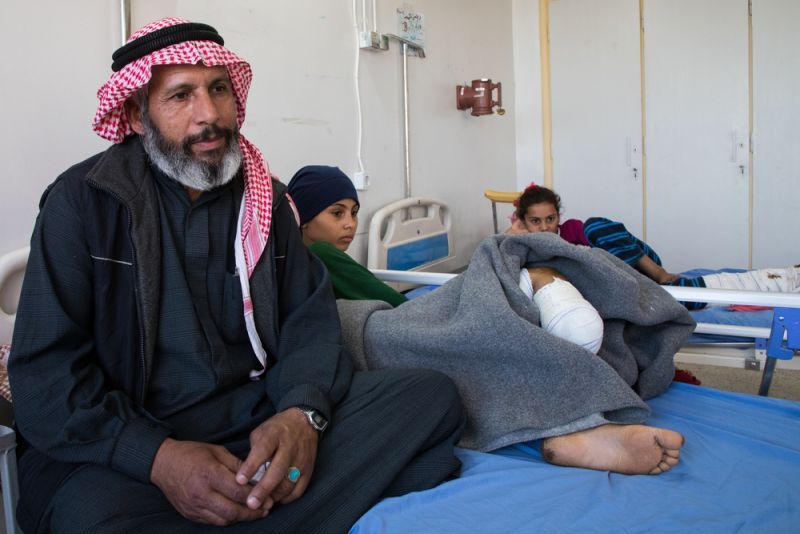 What kind of devices are we talking about?
There are several reports from patients and other organizations that explosive remnants of war, landmines and booby traps are planted or left in fields, along roads, on roofs of houses, and under staircases. Also, household items like teapots, pillows, cooking pots, toys, air-conditioning machines, and refrigerators are said to be rigged to explode upon first use, or when touched.
Is this similar to the situation in Raqqa? Or Are there differences within the northeast region?
Remnants of war and booby traps are also an issue in Raqqa, and in Hassakeh, for those returning there after the fighting subsided. But Deir ez-Zor  governorate generated a large number of displaced people, nearly 255,000, in 2017.
In parallel, many of the governorate's health facilities are still destroyed or abandoned, and demining actors are restricted by their limited resources, and other security and administrative constraints. So they are and unable to clear all areas.
With more people expected to return home in Deir ez-Zor and more generally to northeast Syria, it is now urgent to ensure demining actors are stepping up the surveys and clearances of explosives there, and that local authorities are facilitating the process. In parallel, there needs to be serious investments in rebuilding the health infrastructure in the region.
Are local authorities blocking demining actors? And/or humanitarian workers?              
Administrative and bureaucratic challenges are common in war-torn countries like Syria. While this is not often targeted at specific groups or organizations, it's there, and it affects operations such as demining and humanitarian programming.
Since the issue of demining is at the moment rather urgent in the northeast region of Syria, MSF is calling on local authorities to cooperate with demining actors on the clearance of contaminated areas quickly, by facilitating the processes involved.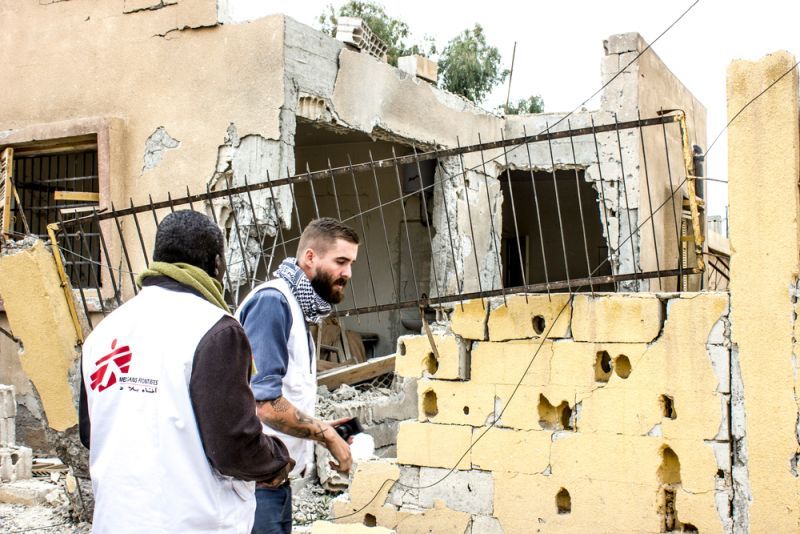 Why haven't demining actors done this already?
The lack of human and financial resources is a main challenge for demining actors seeking to scale up their programmes in northeast Syria. The admin and bureaucratic processes contribute to this. Tthe complexity of the devices also contributes to the slowness and to the inability to find adequate experts.
Your hospital is in some cases 6 hours away from Deir ez-Zor – how can your data be representative of what's happening so far away?
The hospital supported by MSF in Hassakeh is one of few free-of-charge secondary healthcare facilities in the region. Patients who arrived there told us how many clinics and hospitals they had to visit before reaching us.
Many of the facilities don't have specialized staff, or supplies, or they are damaged or abandoned. This leaves the few private medical structures in the region, which many cannot afford. That is why we consider our data to be representative of a trend.
Why don't you have a hospital that is closer to where people are getting injured?
MSF has just started assisting a public health facility in Deir ez-Zor. We are building the capacity of local staff, and have been donating medication and other supplies to the facility.
Our teams continue assessing the medical needs in the region, looking into further assisting other structures to ensure victims of remnants of war and booby-traps as well as other people affected by an acute medical emergencies can get immediate care for free.
What needs to happen for this to be resolved? What are MSF's asks?
Primarily, demining actors and local authorities must prioritize surveying and demining in Deir ez-Zor, as more people are starting to return home there. Local authorities must facilitate the work of these demining actors to ensure areas are thoroughly cleared, and pave the way to set up community-based alert systems.
At the same time, access to care in a timely manner is crucial for someone who gets injured by an explosive device. That is why it's also important the health facilities in Deir ez-Zor are supported and rebuilt at the shortest possible delay.
It's also important to progressively train first-responders at neighbourhood level so they can provide urgent assistance to the injured as soon as an explosion happens. Scaling up mine awareness is also essential so people know what they could face upon their return home, how to recognize potentially dangerous areas or objects and what to do in case of an accident.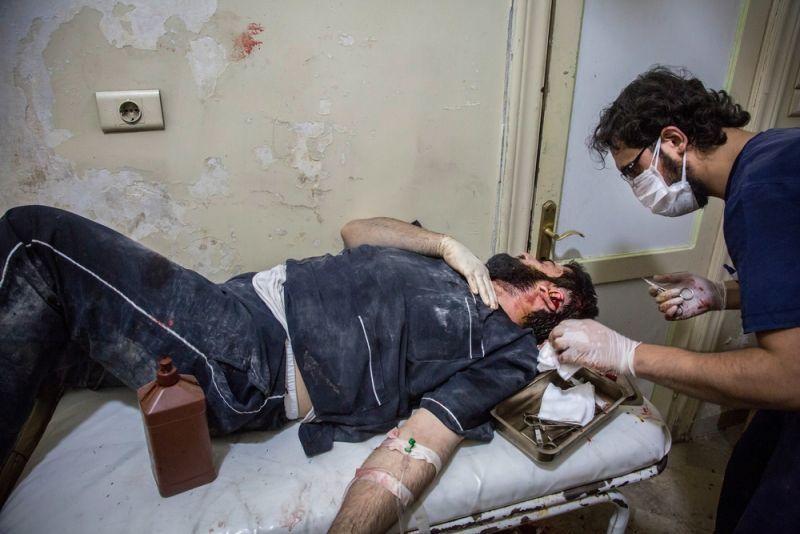 What does MSF do in Syria? And in North-East Syria?
MSF provides direct and indirect support in Syria. In some locations like East Ghouta, MSF provides remote indirect support to a number of medical facilities. Elsewhere like in Hassakeh, we are directly working in a hospital and rehabilitating parts of it to offer emergency and trauma care, and support for pregnant women, new mothers, and children.
We are also assisting two primary health care centres nearby (in Tal Kocher, Qamishli), with a focus on non-communicable diseases, reproductive health and psychosocial support.
In Tal Abyad, Raqqa governorate, MSF provides support to one hospital's paediatric, maternity, Emergency Room, surgical, vaccination, Out-Patient Department, In-Patient Department, Thalassemia and mental health work.
Outside Raqqa city, MSF is running a primary healthcare clinic and eight mobile vaccination teams to provide returnees in the city, but also across the governorate, with basic health care.
In November 2017, after the fighting subsided in the city, MSF began offering medical assistance to those returning to the city through a primary healthcare unit and stabilization point.
In addition, and in some parts of Syria, we offer technical support, provide donations, give training, and work with medical staff in different facilities to ensure they are prepared for emergencies or mass casualty incidents. 
MSF also works in a number of camps hosting people displaced within Syria by the fighting. There we normally offer primary health care including for non-communicable diseases and psychological counselling and sometimes distribute materials like blankets, kitchen items, soap, etc.
Why doesn't MSF work in areas controlled by the government of Syria?
MSF has asked for permission to work in areas held by the Syrian government – we are awaiting their approval.
Find out more about MSF's work in Syria.