Lilongwe: As Members of Parliament sit this Friday to receive the mid-year budget review report, health advocates including the Malawi Health Equity Network, Oxfam and Doctors Without Borders (MSF), are expressing their great expectation that the budget allocation for essential medicines and medical supplies will be increased as it has become a critical national need.
A survey, by health advocates across 8 districts with District Health Officers, and interviews with community members has painted a bleak picture of how drug shortages are impacting on people's equitable access to health services.
"Communities in the districts of Nkhotakota, Ncheu and Lilongwe told us they were resorting to traditional medicines or going to private clinics or pharmacies because of chronic drug shortages at public health facilities," says Prince Mtelera, Executive Director of Development Communications Trust (DCT).
One woman from Ncheu who DCT interviewed said, "After I had gone to Champiti Health Centre for treatment for a bacterial infection, I was told they had run out of antibiotics. I was forced to sell some household items in order to buy the required medicine from a private pharmacy."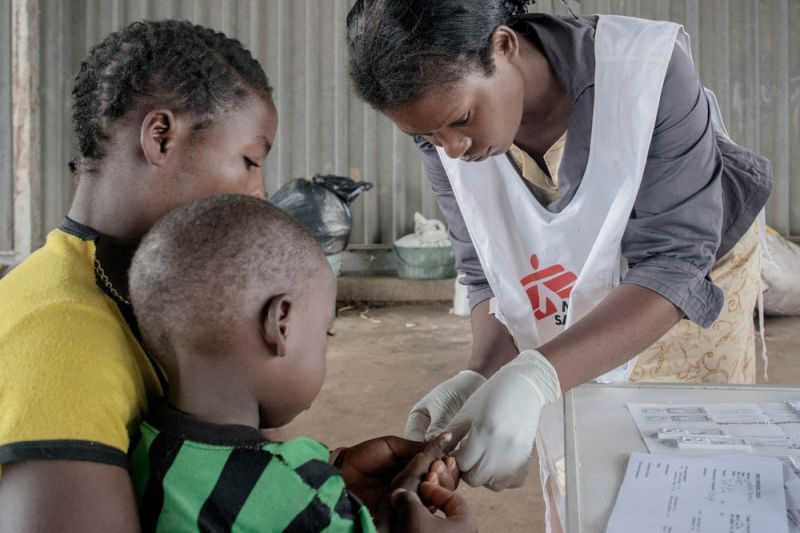 At Benga Health Centre in Nkhotakota district, DCT spoke to a health worker who told them they have not been able to provide asthma medication for 12 months.  "Just last week I attended a patient who was having an asthma attack.  The only first aid I could provide was an inhaler but we had no emergency drug to give her, unfortunately we lost her as we waited for the ambulance to come."
According to the Ministry of Health (MOH) a number of districts in Malawi had overspent their allocations[1] for funding for medicines and medical supplies by December 2016.  In an effort to rein in the District Health Offices' pattern of spending over their allocation, the MOH issued a directive in January this year that the Central Medical Stores Trust (CMST) cannot provide drugs to the districts without authorization from the Ministry.[2]  
"What is clear is that the overall budget allocation for drugs is simply not enough to ensure the provision of essential health services to all Malawians," explained George Jobe, Malawi Health Equity Network's Executive Director. "The 2016/17 Budget provided 17.4 billion kwacha for drugs and of this 10.2 billion was for medicines and medical supplies for the districts. If you divide 10.2 billion by 28 districts it doesn't go very far."
Analysis by an MSF health economist based on drug stock out information in Nsanje district found that the budget required for drugs and medical supplies was nearly double what they had received.  MSF's calculations based on the 'consumption method'[3] found that Nsanje district required MKW 418.8 million for its drugs and medical supplies but for the 2016/17 year had only received MKW 236 million The drug budget, says MSF, while slightly increasing over time, is not in line with increasing prices for medical commodities.
Interviews with District Health Officers (DHOs) from the Central, Northern and Southern Regions have highlighted the negative impact inadequate funding for drugs is having at the health facility level.  DHOs reported drug stockouts of medicines including: paracetamol, common antibiotics, diabetes and cancer drugs, urinary bags, anti-inflammatories, asthma medication and IV fluids.
The DHOs who responded to interviews expressed their concern that the money they had remaining in their drug budget would not cover their needs until June 2017.  They explained that the while the national budget is in MWK, the Central Medical Stores Trust (CMST), where they buy their drugs, purchases them in US dollars, which due to deflation further reduces their drug budget in real terms. The districts also cited concerns that the CMST is not purchasing drugs at the most competitive price and often does not stock all the drugs that are needed.
The advocates call on Government to do the following:
Increase funding allocation for drug and medical supplies.
Strengthen and increase measures to address health inefficiencies in the drug supply and procurement processes to ensure that the funding available to provide essential medicines is used as cost-effectively as possible.
Increase the availability of pharmaceutical human resources at all levels of the health system.
Increase transparency and accountability of the drugs supply chain, holding pharmacy personnel accountable for commodities to stop drug leakage and proliferation.
Improve record keeping in facilities, including out-patient departments, to ensure drug consumption matches patient data and rational drug usage.
Ensure the engagement of District Drug Therapeutic Committees in ordering and managing medicines and Health Advisory Committees when medicines are delivered to facilities.
For more information or for interviews please contact George Jobe, Executive Director of Malawi Health Equity Network 0999 958 959 or 0888 958 959
---
[1] Percentage of budget drawdowns at 31 December 2016 were over 70% Karonga and Mangochi, 72% Dedza, 94% Kasungu, 72% Nsanje, 94% Lilongwe, 74% Mchinji, 72% Nkhotakota and 82% Ntcheu.
[2] The Daily Times, January 13, 2017.