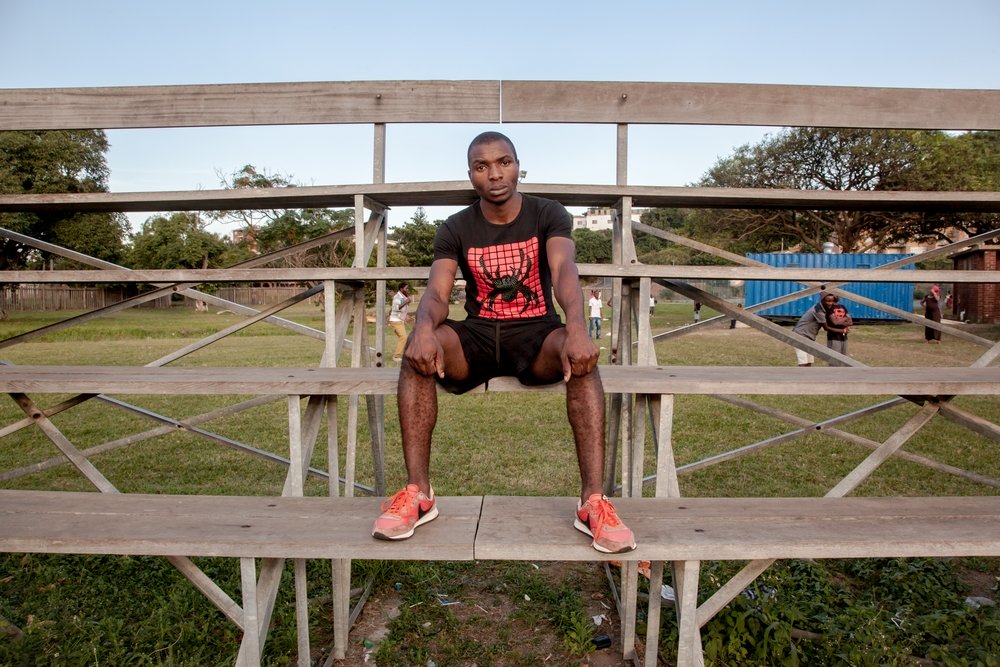 Voices from the Camps shares testimonies of displaced people exposing trauma, daily xenophobia beyond the recent violence
JOHANNESBURG – On the eve of Africa Day (25 May), eight weeks after the violent xenophobic attacks, MSF Southern Africa releases Voices from the Camps, a series of five powerful video testimonies from people who were displaced by the wave of xenophobic violence to ensure their stories are not forgotten and that South Africans learn more about life threatening challenges vulnerable foreign nationals face.
The violence sent foreign nationals fleeing for their lives and displaced over 7,000 people in KwaZulu Natal but the impact of xenophobia is still a daily reality for fearful refugees, asylum seekers and survival migrants remaining in the last displacement camp, contemplating return to hostile communities despite their story disappearing from the headlines.
By telling their stories in these videos, refugees, asylum seekers and survival migrants expose the harsh reality of life as "kwerekwere" in South Africa: persistent xenophobia that leads to healthcare exclusion, a denial of protection and unpredictable violence from friends and neighbours. Many experienced similar violence in 2008.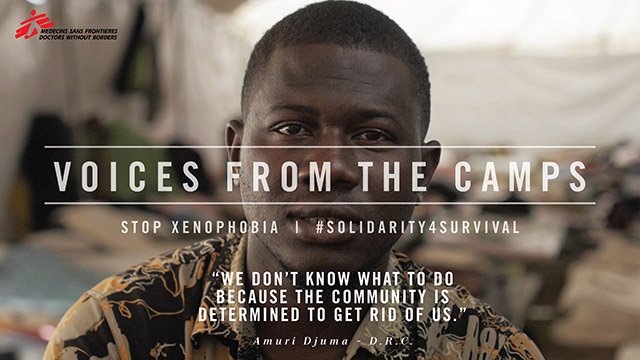 Refugees Elvira, Martin and Amuri relate how they are people continuously on the run. Having first fled war and poverty in Burundi and DRC, they now struggle to survive in a hostile South Africa. Nine year-old Dolly, born in South Africa to a Mozambican mother, questions the concept of nationality. Malawian migrant worker Steven is intent on returning once the violence has subsided. All five emphasise a shared humanity and right to be treated the same.
Following the repatriation of thousands of Malawians, Mozambicans and Zimbabweans in April by bus, the camps shrunk. Today 520 people, predominantly Burundians and Congolese, are stuck in limbo in the last remaining camp in Chatsworth. They cannot be repatriated to conflict zones they fled from but they don't feel safe to re-integrate into communities that they left only weeks before. Government-led re-integration efforts are underway but the trust of traumatised camp residents in a safe return is fragile.
"The kind of trauma we see in the camp is similar to what my MSF colleagues have witnessed in South Sudan and Central African Republic where people have been exposed to active conflicts. Our interviews with Chatsworth camp residents indicated they have suffered cumulative traumas. First they have experienced violence in their country of origin; again during the 2008 xenophobic violence, and yet again now in 2015. They also tell us about the daily level of discrimination and alienation they experience – at hospitals, getting around in minibus taxis and from police elsewhere," MSF psychologist Penni Cox says.
 
With Africa Day ahead MSF Southern Africa calls on South Africans to help stop xenophobia and commit to solidarity for survival by sharing these videos to show compassion and an understanding borne from our common humanity.
Working in close collaboration with the KZN department of health, an MSF team has provided more than 1,800 medical consultations to displaced people since April 14 through regular mobile clinics. The team is now handing over full responsibility for healthcare provision to the health department in order to focus on the psychological needs of people.
MSF psychologists found significant levels of post-traumatic stress among the majority of camp residents assessed using an internationally recognised screening tool. Since early May the MSF team has provided more than 200 psychological counselling sessions among groups and for individuals, including children.
"At MSF our duty is to provide medical care to the most vulnerable people faced with crises and to speak out about their plight. With these videos our objective is to make the dilemmas facing refugees, asylum seekers and survival migrants visible to South Africans. When they tell our fieldworkers about their lives we are compelled to amplify their voices over the silence which has descended since the repatriation and as camps are emptying out," says Musa Ndlovu, MSF Advocacy Officer in KwaZulu Natal.
 
 TO SUPPORT MSF's MEDICAL WORK AND ADVOCACY DONATE TODAY:
SMS JOIN to 42110 to donate R30 immediately
FOR MORE INFORMATION & INTERVIEWS:
Kate Ribet MSF SA Media Liaison Officer: Mobile +27 79 87 229 50 | email:

[email protected]

| Twitter: @kateribet
Borrie la Grange, MSF SA Head of Communication: Mobile +27 83 287 5294 | Email

[email protected]

| Twitter: @blagrange
Find out more about MSF in South Africa.