– not just more money and political commitments
JOHANNESBURG –The medical humanitarian organisation Doctors Without Borders (MSF) strongly supports the commitments made today by Eswatini and South African health ministers and others to ramp up action against the TB/HIV co-epidemic in Southern Africa, but urged for a vigorous respon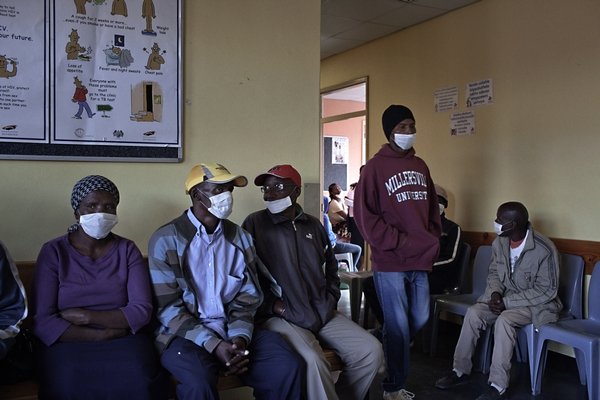 se to deal with the growing threat of multi-drug resistant tuberculosis (MDR-TB).
TB deaths in Southern Africa account for 40% of all TB deaths globally, and the disease remains the leading cause of death for people with HIV. Death rates are the highest among people with MDR-TB, but today most health departments in the region are failing to diagnose the vast majority of MDR-TB patients. Fast and accurate diagnosis is rarely available, and worldwide only about one in five people actually get effective drug-resistant TB treatment. Mostly, this is due to a combination of lacking diagnostic tools, outdated treatment, centralised treatment programmes, as well as inadequate resources.
"It is essential that we reinforce community based treatment programmes and shift tasks from doctors to nurses and lay healthcare workers. Health authorities will need to adapt policies and reallocate resources toward community-based treatment programmes, where the medical services adapt to the needs of the patient and not the other way around. In Eswatini, MSF, in collaboration with the ministry of health, is already implementing it with very positive results,"Elias Pavlopoulos, Head of Mission for MSF in Eswatini.
According to Dr Marc Gastellu Etchegorry, MSF's International Medical Secretary, people need to access TB and MDR-TB treatment close to their homes and all actors involved have to do their utmost to make new and better treatment available wherever possible."In addition, people crossing from one SADC country to another must be able to access the same treatment and be referred to facilities that function and that do not discriminate against them," Gastellu Etchegorry said.
MSF noted that the willingness of authorities to devise action plans, emergency coordination capabilities, objectives, indicators, budgets and medical staff resources would ultimately bring change for people with TB and HIV. Regional initiatives like the Declaration on Tuberculosis in the Mining Sector discussed today are vitally important, but they need strong management, support and lessons should be learned from HIV cross-border initiatives.
In 2011 the Global Fund to Treat AIDS TB and Malaria provided a significant grant to SADC to launch a cross-border HIV programme involving 32 clinics in several countries aimed at reducing HIV infection among communities and ensuring continuity of HIV care for migrants. However, this ambitious programme has suffered slow implementation. Today only 11 out of the 32 clinics have been opened.
"Simply signing a declaration is not enough," said Gastellu Etchegorry. "The scale and seriousness of this lethal epidemic and the increase in drug-resistant TB demand speedy and concrete action. Currently SADC's institutional approach is out of step with the urgency of the situation. To succeed it demands a re-think in how treatment is delivered."
To extend HIV care across borders MSF started a "health passport initiative" for migrant workers in Musina at the South African-Zimbabwean border to provide access to antiretroviral drugs and continuity of treatment. Experience showed that patient identification and reference systems can help keep track of patients on the move and ensure continued treatment, which is crucial to avoid drug resistance for infectious diseases like HIV and TB.
"Significant challenges exist in providing cross-border care, as well as MDR-TB inside SADC countries. Failing to diagnose the majority of MDR-TB cases and making available an adequate treatment for each patient in need are pivotal elements in the fight against tuberculosis and should be addressed urgently and concretely – pledging more money is not enough,"said Gastellu Etchegorry.