The MSF Emergency Surgical Unit in Aden has been receiving large numbers of patients in recent days as a result of the deteriorating security situation in Aden and other parts of Yemen.
Clashes in Aden have increased after Houthi fighters entered the city on the morning of Thursday 26th March. The MSF hospital in Aden has been receiving injured throughout the day, with more than 80 patients arriving at the hospital by early evening, with more anticipated.
This comes following an upsurge in insecurity over the last week in Aden and other parts of southern Yemen, such as Ad-Dhale', Lawdar and Lahj. Between 19th and 25th March, the MSF hospital in Aden received more than 180 patients.
On 25th March alone, the hospital received over 50 patients, mostly the result of clashes in Lahj, many of whom needed emergency surgery.
In Ad-Dhale', where MSF runs the emergency room at Al-Nasser Hospital, 19 cases were received between 24th and 25th March. MSF is also in contact with hospitals in other areas for referrals and to assess possible support.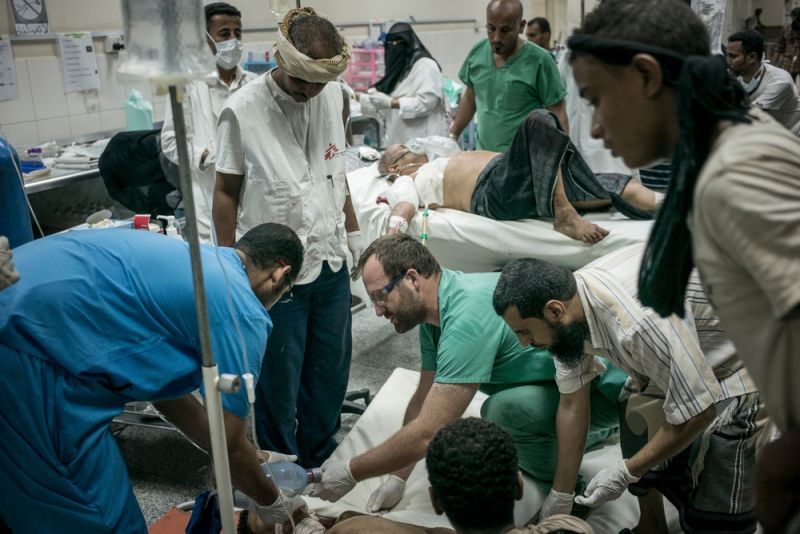 In Aden, MSF has also been calling on all parties to respect the neutrality of the MSF hospital. "The area of the hospital must remain neutral. We ask all sides to not enter the hospital with weapons, and to allow unhindered access to the hospital for the injured," said Dounia Dekhili, MSF Programme Manager for Yemen.
The situation in other areas of Yemen is also tense after airstrikes targeted locations in Sanaa and other parts of the country overnight. MSF is continuing to monitor the situation.
The international airports in Aden and Sanaa are both currently closed, and it is not possible for MSF to send more emergency medical staff to support the team currently on the ground, which is already overloaded.
Find out more about MSF's work in Yemen.