More than 688,000 Rohingya refugees have now arrived in Cox's Bazar after fleeing violence in Rakhine State, Myanmar.
They join several other thousand other Rohingya who fled Myanmar in previous waves of violence. Our Bangladesh staff are at the forefront of the emergency response to the Rohingya refugee crisis.
Wasim is a 28-year-old medical doctor at MSF's Diphtheria Treatment Centre in Monynarghona later reconverted into an Inpatient Department facility.
Wasim was born in Cox's Bazar and has worked for MSF since December 2017. Before that, he was working at a hospital in Dhaka but joined MSF to help in the Rohingya refugee crisis.
At the Diphtheria Treatment Centre, Wasim, along with his national and international colleagues, learnt to fight a disease that was almost only known through textbooks. In about two months, the teams treated over 800 cases at this facility.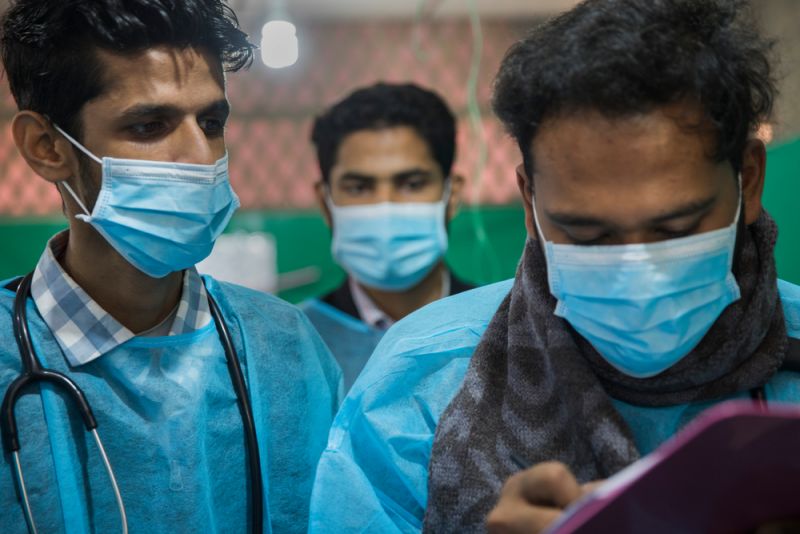 We work here in two shifts: morning and evening. We do our morning rounds and wait for the patients to arrive at the different health facilities.
In general, it is good to work with people from other countries. It is a good experience. Everyone should stand for the Rohingya. They had to leave their country and we have to do our best to support them.
In the beginning, we were only four Bangladeshi doctors in this facility and we had to work alone at night without enough equipment.
At some points in December, when cases of diphtheria started to emerge, we had 50 to 60 patients a day and we were operating in five tents because the facility was not finished yet. We worked through some cold nights.
Some local people in Cox's Bazar worry that they are becoming a minority with the arrival of so many refugees and they have some concerns.
But it is important to understand that the Rohingya haven't come here to enjoy themselves, but to save their lives. We ourselves faced a similar situation in 1971, when we lived through the liberation war and millions of Bangladeshis found shelter in neighbouring India.
Every day when we do follow-up care and a patient says that they no longer in pain or have a fever, we feel good because we have managed to control a bit more of the disease.
On another hand, a very sad moment was when we lost two patients, a baby girl, about three years old, and an eight-year-old girl. They died in front of me. We did all we could. At first, the baby as well, but from 11 pm onwards she deteriorated.
The level of toxin in her was very high and she had problems breathing. At about 3 am we tried cardio-pulmonary resuscitation, but by 4 am she had died.
The magnitude of the needs here needs to be better understood by the rest of the world.
Find out more about MSF's work in Bangladesh.