Profile: Catarina Branco, Nurse Activity Manager, Nayapara Primary Health Centre
Catarina Branco, from Portugal, worked for 11 years in the in-patient department of a hospital before joining MSF in 2017. This is her third assignment with MSF.
Most days, Catarina is the only international staff member working at Nayapara Primary Health Centre (PHC), alongside a strong team of dedicated Bangladeshi staff. "They're the important ones," she said.
"We have crowd controllers, we have nurses, we have nurse aides, we have cleaners, medical doctors, medical assistants, midwives, translators, drug dispensers... It's quite a big team working together. I'm managing the nursing team and nurse-aide team and I'm doing training to empower them. That's what I do the most."
The Nayapara health centre sees around 200 patients per day. Catarina shares some of the stories of people she has treated. "We have this patient, he's 32 years old. He has a fracture in his leg from getting out of the boats [when fleeing Myanmar].
It was not well managed and now he has this infection in the bone. Sooner or later he will lose his foot. In the last three weeks, we had three patients with infection in the bone from previous injuries… losing a limb will change their lives," said Catarina.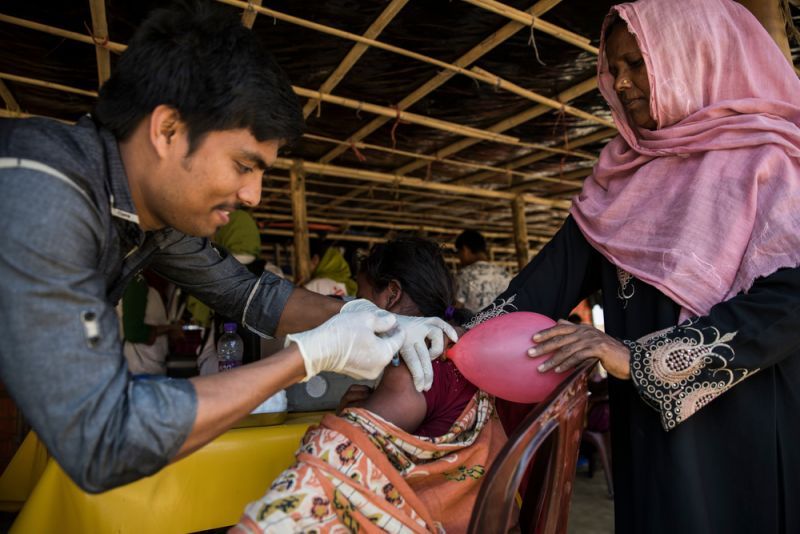 "We saw this child from the host community that came to the facility. She fell down two months ago and hurt her hand. She went to the hospital but the family just thought maybe we can go to MSF because the hand was still hurting.
Then she came here and our doctors took a 1cm splinter of wood from her hand. She was very brave; she never cried. They were very happy," she recalled.
A few months ago, this health facility was a bamboo structure barely rising above the fields that now lie waterlogged beside the main road, after the recent monsoon rains.
Later the team began operating from a Rubb Hall facility - a permanent tent-like structure with an aluminium frame. Today it a permanent and growing health centre.
"When I arrived, at the end of June, nothing was constructed yet, and by 22nd July, we were here. Nothing is constructed for the new maternity wing and in November we will begin working there," said Catarina.
Catarina is looking forward to her last few months here in Bangladesh as a chance to build a solid base for the next person who will do this job. "We are starting the base of something. If the base is not strong, everything will fall or nothing will grow up," she said.
---
Find out more about about MSF's work in Bangladesh here.