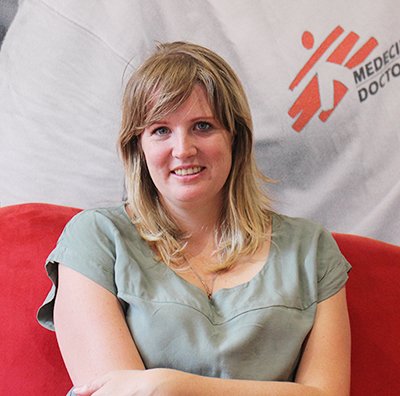 "I almost regret thinking this now – but I remember sitting down with my boss at one point saying I'm a bit disappointed because things seemed quieter than I was expecting," says Kate Stegeman, recalling her first weeks working for Doctors Without Borders (MSF) in Afghanistan.
"At the start, I was slightly worried about waning media interest in the protracted conflict in Afghanistan says the 34 year old from Cape Town. "Then the attack on MSF's trauma centre in Kunduz happened. And it was the complete opposite."
On October 3, 2015 a U.S. warplane attacked and laid complete waste to the Kunduz Trauma Centre in northern Afghanistan killing 42 patients and staff. The attack happened barely a month after Kate took up the post as MSF's field communications officer in the country.
"I was the third or fourth person to see the first photos of the aftermath of the Kunduz attack," says Kate, who was working in Kabul at the time. "You think you might be prepared, but it was a blow to the solar plexus. I'll never forget the feeling of looking at those photos, it was harrowing."
Before joining MSF, Kate worked as a journalist in South Africa. With a background studying security issues and conflict zones, she was keen to learn more about Afghanistan.
Her average day at work was mostly enabling the flow of communication between colleagues, working closely with her highly skilled Afghan communications and translation team, speaking to journalists about interview requests and briefing doctors for media interviews.
But after Kunduz, she found herself interviewing her own colleagues to profile the lives of fellow MSF staffers who had just been killed. According to her it remains one of the most difficult things she's had to do.
"You're not just speaking as a journalist. You're not reporting on an incident of xenophobic violence or interviewing someone at a protest. You're speaking to a member of your team who works with you, people you know, who've lost colleagues and patients," she says.
Kate found Afghanistan fascinating and still follows news about developments actively. "It's hard to stay detached and not be invested in the humanitarian, security and political developments of a country you worked in," she says.
"It's not that different to South Africa in some ways. It's an incredibly poverty stricken community that can't afford private healthcare. The barriers to accessing healthcare and needs are huge. But more than South Africa, there you're dealing with the reality of military checkpoints, insecurity and fighting in the provinces."
Kate was always drawn to the pillars of MSF's work: medical action, impartiality, neutrality, independence and témoignage (bearing witness) through advocacy and speaking out. In light of continued attacks on health facilities since Kunduz, she believes making these principles come alive is more important than ever.
"Impartiality and neutrality are cornerstones of what we do," she says. "We either treat everybody – regardless of who they are; or we treat nobody. When it comes to medical ethics and International Humanitarian Law, everyone is a patient before they are a combatant, or anything else."
"The fact that in Kunduz, before the attack, we had opposition group fighters in beds next to members of the Afghan forces and civilians, demonstrates what MSF is all about. That's how it should be. If I have an image in my head of Kunduz that will stay with me in a good way before the bombing, I imagine that, and I think that's the work that we were doing, and that's the work we have to continue doing."
 
Find out more about MSF's work in Afghanistan.