Mozambican Fabian (28) sits on the stands of the Isipingo sports field which has become a temporary refuge for hundreds of foreign nationals fleeing xenophobic violence in Durban, a city on the east coast of South Africa.
Three such camps exist in the city now. Muhate, a builder by trade, repeats the all too common tale of being chased from his home by a gang of armed men, then returning the following day to find his most valuable belongings gone.
But his greatest sadness is reserved for a friend whom he visits in the hospital every day. Vilanculos Azarias, also from Mozambique, was allegedly attacked with a hammer, and suffered serious and perhaps permanent debilitating injury.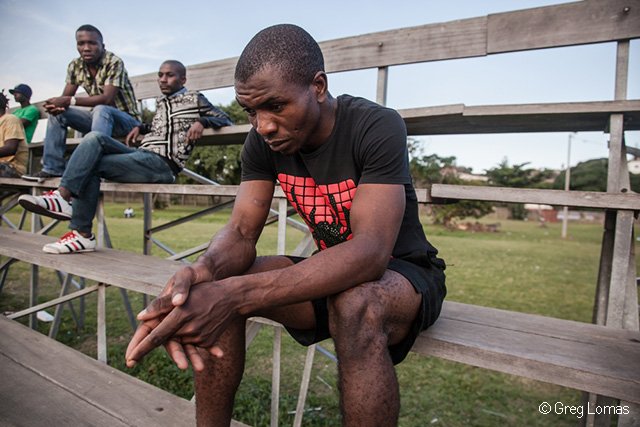 Fabian's tells his story:
"I came to South Africa from Mozambique with my uncle in 1999. He died in 2003 and I had nowhere to go, so I decided to build a life for myself here in South Africa. I learned how to become a builder, I met a girl at a hair salon, a girl from my country. We got married and we had two children.
"Three weeks ago they came to my house. I put my wife and children into the bedroom; we put the lights off and hid next to the bed not making noise.
The guys were shouting outside, then they threw a big stone through the window. I didn't want them to burn my house, so I opened the door for them. When they came inside, they asked us:
"When are you leaving? You must leave now. You are a foreigner." We ran to stay at a friend's house.
"The next day I went back to look at my house. I saw everything was gone: our clothes, TV, laptop computer, two cellphones, my toolbox, my grinder, also our money from under the bed.
We were lucky they didn't beat us. My friend told us we couldn't stay with him because it wasn't safe, maybe they could come back. We heard about Isipingo Camp, so now we are here since three weeks."
"Every day I go to visit my friend at Mushiyeni Memorial Hospital. His name is Vilanculos Azarias and he was beaten over the head with a hammer. I didn't see it myself, but his neighbours told me what happened. They said it was about 20 guys.
"They also looted and burned his house. He was in a coma for more than a week, but I can see he is getting better now: he can open one eye. He can't talk and he can't go to the toilet.
He wears a nappy. He used to work at a bakery in Umlazi and I know he's got a wife and children in Mozambique.
"I went to the police station to open a case about it. I call the police station every day, but they say they are still trying to find someone to investigate.
There are many who were beaten like my friend, but they won't come forward to say it's xenophobia. They are too scared. Me, I just pray to God He will take us out of this bad situation."
"I don't have a house in Mozambique, I don't have a family there. My life is here, but even now I don't feel safe."
"I don't know the people who did this to me. They are people who came from somewhere else. I don't trust my neighbours, even though I have been living there for many years.
I don't tell them anything about what happened to me because you don't know. They will pretend to feel sympathy for you, but when you go away they will say many things. They will even bring some guys from outside to come attack your house and take your things.
"They will bring them and show them where you live. They say: 'He's a foreigner, go and loot his house, and we will share it among ourselves.' This is what I know from speaking to others who have also been attacked."
"In this situation, you cannot see very well what is going to happen, so you just have to trust in God."
"I'm not scared for myself. I can risk my life because I trust in God, but I'm scared of what could happen to my family. My family is everything, you know?"
"Living in this situation is not good, you know, especially for a child. It is cold at night, the wind blows and sometimes it is raining. The tents are overcrowded and the children are getting sick. We are just praying for a solution."
Find out more about MSF's work in South Africa.