The conflict in South Sudan has taken a heavy toll on civilians since it began 15 months ago.
In Leer, Unity state, the situation is relatively calm at present, but caches of unexploded ordnance left behind by armed groups are still claiming innocent victims.
Fourteen-year-old Kume was visiting relatives when an ammunition container exploded without warning.
Kume Saadi Kuony was on a visit to relatives, and was seeking some shade from South Sudan's scorching sun, when disaster struck.
Kume had no idea that the container sheltering him from the midday heat in the village of Gayiel, near Thar Jaat in Unity state, was full of unexploded ordnance left behind following heavy fighting in the area last year.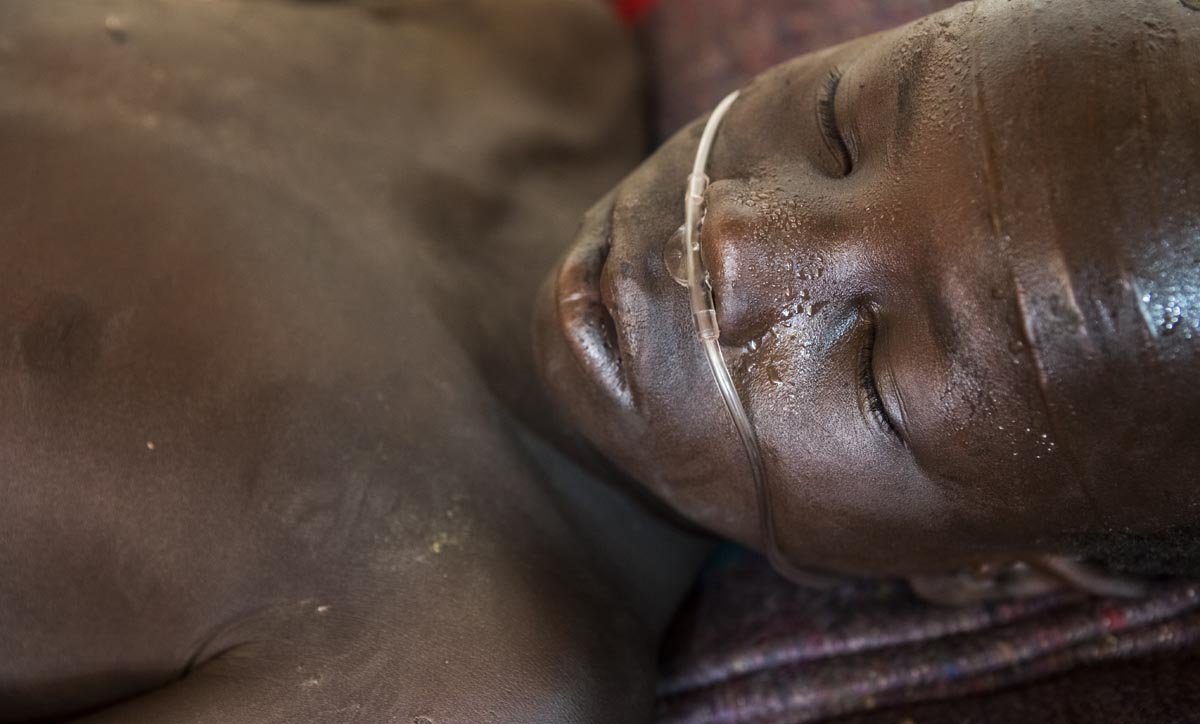 Without warning, the container exploded, injuring Kume and killing the seven men with him. Seriously wounded, Kume was brought by local villagers to the MSF-managed hospital in Leer, 40 km away. 
"Once again we are confronted with the tragedy of conflict, the senseless suffering of civilians", said Paul Critchley, MSF Head of Mission in South Sudan.
The exploding ammunition had thrown up dirt, soil and grass, which had buried themselves in the boy's body, leaving him with multiple lacerations.
"Kume had wounds all over his body, from his shoulders down to his feet, but mostly on his legs," says Dr Fouad Dahir, MSF deputy medical coordinator.
"When he arrived on 19 March we disinfected, dressed and bandaged the wounds and stabilised the boy."
The exact sequence of events that set off the explosion is hard to establish, since Kume himself is still too weak to talk about the incident and all of his companions are dead.
But it seems likely that local people set fire to the grass around the container – a traditional method of clearing land in preparation for farming.
The container was propped up on bricks, but once flames had spread to the grass underneath, the ammunition inside it could have overheated and detonated.
This was despite warnings on local radio about the potential dangers of burning grass around the container, according to Kume's father, Yoak Saadi.
Violence taking a heavy toll
"It is impossible to say just how much unexploded ordnance there could still be in this area," says Aleem Shah, MSF project coordinator in Leer. "But last year there was a lot of fighting, so there could be much more."
The violence has taken a heavy toll on civilians, who at times have been directly targeted by the fighting.
Right now the situation in Leer is relatively calm, but people are still suffering the after-effects of the fighting and looting in February 2014, during which time the MSF hospital in the town was extensively pillaged and damaged by fighters.
With no other medical care available, and with food in increasingly short supply, MSF teams are seeing more and more patients.
"We are seeing a lot of patients every day in the hospital, and many of them walk miles to reach us in Leer, as there is no other healthcare available in the area," says Shah.
"There is also moderate and severe malnutrition, especially among children, and with food stocks running low, we are concerned that this may get worse."
Two days after being brought in to Leer hospital, Kume is able to sit up in bed and say a few words. His father is happy with the care his son is receiving at the hospital, but is worried about what will happen to him.
"The boy was sitting up and talking a little this morning," says Saadi. "But I am concerned about the future, as I don't have a job to provide for him and his five brothers and sisters."
Access to healthcare
"This tragedy shows the reality of what is happening in South Sudan," says Florian Westphal, general director of MSF Germany, who was visiting Leer when Kume was admitted to the hospital.
"This boy was lucky, because there was a car to transport him 40 km to an equipped hospital. More often than not, civilians have to walk for hours or even days to reach a hospital or clinic – if there are any at all.
It's shocking to realise that this is partly the fault of the warring parties, who have deliberately looted and destroyed healthcare facilities, as happened in Leer last year."
Find out more about MSF's work in South Sudan.