As the situation is relatively calm in north east Syria, in the governorates of Hassakeh, Raqqa and Deir ez-Zor, people are starting to return home. Many are unaware of the risks still awaiting them – unexploded remnants of war, booby traps and landmines are still littering the region.
At the MSF hospital in Hassakeh, the number of people admitted to the MSF hospital with injuries related to explosions has doubled between November and March. Nearly 74% of them came to us from Deir ez-Zor governorate, sometimes from locations that are 6 hours aware. Half of those admitted were children.
Here we present two case studies of families in Deir ez-Zor who, after returning to the governorates of northeast Syria, were severely injured due to unexploded remnants of war, booby traps and landmines that they found in their homes. 
Five Sisters – "Look at Sedar, with no legs below the knees"
Humaid, 45 years old, is from Dhiban, in Deir ez-Zor, Syria. He has two wives and ten children including Sedar (4 years old), Dumua (5), Butul (6), Arimas (9) and Lamis (13), who were severely injured by a booby-trap:
"We fled Dhiban because of the clashes. Once the situation calmed down I went back by myself to check the house and did not see any suspicious device, so I brought my family as well."
"Two months later, I was driving my car when one of my little nephews came and told me that five of my daughters were hospitalized because of an explosion. They were playing and helping to sort out firewood on the rooftop when something hidden behind a roll of wool blew up and almost killed them."
"I rushed to one clinic, and what I saw broke my heart. Nurses there didn't know how to deal with the situation. They even put blood of the wrong blood type to one of them. At some point I had to shout at one of the medics: 'Please do something!' My daughter was dying, and only then he took out his jacket and put it around her leg."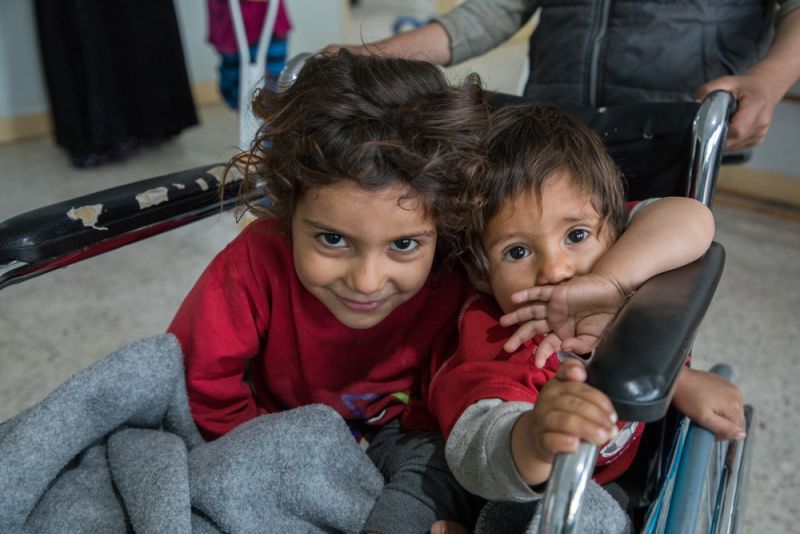 "[…] Before the war we had qualified doctors, but they all fled because of the fighting."
"After some first aid and two operations they said we could bring the girls home, but I decided to take them to Hassakeh instead. Everybody helped us, and we prepared two cars for that. Unfortunately one of them broke down on the way, so it took us more than four hours to arrive and it was already dark by the time we got here. No problems on the checkpoint as they saw it was an emergency case. My brother learned about this hospital at the entrance of the city. We did not know it was for free, and we did not know there was an organization like MSF supporting it."
"Look at Sedar, with no legs below the knees. She is confused because she still feels pain in her (phantom) feet sometimes. She cries. Doctors here are helping her very well, and same with my other daughters. Otherwise I would have brought them to Damascus. I would go beyond the impossible for them."
"We are hosting a family of displaced people in our house. Thank God nothing happened to them."
"Before, if someone needed healthcare we could go to a hospital in Al-Mayadin or to one of the private clinics. When the Islamic State group arrived they closed our town, and nobody was allowed to leave. They put many strains on doctors, until they left. From that moment on if someone got sick either they had relatives with medicines or they could die. Now many facilities are destroyed by airstrikes, or just shut down. Some have reopened and offer different specialties, but without proper equipment."
"I have an empty piece of land in Dhiban. If MSF wants to build a clinic there I can give it away."
"Please do something about the mines. Get people to remove them. We need to save our children."
The incident that wounded the girls happened on 5 February, and they were discharged from the hospital on 13 March. The eldest one had to have one of her legs partially amputated as well, because of the severity of her injuries there.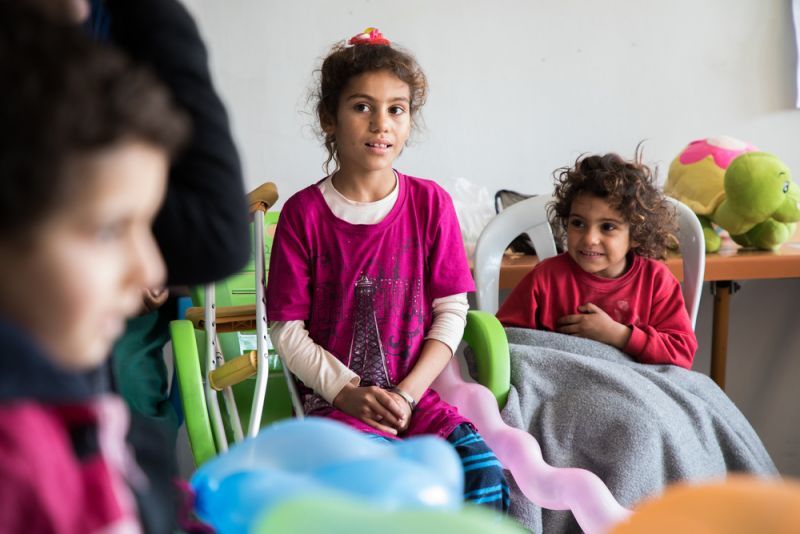 Five Brothers & Cousins – "They were just playing with marbles"
Leila*, 45 years old, is from Kubar, in Deir ez-Zor. On 9 March, five of her nephews were taking care of the sheep in a farming land when a landmine or booby-trap exploded. They arrived in a hospital supported by MSF in Hassakeh five hours later, brought in by their relatives. One of the boys, Nabil*, 5 years old, was already dead. Another one, called Khaled* (10), had a severe head trauma, with a fractured skull. His brother Ali* (12) was suffering from a critical abdominal injury and needed an urgent laparotomy. Marwan* (8) and Redhwan* (13) had minor shrapnel wounds.
"It sounded like an airstrike. Very strong. We all heard it. Many of us rushed to see what happened. I could not believe it. One of the boys had part of the brain out. They were just playing with marbles."
"My family has a car. We put them in the back and brought them to Hawas clinic, about 15 kilometres away from Kubar. We did not go to Al-Kasra clinic because there are no doctors there, and barely any nurse. Or at least that's what they told us. They do not have proper equipment, so can only treat simple wounds. They would not have had the capacity to deal with my nephews. We heard they are rehabilitating the public hospital, but they have only started painting the walls."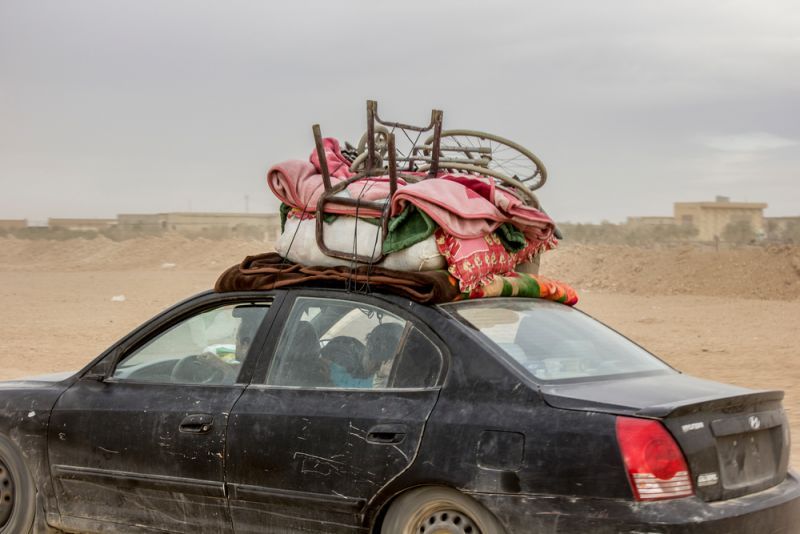 "After the first aid, with some dressings and IV lines for the children, an uncle took them to Hassakeh and they get here at 7 or 8 in the evening. He knew about this hospital, that it is free-of-charge and with expatriate doctors. We followed in a rental car. We paid 27,000 SYP for the journey."
"One of the kids did not survive the explosion. May God will help us with the rest."
"Two of the children are orphans. Their father died 10 years ago because of a disease and they live with the mother and one of her brothers' family. A couple of goats and a sheep, that is basically all they have, living in a house made of cement and mud. Life has not been easy for them, and now this."
"We have heard of 10 similar incidents lately. Some of the people have been killed on the spot. When we were displaced the town was mined by the Islamic State group. Not inside the houses but near the front gates, mostly. Most of them are covered, so we all try to pay extra attention just in case."
 "Kubar has been calm for the last five months. We escaped when fighting between the started, and spent about 20 days outside even if the clashes only lasted for one week. Those who did not have cars ran away on foot, by donkey… even with cows. Some went to Abu Khashab, others to Serwan… The boys stayed with relatives in Jazrah, and me in Sabag."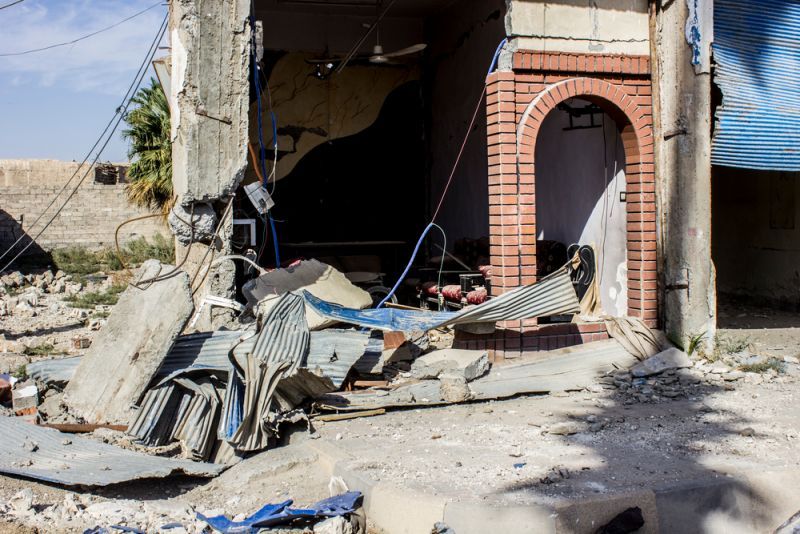 "Last years have been like death. We did not have our freedom. To go to Damascus for medical reasons one had to leave the house as guarantee. Doctors who did not escape would treat patients, but with many limitations. All schools got closed. Smoking was forbidden, and one could get executed for a minor offence. Beheaded for nothing."
"We need expert organizations to come remove the mines. It's already March, spring… We are afraid of more explosions, but we really have to move our sheep to graze in the fields."
All the surviving boys except for the one with the head trauma were discharged from the hospital after one week. The latter got neurosurgery in a more specialized health facility, and could also go back home.
Find out more about MSF's work in Syria