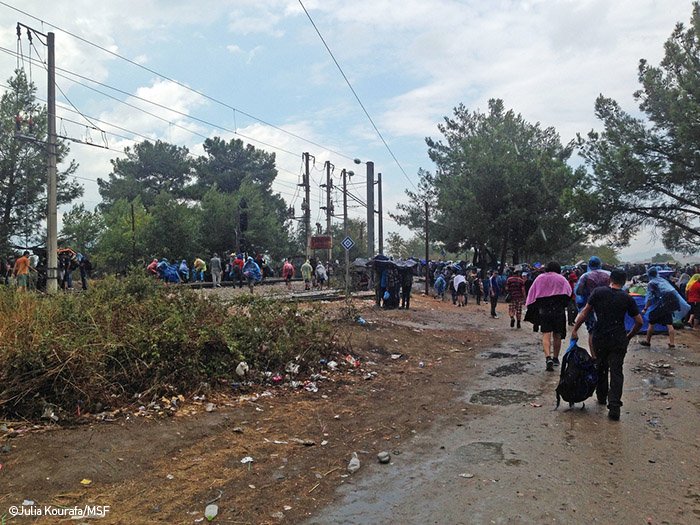 An MSF team is treating people who have been injured by shrapnel from stun grenades fired by Macedonian army in Idomeni at the border between Macedonia (FYROM) and Greece.
Ten people were injured by the stun grenades: six people with minor injuries were treated on the spot, while four people had to be sent to the hospital. Three with injuries from the stun grenades and one who had also been beaten by FYROM army personnel.
Our medical teams treated more than 100 patients yesterday, which is the most in one single day since we started activities in Idomeni in April. Three patients were referred to the hospital: a pregnant woman with severe pain and bleeding, a one-year old baby from Syria that had an operation in the head a few months ago and needed hospitalisation, and a 24 year old refugee who said he had been beaten by Macedonian police, four patients who had fainted due to exhaustion, heat and hunger.
There are more than 3 000 people gathering at the border right now. Our teams have never seen so many people gathering at the border between Macedonia (FYROM) and Greece.
The team also distributed non food items to the people gathered at the border area.
MSF has repeatedly called on Greece authorities to organise decent and humane reception in the islands of the Dodecanese, but to no avail.
Last week, the situation on the island of Kos took a sour turn as more than 7000 refugees, asylum seekers and migrants arrived to the island over the month of July, a two-fold increase compared to June.
Find out more about MSF's work in Greece.