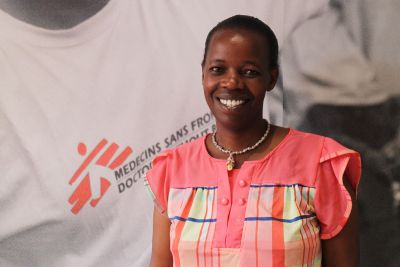 At Kerema Hospital, MSF's TB nurse activity manager and her team used all available means to treat patients in the most remote areas of Papua New Guinea.
Some 300km west of Port Moresby, Kerema Hospital – the only health facility for miles – is not always easily accessible, even to the patients it serves. This mountainous region of Papua New Guinea (PNG), covered by lush forests and bisected by rivers, has just one main road leading into it. To get there, the local population walks or travels by boat – journeys that often take days.
"As a country, PNG has a lot of challenges, infrastructure wise. Things like roads don't exist in some places. Many places are only accessible by air and by sea," says Mary Ngugi, a Kenyan nurse with Doctors Without Borders (MSF) who recently spent a year treating tuberculosis patients in Kerema.
"The common man travels by sea. So when the weather is bad and seas are rough, they can't travel. The majority of patients get stuck and can't move from place A to place B, or access our hospital. But MSF uses all means and modes to reach people. We are willing to go all the way," she says.
TB prevalence in PNG is among the highest in the world, which prompted MSF to respond and reach out to help the most affected and isolated communities in the coastal Gulf Province in 2014.
"To get to the patients, our teams visit outreaches which they travel to by sea; we also have weekly outreaches by vehicle; mobile clinics; and have been trialling the use of Unmanned Aerial Vehicles (UAVs) to send drugs and collect sputum samples for TB testing in inaccessible areas."
"There are many challenges but MSF is willing to face these challenges to reach people. Because without this, TB won't be able to be cured all the way in PNG," she says.
'Greatest accomplishment'
Mary has been a nurse for more than 20 years, and an MSF fieldworker since 2005. Her experiences treating TB at home in Nairobi prepared her for PNG, where she worked a dual role as both TB nurse activity manager and nurse supervisor.
"I gained skills from the field to get to where I am. More than any other formal training, just what I've learned as a national and regional staff for MSF has put me where I am," she says. "I tell the nurses in the field that you don't have to see yourself small today. You just have to have a focus because tomorrow you could be somebody different."
During her time in PNG, she oversaw the installation of a brand new TB ward at Kerema Hospital that has since tripled the number of TB patients the facility is able to treat at any one time. She calls the project her "greatest accomplishment" and says the segregated structure affixed to the main hospital is ideal for treating drug-resistant TB patients as it was "built with infection control in mind".
"When I first got to PNG, treating TB patients at Kerema was very challenging. The TB ward was only allocated six beds and everyone was together in a common area. MSF managed to complete the new TB ward, a very modern TB building. It's pretty much in the middle of nowhere, but with separate quarters and large en suite rooms, it's laid out for infection control and patient comfort. I think we built a model of care in terms of a TB ward – a model that the rest of the country can copy."
"The best part of my work is the knowledge that TB is curable," Mary says. "Sometimes you see patients coming in who are very frail and sick, with drug-resistant TB or even drug-sensitive TB. You diagnose them and after they get the right support and treatment, you start to see results. With TB you know when you are headed in the right direction."
"The way MSF operates, our principles, values and how we function has always impressed me," she adds. "During my time in PNG, I saw MSF making a big difference in the lives of TB patients. And that is something I am proud to be associated with."
Find out more about MSF's work in Papua New Guinea.