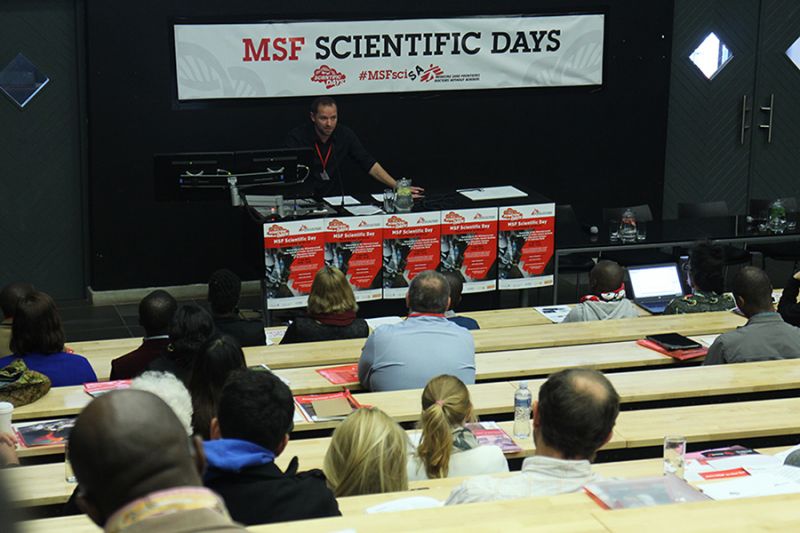 Doctors Without Borders (MSF) presented medical humanitarian field-based research at the first-ever Scientific Day in South Africa on 9 June 2016 at the University of Witwatersrand School of Public Health.                     
Endorsed by Health-e News, the South African Medical Journal, The University of the Witwatersrand, Lancet Global Health and F1000 Research, MSF Scientific Day Southern Africa aimed to improve quality of medical care, share knowledge as well as influence policy and practice to ultimately improve the quality of care for our patients. It offered local academics, medical professionals, health institutions, medical students and the media unique access to insights originating from the frontlines of MSF's medical humanitarian action. The symposium, which this year attracted around 200 participants, reflected the challenges, achievements and innovations emanating from MSF's diverse field programmes throughout the world.
Dr Helen Bygrave, MSF Scientific Day Southern Africa convenor and Medical Unit HIV/TB Advisor, explains that MSF Scientific Day is an opportunity for our fieldworkers to present and discuss their research with academics and professionals. "In the past, we've seen how these gatherings contributed to refining our work and improving the quality of our medical operations," she says. "Having such opportunities allows us to challenge the impact our operational research is having in our daily work and on the lives of patients and beneficiaries."
Internationally, Scientific Days have been an established feature on MSF's global calendar, evolving as a forum for dialogue and knowledge-sharing in a few countries, including India, the United Kingdom and Zimbabwe.
Bygrave adds that the MSF Scientific Days aim to connect audiences – across countries, organisations and disciplines – to enable critical analysis and debate on the state of medical and innovation evidence underpinning humanitarian operations. "We've also seen how this platform contributes to influencing medical humanitarian and public health practice globally," she says.
At Scientific Day Southern Africa, MSF staff presented findings in four sessions chaired by renowned professionals drawn from prestigious institutions. They included Prof. Lucille Blumberg, Deputy-Director for the National Institute for Communicable Diseases; Jacob van Garderen of Lawyers for Human Rights; Samantha Khan-Gillmore from the Rural Health Advocacy Project (RHAP) and Prof. Ashraf Coovadia from Rahima Moosa Mother and Child Hospital.
The diverse presentations ranged from contributions on the impact of engaging mothers in screening their own children for malnutrition; operational strategies from MSF's HIV programmes to reach the global 90-90-90 targets and innovative e-health apps to improve the quality of antibiotic prescribing to paediatric patients. The symposium also featured a debate around delivering healthcare to vulnerable displaced populations in Africa and Europe and a study looking at the effectiveness of community-based HIV/Aids testing strategies among vulnerable groups including; sex workers, truck drivers and men who have sex with men along a transport corridor in Mozambique.
"Scientific Day Southern Africa is a window to the world, and a conference without borders. We hope this event deepened awareness about medical humanitarian practice in Southern Africa while strengthening MSF's relationship with the medical and academic community in South Africa," says Dan Sermand, the General Director of MSF Southern Africa.
Prof. Laetitia Rispel, Head of the Wits School of Public Health, adds that the choice of venue was most appropriate as the School is a lived space for local and international gatherings that enhance Wits' enabling environment for research and teaching excellence.
"In light of our national and global responsibility to serve and elevate public health academic endeavours, the Wits School of Public Health congratulates MSF with its inaugural operational research symposium," she says. "This symposium aimed to improve the quality of medical care, share knowledge and influence practice, with a particular focus on the medical humanitarian field. The topics were aligned to both the research and teaching endeavours of the School."