Kasai (39) and his wife Coco (34) with their young daughters Aimee and Dorothea in the tented camp where they sought refuge from a wave of xenophobic violence that broke out in Durban, a city on the eastern coast of South Africa.
They came to South Africa from the Democratic Republic of Congo 14 years ago, fleeing the civil war that swept through the Bukavu region of their country and which continues in the eastern parts today. Along with many others in the camp, they have little idea what their future holds.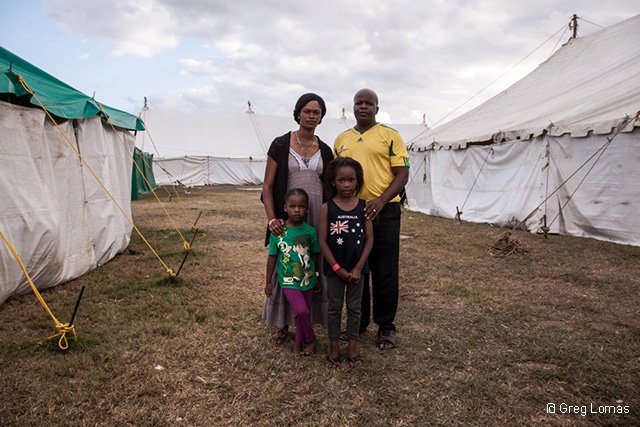 Kasai's tells his story:
"We came to South Africa 14 years ago, after experiencing civil war in our country. On 31 March our business was attacked. We heard them coming with loud noises, making threats, beating up foreigners.
We ran over the road to hide in the shopping mall, and we watched them looting and burning our business. We couldn't stay there because the owners at the shopping mall were also closing up."
"Then the police came and took us to the police station with other foreigners. All of us were very scared because our children were still at school during this time, but the police helped us to get them.
We were at the police station for about two hours. Then they brought us here to the Isipingo Camp."
Living conditions in the tents
"With our business, we have put two of Coco's brothers into university. We also have our own two daughters, plus we have been taking care of her aunt and sick uncle, and my own brother.
With our business destroyed, we've got no money to pay the rent or buy food for ourselves. We are living like refugees in this camp, standing in long queues and sleeping on the ground."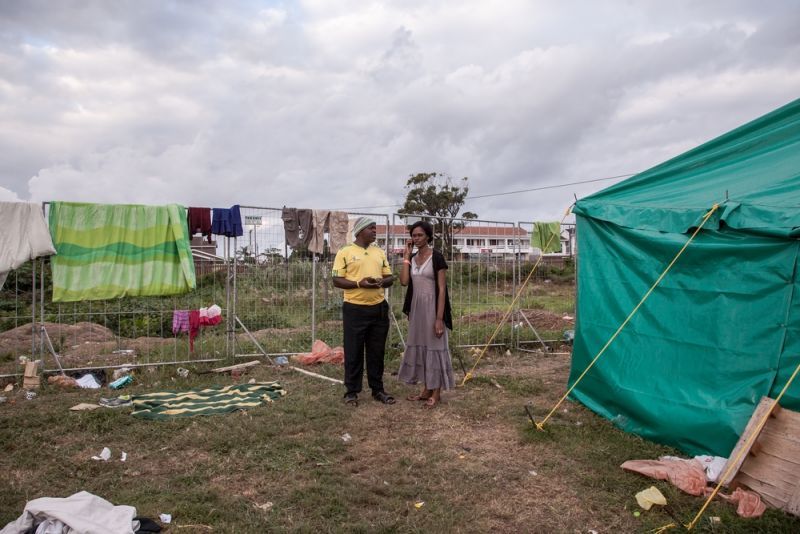 "At night it rains into the tent, and last week they killed two snakes behind the kitchen. Our children are crying to go back to school, to be with their friends, but what can we tell them?"
Xenophobia didn't start last week
"We are very uncertain, confused. It seems to us like every South African is now our enemy: the shopkeeper, your neighbour, your landlord." 
"But this xenophobia didn't start last week. At the schools the teachers are discriminating against our children, shouting at them if they take longer to learn some English.
In the taxi, we are afraid to answer the phone because somebody will hear our language and make rude comments about "kwerekwere" (foreigners).
And when they destroy our business like they did, it is like we have no future at all in this country. We have to start again from zero, but we know they can do it again at any time. It is very traumatic."
"This is not the first time this is happening. We have been living with this xenophobia thing for many years. The South African government can talk about re-integration, but we cannot trust them.
If we go back to our place now, people will say to us: 'Hey, why did you not go back home? We saw all others going home. Did you kill somebody in DRC.' Then it will start again."
Find out more about MSF's work in South Africa.