MSF facilities struggling to cope with influx of patients
Nairobi – Two consecutive strikes by health professionals in 2017 have caused crippling consequences to Kenya's health system, leaving many public health facilities closed and thousands of people without access to essential medical services.
Many Kenyans are unable to afford care in some of the private facilities, which remain open during the current nurses' strike, and others have had to travel long distances to reach free services provided by non-profit organisations, sometimes ending up with grave outcomes due to delays in arriving at a health facility.
As a result of the current strike, which follows a 100-day doctors' strike earlier this year, international medical-humanitarian organisation Doctors Without Borders (MSF) continues to receive increased numbers of patients in some of its facilities, stretching the organisation's capacity. On the other hand, in some Ministry of Health facilities that MSF supports, patients are simply not coming, thinking they are closed.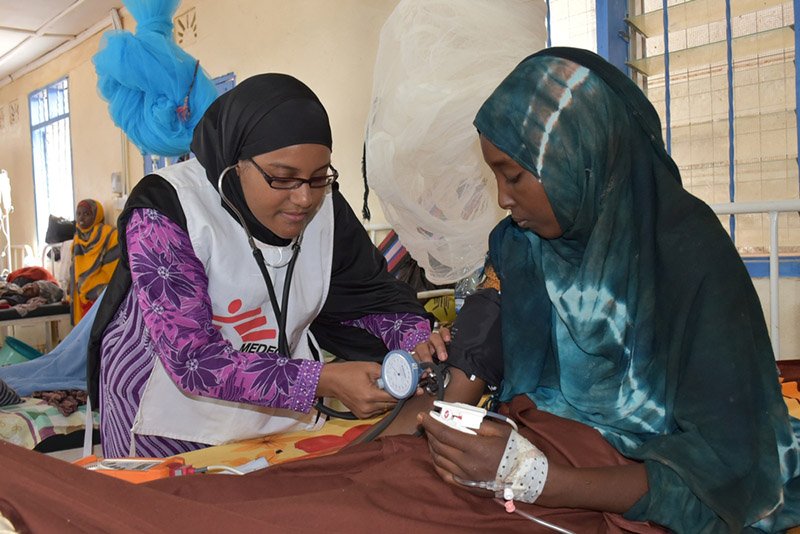 The response to the cholera outbreak in the country has also suffered as there are no nurses working in nearly all public facilities. MSF had to open a cholera treatment unit in Nairobi's Mathare area, to treat patients who would otherwise not have received care.
"It is crucial that all parties work on a solution to restore access to emergency and life-saving care, and referral services," says Abubakr Bashir Bakri, the Head of Mission for MSF in Kenya. "During the doctors' strike for example, MSF covered the high costs of intensive care in private facilities for severely ill patients. This is unacceptable: life-saving services need to be reinstated as a matter of urgency."
At Mrima Health Centre in Likoni, Mombasa County, where MSF supports sexual and reproductive health services, the number of women coming to give birth in the facility has tripled since the first strike. Last week alone, there were 247 deliveries, including 51 caesarean sections. Important outpatient services such as vaccinations; and pre- and antenatal check-ups have had to be stopped, while emergency referrals for mothers and babies who need specialised care are now close to impossible due to the closure of other hospitals in the area.
"I moved around for the whole night from one facility to another, in the backseat of my uncle's car looking for a hospital to deliver my baby. Private ones would not admit me unless I could pay," recounts 26-year-old Grace Mwachongo from Changamwe. She had developed birth complications that needed urgent attention, but no hospital would admit her. She had to undergo an emergency caesarean section in MSF's facility in Likoni, saving her life and that of her baby.
While essential medical services remain suspended, others may not be so lucky. "With thousands cut off, we are urging that lifesaving activities are maintained to alleviate the suffering of those most in need," continues Bakri.
ABOUT MSF
Doctors Without Borders(MSF) is an international, independent, medical humanitarian organisation that delivers emergency aid to people affected by armed conflict, epidemics, natural disasters and exclusion from healthcare in more than 70 countries worldwide. In Kenya, MSF works in the counties of Homa Bay, Nairobi, Mombasa, Embu and Garissa in Dadaab Refugee Camp.
Media Contacts
Paul Odongo | Communications Manager – Kenya |  [email protected] | +254 700 460 551