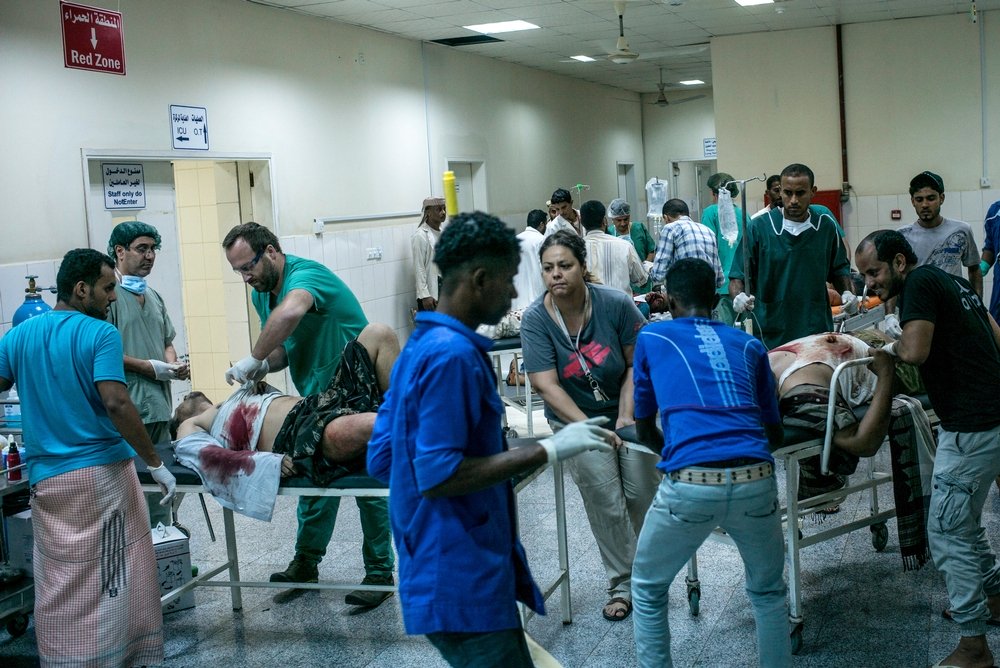 The opening statement that was read by MSF's Dr. Ghazali Babiker in the Amman press conference on 10 August 2015
Dear guests and colleagues, thank you for joining us today to discuss the ongoing humanitarian crisis in  Yemen. We organised this press conference to share our increased concerns for our patients and their families in Yemen, and for all those who cannot reach a doctor or nurse, or a functioning health structure, at their time of direst need.
The last months have seen a sustained worsening of the situation for civilians in Yemen. The start of an international air bombing campaign in March 2015 is the latest stage of the failed political transition under way since former president Mr. Saleh left office more than 3 years ago. The result has been that the people in Yemen are suffering on a daily basis of the ongoing violence, fearing for their lives and that of their loved ones, as well as struggling to find sufficient food and water to survive.
It also means a sustained degradation of the ability for anyone, from pregnant women to wounded combatants, to access health care. Some health facilities and medical workers have been directly affected or even targeted during the ongoing violence. Many, if not most, health clinics have been closed because they lack the medical supplies to function effectively, or their medical personnel have fled. The health structures that are still operational are running at low capacity, as they are short on fuel. With the shortages of fuel and transport options, those few health facilities that still are functional are difficult to reach for those in need of care.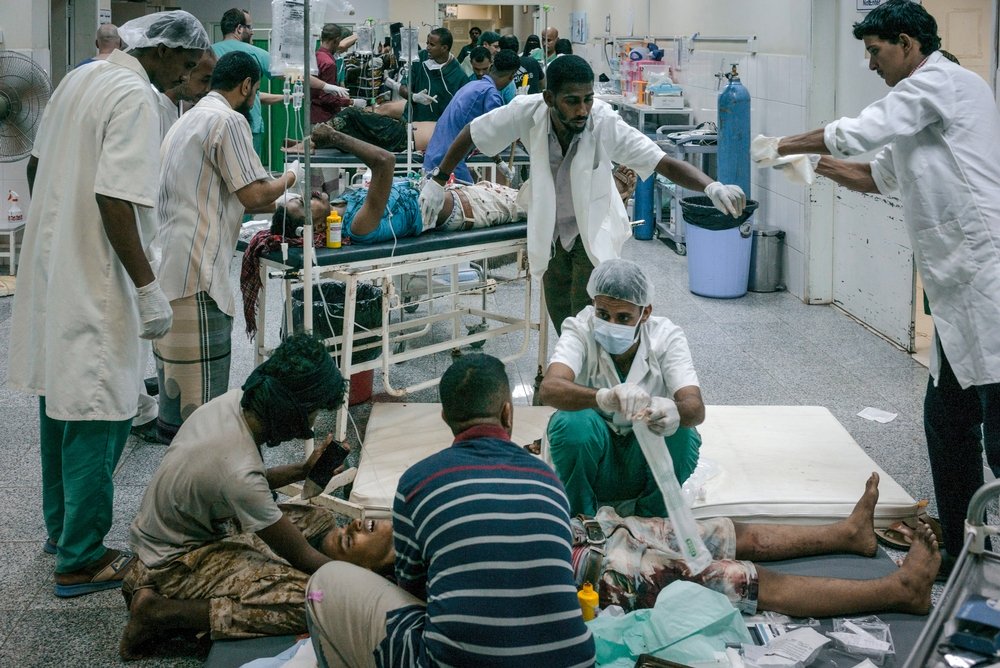 The lack of medical supplies and scarce availability of fuel and food are tangible secondary effects of the weapons blockade imposed by the  coalition at the onset of the conflict. In April, the UN Security Council reinforced the legitimacy of this weapons embargo, which in practice has punished civilians and caused direct suffering inside Yemen. Even if the embargo's objective may be very different, the consequences of the decrease in overall imports reaching Yemeni ports and airports has badly impacted the general population, which is already weakened by decades of poverty and chronic malnutrition. Today, we appeal to all those in the position to facilitate the arrival of humanitarian goods, such as food, fuel, and medical supplies, to do so rapidly. 
But these external restrictions imposed on Yemenis are not the only hurdles faced by those in urgent need of medical assistance: within an increasingly divided Yemen, plagued by active fighting and changing frontlines, people increasingly face the dilemma of delaying visits to health facilities so as to avoid entering dangerous areas or having to pass checkpoints through which medical emergencies are frequently not allowed.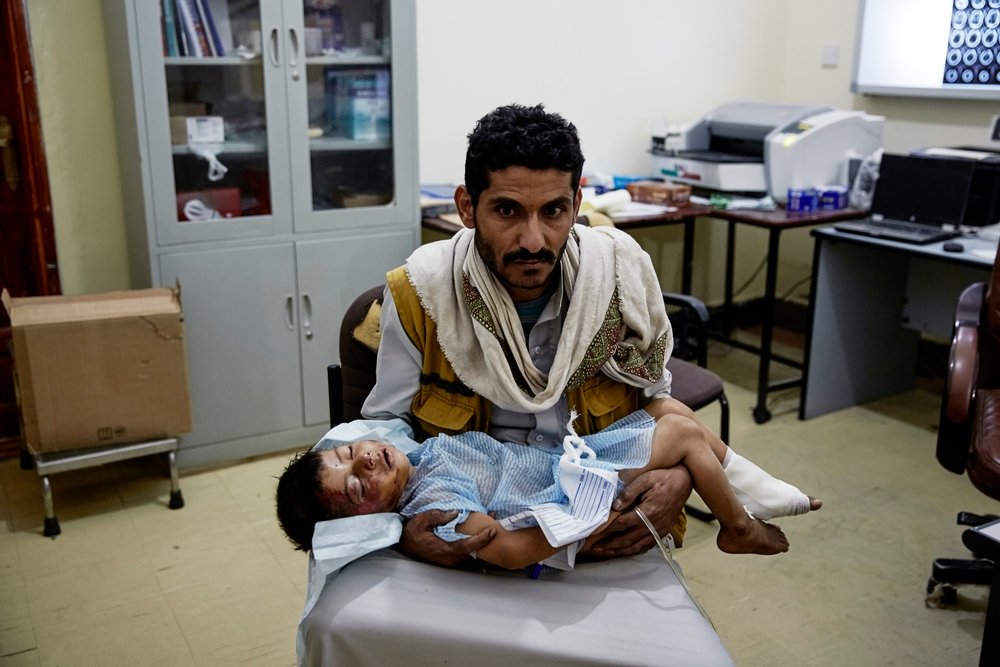 Humanitarian assistance should be provided to those people who are in greatest need and facilitated by warring parties in line with International Humanitarian Law. In Yemen, providing independent, neutral, humanitarian assistance is being hampered by cumbersome processes, efforts to influence and enforce where assistance is provided, and blockage and confiscation of humanitarian supplies. Both warring parties at ground level in Yemen seek to control the meager humanitarian resources available in the areas they control, but they should realise that no amount of humanitarian assistance will in any way decisively influence the conflict's outcome, or people's opinion about who is responsible for their suffering or for the skyrocketing prices of basic goods. 
Meanwhile, the international emergency response to this humanitarian crisis has been under-performing and is limited in its scope and impact. Yemen is undergoing an extreme and complex conflict phase, requiring conflict- and crisis-experienced aid workers and quality leadership to negotiate and steer assistance to vulnerable communities beyond frontlines and partisan preferences. We need to acknowledge the risks for aid workers in Yemen. The humanitarian imperative is great, and some organisations have shown that working inside the country at large scale with senior international staff is possible. 
A lasting problem has been the disinterest by international financial donors for the emergency appeals made by aid agencies. Currently most aid agencies are forced to use funding from one of the only available sources – a Saudi charitable foundation – for impartial and neutral humanitarian activities in Yemen. Such financing could be viewed suspiciously by opposing armed actors at ground level, and any aid agency assimilated to a party to the conflict could lose its local acceptance and affect the perceived neutrality of other actors engaging with it.
Across the international aid system, more needs to be done for Yemen right away. The mobilisation of conflict- and crisis-experienced aid agencies, accelerated funding mechanisms, and the urgent re-deployment of expert staff permanently inside Yemen are key to salvage any semblance of an effective emergency response. 
But one could well represent aid workers and humanitarian assistance as a small band-aid at a time of severe bleeding. All the good will of neutral assistance will not succeed if the parties to the conflict do not do their part in facilitating such efforts, away from their perceived aim of appropriating assistance for their own political and military objectives. Ultimately, the parties to the conflict should find ways to minimise the suffering imposed on Yemeni civilians by avoiding the targeting of densely populated neighborhoods and civilian infrastructures, such as hospitals and water treatment plants; allowing urgently needed supplies to reach those most in need; and engaging in any initiative that seeks to decrease the levels of violence at ground level. Truces or more comprehensive ceasefires should be encouraged so as to make it easier for local communities living in constant fear to access basic supplies and medical care.
The people of Yemen demand a stronger effort by humanitarians and better respect for their needs from the fighting parties. It is hoped that their urgent needs will be heard by those who can have a beneficial impact on their day-to-day struggle for survival. 
Thank you for your time and attention.
Find out more about MSF in Yemen.