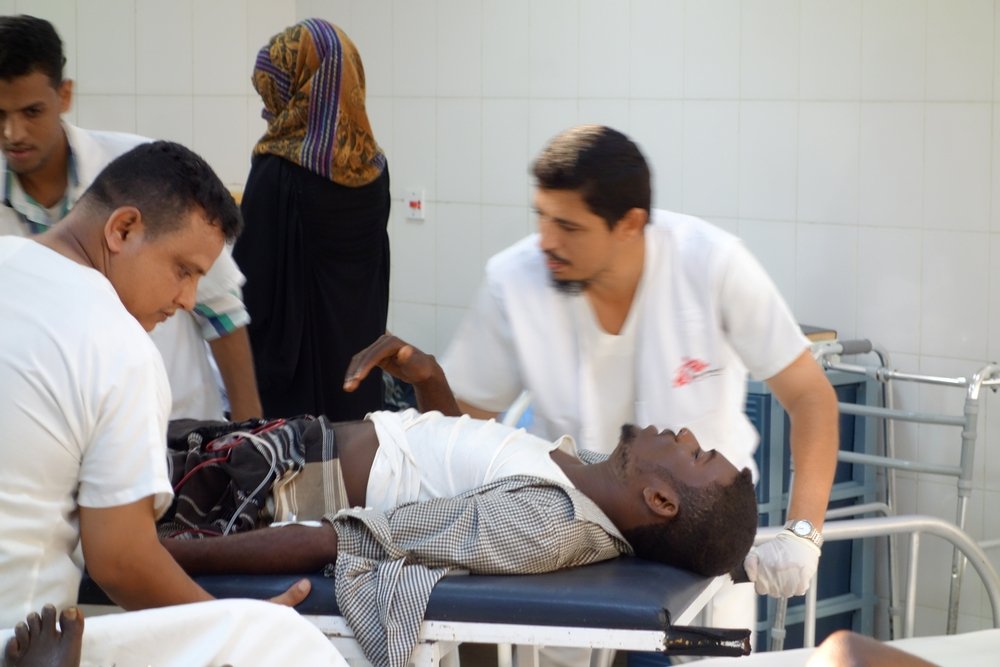 A Nurse working in one of the MSF supported hospitals in Yemen, talks about his experience with hearing airstrikes for the first time in Al Dhale, Yemen. 
"I had never heard such explosions in my life. I didn't understand right away that these were airstrikes but I remembered hearing planes earlier. I was afraid; I felt that bombs exploded next to me… I was shaking."
"After that, I was suffering from a severe  headache and felt as if I would go into a coma because when I left MSF supported hospital in Al Dhale Governorate where I work, I couldn't find any transport to go back home."
"People were on the streets in front of the hospital disoriented, confused. When I finally managed to get transportation, it was a small public bus, I was asking the driver to drive as fast as he could to leave the area."  
"After that incident, I decided to take a couple of days off and stay home with my family but I couldn't stay home for so long because my work is our only source of income. This incident affected me badly; now I start shivering and trembling even when I hear a gunshot or any sound of explosions.  For example, when I'm climbing the stairs in the house or the hospital and someone slams the door downstairs, I might even fall unconscious from that because of fear."
"I'm not sure for how long I'll be working in the hospital or with MSF; I prefer to be home with my family where it's safe and away from the airstrikes and fights,  instead of working in a hospital at the frontlines. I'm too afraid of being here."
MSF provides life-saving healthcare services in Ministry of Health (MOH) Al-Nasser Hospital in Al-Dhale District, in southwestern Yemen. The support includes emergency room (24/7), surgery, post-operative care, sterilization, laboratory, infection control, health care waste management and referrals.
In addition, MSF is supporting Al-Azarik Health Center in the emergency room, ante-natal care (ANC), post-natal care, family planning, normal deliveries, routine vaccination, nutrition and referrals to Al-Nasser Hospital. In Qataba, MSF supports the emergency room (24/7), observation room, laboratory and health care waste management in the MOH Al-Salam Hospital. 
In the last month, MSF expanded its activities by supporting the outpatient department, nutrition and ante-natal care. MSF also provides potable water to 25,000 through the unique suitable borehole of Qataba town. 
MSF is also supporting several health centers in Al- Jaffea and Al-Habilain Hospitals with medical supplies and equipment in the governorate.
Since the beginning of 2015, MSF project in Al-Dhale' has received 10,317 patients in the emergency room and 1,232 injured among which are more than 490 war wounded. MSF also provided general consultations to 11,206 patients.
Find out more about MSF's work in Yemen.