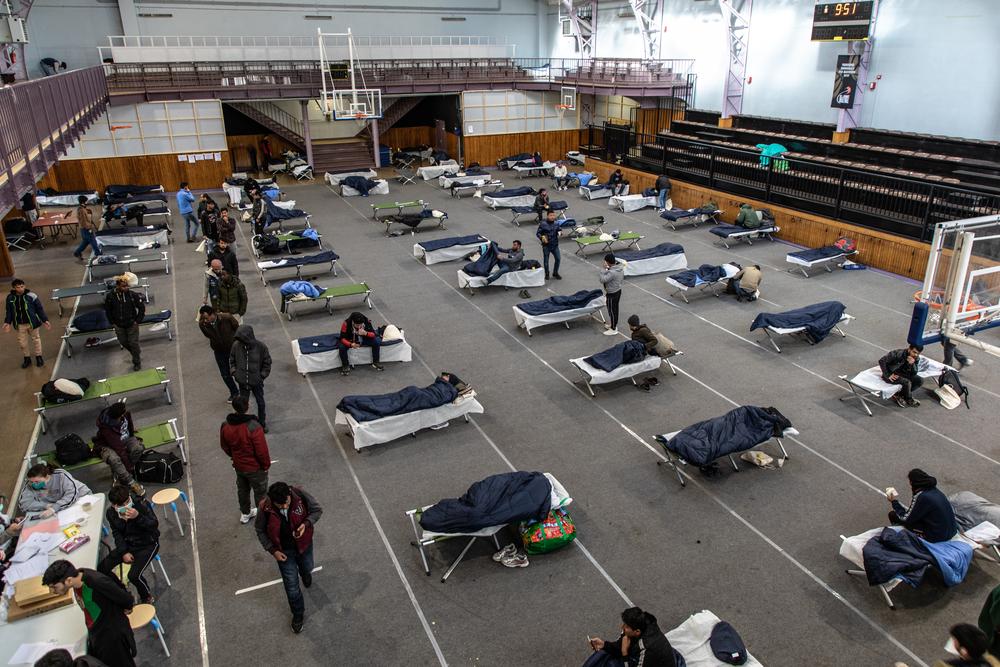 COVID-19 and people on the move
Physical distancing is very difficult, if not impossible, in overcrowded camps and dense urban settings, where people live side-by-side in small-congested shelters with many family members.
The COVID-19 pandemic is disproportionately impacting the world's most vulnerable populations. Among them are the world's more than 70 million forcibly displaced people – refugees, asylum seekers, internally displaced people (IDPs) as well as migrant workers, including undocumented migrants.
Many of these men, women and children live in poor conditions all over the world, with lack of access to basic services such as clean water, food, sanitation or inadequate access to healthcare, as well as lack of legal status. The COVID-19 pandemic both exacerbates and is exacerbated by these living conditions.
Many migrants, asylum seekers, refugees and IDPs live in formal and informal camps, reception centres, or in detention centres. Many others live on the streets in informal housing arrangements. In these settings, preventative measures are often not possible. How can we ask people to protect themselves when they don't have easy access to water or soap? Or to self-isolate when they live in cramped tents side by side with 10 other people? Physical distancing is very difficult, if not impossible, in overcrowded camps and dense urban settings, where people live side-by-side in small-congested shelters with many family members. Having to queue for water points and food increases the risks of viral transmission.
COVID-19 related curfews and restrictions on freedom of movement also impact heavily on these groups, who are already excluded from most employment opportunities and who have even less access to assistance and protection.
In many settings, displaced people live in insecurity and face the risk of arrest or abuse. They may be stigmatised as 'disease carriers' against a backdrop of increased xenophobia and have limited access to reliable information. Some populations are fully dependent on humanitarian aid. In many areas, such aid is limited.
Others trapped in detention centres and camps in areas of ongoing conflict, violence or war not only face the threat of COVID-19 but also are exposed to indiscriminate attacks and shelling.
COVID-19 increases the needs and reduces access to assistance
Refugees, asylum seekers, IDPs and migrants are among the most vulnerable.
Lockdowns, travel bans, quarantine and border closures on public health grounds create challenges and disruptions for everyone – refugees, asylum seekers, IDPs and migrants are among the most vulnerable. In the context of the pandemic, it is to be expected that their needs for safe and dignified conditions, mental health services, adapted information and health promotion activities and specific pathways to detection and care will be exacerbated.
Additionally, outbreak control and emergency measures are disrupting many essential services and humanitarian support that is provided by NGOs, volunteers and civic associations, including the provision of basic healthcare and food. The role of the police or military in enforcing emergency measures can also push people further underground and stop them from seeking medical care if they fear they will be harassed, arrested, detained or deported while walking in the street.
Harsher border measures, asylum restrictions, criminalization, xenophobia and stigmatisation 
While some border closures are understandable, we are seeing a disturbing conflation of COVID-19 outbreak control with politically motivated migration control measures. Measures such as medical screenings at borders or quarantine upon arrival can be put in place to preserve public health while still ensuring protection to refugees and asylum seekers. Yet in many places, the pandemic is being used as an excuse to punish people on the move, and those that seek to care for them.
At least 167 states have fully or partially closed their borders to contain the spread of COVID-19 – of these, 57 make no exception for people seeking asylum (UNHCR). People seeking safety and shelter are being turned away at land and on the sea – often returned or transferred to countries where they may face serious threats to their life or freedom.
No public health emergency should deny asylum seekers and refugees protection. Yet many states are purposely denying entry to asylum seekers or indirectly preventing their access under the guise of border closure measures in order to limit the spread of the outbreak. There is no evidence that a ban on asylum seekers or returning people would improve public health, indeed it is likely to be counterproductive. We know from our extensive humanitarian medical experience that when a person seeking refugee protection is refused it puts them at further risk.
Several countries have announced restrictions to their asylum systems because of COVID-19. Some have suspended the registration of asylum claims which is denying asylum seekers access to legal status, reception and access to basic services including healthcare. Others have only suspended or limited the processing of claims. Additionally, many asylum seekers have been left to fend for themselves which asylum reception centres closing their doors to newly arrived.
Several states have adopted concerning measures against refugees, asylum seekers and migrants in transit, such as targeted restriction of movements, forced relocation in camps, the prohibition of transportation of migrants and mass arrests in parks.
What can we do to protect these especially vulnerable populations?