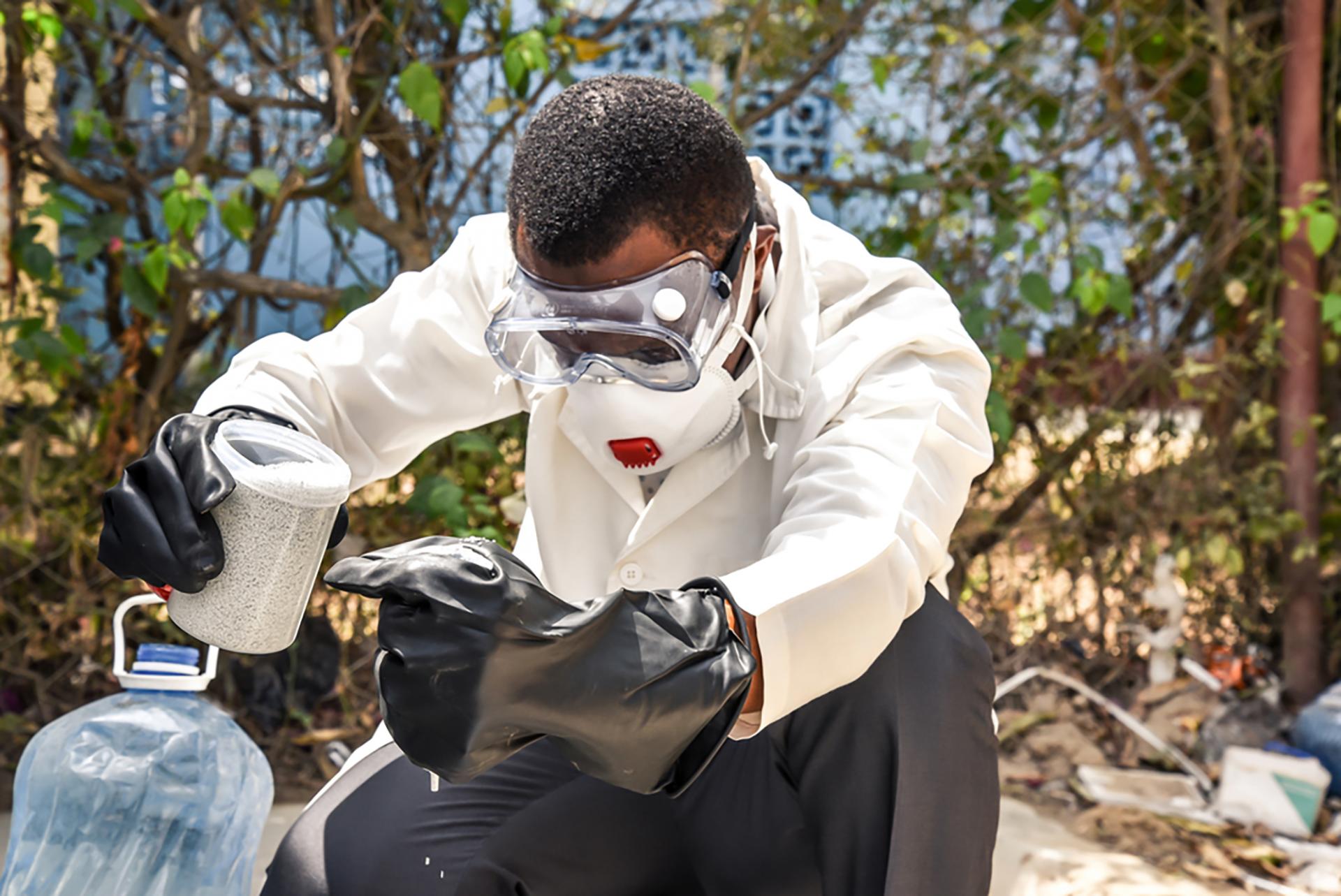 campaign
COVID-19 in East Africa
Regional overview
In East Africa, Somalia is the hardest-hit country, with a total of 528 people who have developed COVID-19, followed by Tanzania with 480 people and Kenya with 374.
Africa was spared during the early phases of the pandemic, though numbers of people across the continent who have developed COVID-19 have now risen to more than 34,000.
In East Africa, Somalia is the hardest-hit country, with a total of 528 people who have developed COVID-19, followed by Tanzania with 480 people and Kenya with 374.
All countries in the region are now enacting various measures to try to contain the spread of the outbreak, with airport closures, travel bans, curfews and lockdowns. This region is of high operational volume for MSF and across East Africa we are working hard to keep providing essential medical services, taking steps to keep patients and staff safe as well as launching new activities to respond directly to the outbreak.
MSF's global concerns for people in vulnerable groups are particularly relevant in East Africa. We are concerned about the impact on people living in informal settlements like Kibera, refugee camps like Dadaab, or conflict-affected areas such as South Sudan, as well as migrants detained, travelling or being deported in congested conditions.
We are also concerned for people with underlying health conditions such as HIV, TB or non-communicable diseases (NCDs), of which there are high burdens in certain countries in this region. Another concern is the limited intensive care capacity to treat severe cases, as well as the challenges, felt globally for supply and the ability to move staff to project locations.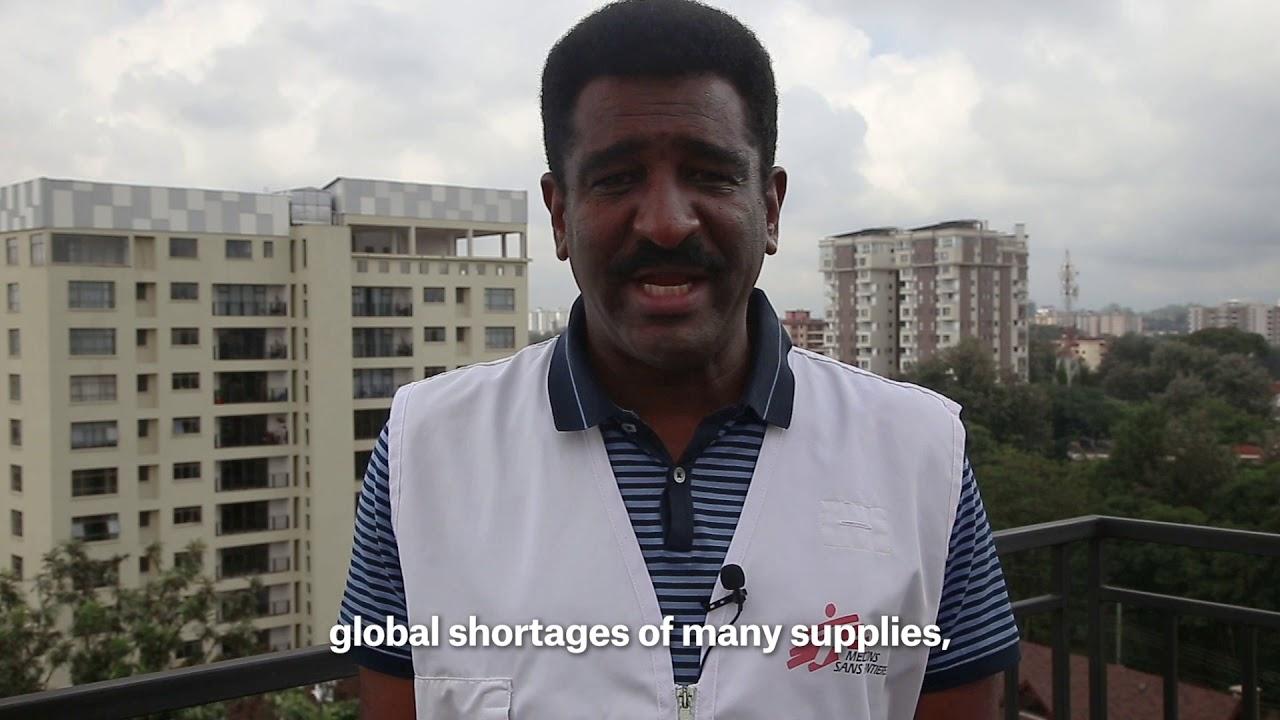 Key Data
According to UNHCR, in the East and Horn of Africa subregion in 2019 there were some 4.6 million refugees and asylum-seekers mainly from South Sudan, Somalia and the Democratic Republic of Congo (DRC), as well as an additional 9.5 million internally displaced people (IDPs), mainly in South Sudan, Somalia, Sudan and Ethiopia.
According to the UN, East Africa is the second-worst affected region globally for HIV/AIDS, after Southern Africa. In Kenya, for example, 1.6 million people live with HIV, in Uganda 1.4 million people are affected and in Tanzania, 1.6 million people have HIV/AIDS. The picture is varied across the region, with 190,000 people affected in South Sudan.
According to IOM, at least 139,000 migrants, most of them Ethiopians, crossed from the Horn of Africa to Yemen with the aim to reach Saudi Arabia or other Gulf countries in 2019. This figure was higher than those who crossed the Mediterranean to reach Europe in the same period. At the same time, 10,000 Ethiopian migrants have been deported on average every month from Jeddah to Addis since March 2017. After a short break, deportations of Ethiopian migrants have continued despite the pandemic.
Malaria is also widespread in East Africa. According to the WHO World Malaria Report in 2018, 21,500 people died of malaria in Tanzania, followed by 13,000 in Uganda, 3,200 in Rwanda and 2000 in Kenya. The WHO has also recently warned that cases of the disease in Sub Saharan Africa could double due to the Coronavirus outbreak, due to border restrictions and disruption to prevention programmes.
According to the FAO, the desert locust upsurge remains alarming in the region, particularly in Ethiopia, Kenya and Somalia, where it poses an unprecedented threat to food security and livelihoods. In the six East African countries worst affected or at risk of locusts - Ethiopia, Kenya, Somalia, South Sudan, Uganda and Tanzania - around 20 million people are already experiencing acute food insecurity.
Kenya
General context
Cases are spread across the country and include local transmission. Flights are banned and a curfew is in place between 7 pm and 5 am. In early April, tighter restrictions were put in place to limit travel within the country and requiring people to wear masks in public places. Total lockdown has not been put in place but has not been ruled out.
MSF operations
In Kenya, we provide care for vulnerable groups, such as refugees in the Dadaab refugee camp, for people who use drugs in Kiambu, for those with non-communicable diseases in Embu and for advanced HIV in Homa Bay. MSF runs a trauma room in Mathare, Nairobi, to treat victims of urban violence in the city's Eastlands area and a clinic providing specialised care for victims of sexual and gender-based violence in the same area.
As well as sitting on the national taskforce, which meets every week to discuss preventing the spread of the virus and bringing the outbreak in the country under control, MSF is making adaptations to its existing projects and launching some new activities to directly respond to the outbreak. Contingency and continuity plans are in place across all projects, with boosted infection prevention and control, screening, triage and holding areas. Essential medical services are ongoing.
COVID-19 operations
New interventions are limited by the constraints with Personal Protective Equipment (PPE), though the teams are looking for local solutions to supply shortages.
MSF is supporting the Kibera South Health Centre in Kibera, the largest slum settlement in Nairobi, which is a health facility built and previously run by the organisation. The team of seven staff is boosting infection prevention control, triage, screening and managing referral of suspect cases to a nearby hospital. They will soon set up water points in the community, and boost the number of people providing health awareness messages.
In Homa Bay, MSF reorganised the support to vulnerable patients (advanced HIV, NCDs) to prioritise remote support and home visits to avoid the exposure patients face at the hospital. At Homa Bay regional hospital, the team have also set up triage, screening and an isolation room to help to prepare for the outbreak. In addition, MSF helped upgrade the setup of the first quarantine site, providing basic equipment and some kits for people in quarantine.
In addition, MSF assisted the county health team to design the facility for managing confirmed cases of Covid-19 in Malela and provided logistic support and training to all the staff on case management and Infection Prevention and Control (IPC).
At the Medication-Assisted Therapy (MAT) clinic in Kiambu, MSF has set up a triage system and an isolation room and is also working at the nearby Karuri Hospital to boost infection prevention and control.
In Mathare, where MSF runs a trauma room, an ambulance has been converted for use in referral of a COVID-19 patient.
At MSF's clinic for survivors of sexual and gender-based violence, teams are providing mental health consultations by phone to continue to give people adequate care throughout the pandemic. They have been increasing health promotion efforts to ensure people know the medical care they provide is still available.
In Eastlands, MSF partnered with local organizations to install and supervise handwashing points. MSF community teams are also running prevention and information campaigns in close collaboration with community and religious leaders.
In Dagahaley camp, in Dadaab, the teams are putting measures in place to ensure adequate infection control, setting up screening and triage, an isolation area and providing health education. Currently, there is an isolation unit set up with 10 beds for patients thought to have COVID-19 which has a capacity to expand up to 40 beds if needed. The unit would be transformed into a treatment centre in the event of widespread community transmission or if other possibilities for patient care were not available. Training of health workers to create a pool of frontline responders is ongoing.
In Likoni subcounty, Mombasa, MSF supports the Department of Health to provide comprehensive emergency obstetric and neonatal care in the Mrima health centre. To prepare for COVID-19 they have set up three isolation rooms which will allow women who have COVID-19 to give birth safely.
South Sudan
Government restrictions
The government is urging people to follow physical distancing rules and to wash their hands. An international travel ban was put in place and all international airports and land borders are closed. Airlines advised ceasing operations. Exemptions are being made for food, emergencies, planes passing through, medical and relief flights. Other restrictions include the closure of all non-essential shops, restaurants are allowed only to offer takeaway, all public gatherings - including religious, sport, social and political ones – are forbidden. A curfew is in place from 8 pm to 6 am and public transportation has been reduced.
MSF operations (all sections)
We are working on preparedness for the disease in all of our projects, as well as on preventive measures, in order to be able to isolate and treat suspected patients who may eventually approach our health facilities. These measures include setting up additional washing points equipped with either chlorinated water or soap and reinforcing the existing ones, training staff on triage and infection prevention and control (including the use of personal protective equipment (PPE)), identifying and establishing isolation areas for suspected COVID-19 patients and conducting health promotion and awareness sessions with patients and the local community.
MSF has also started conducting training sessions which focus on infection prevention and control, triage and making sure patients can move safely through health facilities (improving patient flow), in close collaboration with the Ministry of Health. At the national and sub-national level, we are working with the authorities on preparedness, including the reinforcement of basic isolation capacity and the mapping of health care providers who have the capacity to respond.
Very limited care available in the country for severe cases, though the Ministry of Health and WHO have set up a 24-bed isolation facility/ICU in Juba, which is managed by IMC. This facility is currently being expanded to 100 beds.
Tanzania
General context
All schools/universities closed, public gatherings prohibited and major sporting events cancelled. All international arrivals and departures from the airport stopped. Border arrivals still possible from neighbouring countries by land. However, arrivals will be subject to screening, and those coming from places with cases will be forced to quarantine for 14 days in government facilities, after which they register with the authorities for future possible tracking. All people in Dar-es-Salaam must wear masks when leaving the house by law. No lockdown as yet, but such measures are not ruled out in the future, according to the development of the situation.
MSF operations
In Tanzania, MSF provides assistance to refugees from Burundi living in Nduta camp. MSF is the sole healthcare provider in Nduta Camp for 75,000 refugees, where our team of 800 staff run a 150-bed hospital, four surrounding health posts and carry out health promotion via a large network of community health workers. Our services, which are also open to host communities from surrounding villages, include mother and child care, nutritional support, treatment for tuberculosis, HIV and non-communicable diseases. We also offer mental healthcare and treat victims of sexual and gender-based violence, among other services.
COVID-19 response
MSF has built four triage/isolation areas at each of its health clinics at Nduta refugee camp, and has completed preparation for the main isolation centre at the MSF hospital, where suspect cases of COVID-19 will be referred. Currently, we have 10 beds with the possibility to connect 10 oxygen concentrators and are in the process of constructing an additional 50 beds, with the ability to scale up to 100 if needed.
One hundred and sixteen MSF staff have so far been trained for COVID19 response, with a focus on case definition, triage, screening, infection prevention and control as well as case management. Training is ongoing in our hospital in Nduta refugee camp, Tanzania. Meanwhile, our health promotion team in Nduta camp are working to sensitise and educate the community on hygiene and best health practices, to improve preparedness for COVID-19 within the camp.
Uganda
General context
Schools are closed and public gatherings are not allowed. Restrictions on movement are in place to and from countries of active transmissions. The country is currently in lockdown, due to last for an initial period of 14 days. Some food distribution is taking place to the poorest people in Kampala to try to help them to cope with restrictions that have a huge impact on them, given that they live day today. All international travel is currently banned.
MSF projects
We are working to provide sexual and gender-based violence and mental health support for South Sudanese refugees who have fled to Uganda in some of the refugee camps in the north of the country.
Although the number of new cases per year has been declining, seven per cent of the population (about 1.5 million people) is HIV positive.
In Arua, our HIV activities focus on unstable patients (advanced HIV/ high viral load) and paediatric and adolescent HIV care. We offer point-of-care viral load testing, fast-track refill, consultations, counselling and support to advanced care in Arua regional hospital, which facilitates rapid detection and early treatment, leading to improved outcomes for patients
In Kasese, we run a clinic providing basic and comprehensive healthcare to adolescents, including sexual and reproductive health services, and HIV and tuberculosis (TB) prevention, screening and treatment. We also provide HIV and sexual and reproductive healthcare to the fishing communities around lakes George and Edward, facilitating "differentiated service delivery models" (DSDM) to adapt HIV care to the needs and health-seeking behaviour of this particular group.
COVID-19 response
Projects continue with adaptations to ensure continuity of activity and protect staff and patients. In every project, we hold awareness sessions with staff and relevant partners in the community, reinforce hygiene measures (hand-washing points, social distancing advice etc.) and put infection prevention and control and triage in place.
More specific measures include:
In Arua, for HIV, we have increased antiretroviral therapy (ART) supplies to ensure a buffer stock is in place; we have suspended the Teen Clubs for HIV+ adolescents, in line with the restrictions on public gatherings issued by the authorities.
In Arua, where we provide SGBV for refugees, including Mental Health, we have increased the spacing in our consultation area.
At our Kasese Adolescent Clinics (KAC) for HIV+ teenagers, recreational activities have been suspended, in line with authorities restrictions on public gatherings and toll-free lines are being set up.
In Kasese, where we are providing HIV care for fishing communities, we have buffer ART supplies in place and are running dedicated awareness sessions with fishermen at landing sites.
Ongoing across all projects, we are adapting activity (and reducing activity, in some cases) to protect the continuity of care, health of staff and patients, as well as to respect country's restrictions on movements and public gatherings. We are also reinforcing hygiene protocols, infection prevention and control, and health awareness.
Sudan
General context
A state of emergency has been declared, with all airports, land and sea border crossings closed, except to humanitarian aid. All schools and universities are closed and government services have been reduced. A lockdown is currently in place.
MSF operations
MSF continues to carry out regular medical activities in Khartoum, East Darfur, White Nile, Al-Gedaref and South Kordofan states. We run hospitals and health centres and support the Ministry of Health facilities, and carry out a wide range of activities to provide primary and secondary healthcare to local communities, internally displaced people and refugees. We are focusing on maintaining our life-saving activities in these locations.
Our activities range from treating children with malnutrition and assisting deliveries to provide care for chronic infectious diseases like TB and HIV and neglected conditions like kala-azar.
COVID-19 activities
We are working with the Ministry of Health (MoH), the World Health Organization (WHO) and other health providers to monitor and respond to the changing situation.
MSF is running trainings on infection prevention and control (IPC) and how to improve the flow of patients and staff inside the health facility. Together with the MoH and the WHO, we provided these trainings for healthcare professionals in leadership roles at 90 major hospitals in Khartoum state. MSF also directly provides daily trainings to health workers including bed-side trainings and mentoring, in the health facilities we support.
After the trainings, MSF provided onsite technical support to improve ward and triage circuits and IPC measures in health structures, developing clear action plans for an outbreak of COVID-19. MSF has also trained Ministry of Health staff who are subsequently conducting trainings in nine priority states in Sudan.
At the Omdurman Teaching Hospital, the largest hospital in Sudan, MSF deployed a team of more than 60 staff. MSF is working in the emergency department and closely with the MoH in the management of initiatives established to cope with COVID-19. MSF also runs a mobile COVID-19 unit that supports other facilities and works on early detection and prevention of the spread of the disease.
In MSF projects across Sudan, we have put in place safety and hygiene measures to avoid the emergence of cases among our staff. We have also developed quarantine procedures for those who develop symptoms, to ensure that our staff can continue to safely treat patients.
We are also supporting the MoH to set up and manage isolation centres in two towns in East Darfur and South Kordofan states (Ed Daein and Dilling). Our teams are working on COVID-19 preparedness and preventive measures in all our projects, in order to safely isolate and treat suspected patients who may seek treatment in our health facilities.

MSF teams across Sudan are conducting health promotion and awareness sessions with patients and the local community, or at non-MSF primary healthcare centres.
Ethiopia
General context
Ethiopia confirmed its first case on 12 March. On 8 April the government declared a State of Emergency. Previously measures adopted included bans on mass gatherings, school closures, border closures, the release of about 4,000 prisoners, government workers were also ordered to work from home. Regions have taken also similar strict measures.
MSF operations
In Ethiopia, MSF fills critical gaps in healthcare and responds to emergencies, such as outbreaks of diseases (cholera, measles, etc) and the needs of refugees from neighbouring countries.
Our activities range from supporting the operating theatre and emergency room in the Gambela hospital, to providing primary and secondary healthcare to South Sudanese refugees in the camps, and responses to current emergency outbreaks (cholera and measles) while also running mobile clinics in remote areas of the Somali region.
We also treat neglected diseases like kala-azar and snakebites in Amhara, provide medical and mental health support to Ethiopian migrants deported from Saudi Arabia. We are closely monitoring how COVID 19 further evolves in Ethiopia and in the world, as we could be faced by challenges in securing necessary resources and supplies.
COVID-19 activities
MSF is closely monitoring the impact of COVID-19 in Ethiopia, whilst maintaining its regular activities. We are liaising with the Ministry of Health, the Ethiopia Humanitarian Coordination Team (EHCT) led by Humanitarian Coordinator, the World Health Organization and other health and non-health organisations and institutions to follow up the evolution.
It is essential to limit further spread of the disease, and protect people, patients and healthcare workers. It is impossible to predict how the situation will evolve in Ethiopia. MSF will be constrained by the available resources, staff and supplies as in elsewhere in the world. Essential medical supplies such as PPE (masks, gloves, gowns, goggles) must be available to frontline medical providers.
We have been working on preparedness for the disease in our projects by putting in place preventive as well as safety and hygiene measures among our staff, in order to be able to support and isolate suspected patients of COVID-19 who approach our health facilities.
Somalia
General context
After confirmation of the first case in mid-March, all international passenger flights were banned, with exceptions made for humanitarian and emergency services. Domestic flights were also banned later as a preventative measure in curbing the spread of the virus. The federal government has also closed down all learning institutions countrywide.
MSF operations
In Somalia and Somaliland, MSF carries out medical activities in hospitals, with a focus on maternal, paediatric and emergency care, nutrition and diagnosis and treatment of tuberculosis and multi-resistant TB, as well as running mobile clinics for internally displaced people.
For now, the MSF teams are continuing medical activities in Hargeisa and Las Anod (Somaliland), North Galkayo (Puntland state), South Galkayo (Galmudug state) and Baidoa (South-West state). Our in-and-out, short interventions in Jubaland state have been temporarily suspended.
We have cancelled new planned activities and have reduced some non-essential activities to focus on most immediate life-saving operations, in case of reduced availability of staff and supplies and our added role in the COVID-19 crisis. However, the disruptions have been small, given that most of our current activities are life-saving.
COVID-19 activities
Over the last weeks, MSF has been coordinating with the health authorities of Somalia and Somaliland at project and national level, with WHO and other health actors. The already fragile health system is overburdened with COVID-19. Due to the measures put in place to prevent the spread of the infection, regular programs are getting affected, like routine immunization and nutrition programs.
In Las Anod, Galkayo and Baidoa, where we were already running medical activities, we have put in place hygiene measures and preventive measures to protect our frontline staff. This includes infection prevention and control (IPC) trainings and trainings to be able to identify COVID-19 symptoms and triage suspected cases. We are also stepping up health promotion activities and providing technical advice or logistic support to set up isolation structures in some places.
In Hargeisa, as part of a task force composed by different NGOs, we are providing support to the Ministry of Health of Somaliland to make ready a COVID-19 centre. MSF´s support has included a light donation of IPC materials, training of Emergency Room staff and ambulance drivers, and a Training of trainers for regional medical staff on issues like IPC measures.