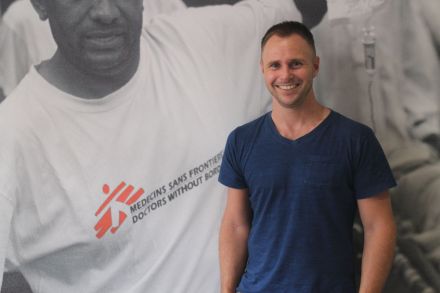 A South African logistics manager worked in CAR at two maternity projects where MSF saw patients on both sides of the civil conflict.
Bangui, the capital of Central African Republic, remains a deeply divided city. The most severe violence that erupted in the wake of the 2013 coup may be over, but sporadic fighting continues between the Muslim Séléka faction and Christian anti-Balaka group.
Three years since the peak of the conflict, Doctors Without Borders (MSF) still runs projects across CAR to treat people among the millions who remain dependent on humanitarian aid while facing a critical situation.
For six months last year, South African Andries Heyns worked as MSF's logistics manager at two maternal health projects in Bangui – Castor, in a predominantly Christian area, and Gbaya Ndombia in the mostly Muslim PK5 neighbourhood.
Collectively the health centres provide free quality care to people on both sides of the conflict.
"It's very important that we have hospitals in Castor and in PK5. In keeping with MSF's neutrality, we have to treat all sides," Andries says.
Working in a sometimes volatile context, he became accustomed to strict security protocols and the occasional flaring up of violence. "In the hospital you sometimes heard gunshots going off outside, sometimes when the shots got a bit closer, everybody would get down in case of stray bullets flying in," he says.
"When I first heard the gunshots it wasn't that surprising because I had done my research about the context," he admits. "Of course you don't want to be part of a war or a conflict. But when you are there it's eye-opening to see the ways people are forced to adapt to living with conflict – when the gunshots went off, people just ducked; they'd then wait a few minutes and get up again and carry on with their day like nothing had happened."
'MSF was an obvious choice'
Prior to joining MSF, Andries worked as a radar engineer in South Africa and then taught English in South Korea and Reunion, after which he returned to South Africa to pursue a PhD in operations research, obtained in 2016.  He has also volunteered as a firefighter and animal-welfare activist, focusing on anti-poaching activities.
"I'm quite adventurous, so joining MSF sounded like a very big adventure. I've also always wanted to focus on work that's for the betterment of other people or the environment, so MSF was an obvious choice for me."  As a student of French and equipped with a good grasp of the language, he also saw it as an opportunity to apply and improve his skills in Francophone countries in Africa.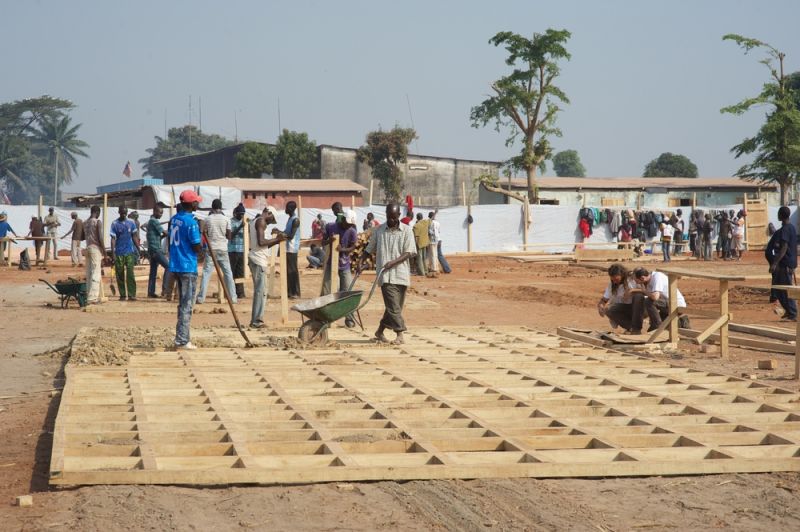 In the field Andries became a jack-of-all-trades for all logistical needs. "I did a lot of MacGyver stuff," he says, an example being a pulley and weight contraption he developed that automatically closed the door that led to the hospital laundry area – a gadget he thought-up after staff expressed concerns about infection control because there were too many mosquitos getting in.
He oversaw 60 contracts during his six-month stay in Bangui including completing the construction of a new neonatal ward – started by his predecessor – and the renovation of an 8m deep well to increase backup water supply capacity – a crucial project given the frequent municipal water supply complications.  But he says the work he is proudest of is increasing the capacity of the kitchen at the Castor project to improve patient nutrition.
"I increased the size of the kitchen team, changed the schedule to accommodate two shifts a day instead of one long shift and also renovated the entire kitchen with new ovens and ventilation systems.  All this was done with the aim of serving an improved menu to our patients, with three meals a day instead of two," he says. "We were treating pregnant women or women who had given birth, so they needed good nutrition – we couldn't just give them two meals a day. That was important to me. It was probably the biggest thing that I did for the patients where I could see direct results."
"The best part of this work is realising you are making a positive contribution to the project. Even though I didn't do all the work directly, I managed the contracts and tried to make things run as smoothly as possible," he says.
"It felt good to know I did my job correctly, that I did what I was there to do, that it helped improve the healthcare and lives of our patients. And the subsequent appreciation received from those we help makes it easy for us to keep up the work."
Find out more about MSF's activities in Central African Republic.