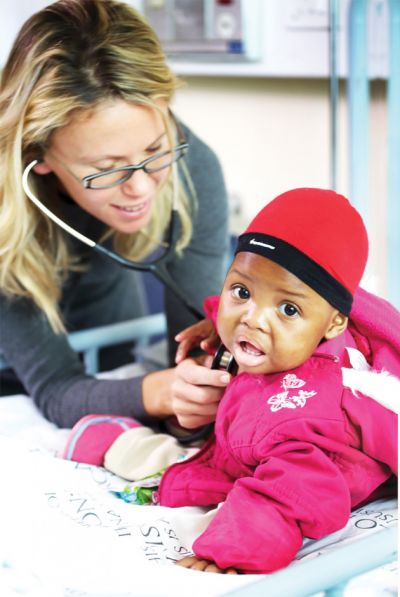 In the first instalment of a new feature, entitled "Where are they now?" MSF SA profiles former MSF fieldworker and Tygerberg Hospital paediatrician Dr Lisa Frigati to see what life holds for her after working with MSF.
Dr Lisa Frigati found herself at a crossroads: Having finished her medical degree, she was not ready to start her specialisation. Nor was she particularly enthused about spending another year working with the British health service, so in 2003, she took a decision that would change her life.
A graduate of the University of Cape Town, Lisa joined MSF, packed her bags and headed out for her first assignment to Myanmar.
"I believed in what MSF stood for and I suppose I might have been looking for a bit of adventure," she recalls. 
Myanmar itself was also at a crossroads – after years of military rule and violence, the country was gripped by the early stages of its
HIV
epidemic. Prevention of mother-to-child HIV services started just three years before Lisa arrived.  For a South African, it was a reality that resonated. Working in Myanmar Lisa would witness
antiretrovirals
(ARVs) at work for the first time.
"I'd never seen ARVs in action before because we still didn't have them in South Africa at the time," says Lisa, remembering how she watched ARVs bring severely ill patients back to life. "It was literally like seeing people rise up from the dead."
While AIDS denialism would keep ARVs out of reach for thousands of South Africans for another year at least, Lisa's experiences as a community service doctor in South African rural hospitals where HIV burdens made her a valued commodity at a time when doctors from many other parts of the world lacked first-hand experience treating the virus.
With a growing passion for neglected and infectious diseases, Lisa left MSF field work after a year in Myanmar for the London School of Tropical Medicine where she completed a masters degree in Tropical Medicine and International Health. 
But she wasn't gone for long. Like many of our fieldworkers who pursue advanced degrees in related fields, Lisa returned to MSF in 2006 – this time as an HIV advisor based at an MSF headquarters in Amsterdam. From here, she undertook field assignments Haiti, India and Liberia. As an HIV advisor, she helped MSF teams treat difficult cases and improve treatment programmes, she also negotiated with governments to establish new projects – something that her Myanmar assignment helped prepare her for. 
Although Lisa left MSF for good in 2007 to return to the South African public health sector, she's kept in contact. She has maintained the strong professional networks she developed while working with MSF. She has also written
international journal articles
on humanitarian topics like ARVs in conflict settings and
TB
prevention in HIV-positive children. 
For Lisa, her time as
MSF fieldworker
broadened her perspective on how health systems function, while organisation's values, such as speaking out to end suffering mirror her own sense of sense of social justice. 
"Something that will always stay with me is this ability to push boundaries and to expect that your patients – and patients everywhere – should access the same quality of medicines and treatment that people in Europe or the United States do; the idea that you can do something for someone even with limited resources," Lisa explains. "The idea that you have to keep pushing whether you're negotiating with governments, or bringing in new drugs or fighting
patents
– that is what still inspires me today." 
Lisa is currently completing her sub-specialisation in paediatric infectious diseases at Cape Town's Tygerberg Hospital.