Worldwide, 95% of births to adolescents occur in developing countries, where family planning coverage remains low.
There is also sadly a link between violence and pregnancy –adolescents experiencing intimate partner violence are three times more likely to give birth compared to their peers not experiencing violence, according to World Health Organization (WHO) research.
Pregnancies during adolescence can be extremely dangerous for both mother and child. Maternal causes are the second highest killer of 15-19-year-olds, according to the WHO.
Girls under age 14 are also more likely to deliver newborns that are premature, low birth weight, beset by health problems, and may not survive.
One of the most crucial risks of early pregnancy lies in the girl's incomplete physical development, which can be due to age or malnourishment.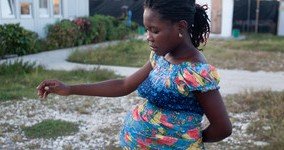 Dr Fatema Ferdousw is a medical doctor who works with Médecins Sans Frontières in Dhaka, Bangladesh, and often sees the complications that young, malnourished pregnant girls face.
"The result is an increased likelihood of difficult labour because the pelvis is too small," says Dr Ferdousw. "The children can also be born undernourished... It is an ongoing cycle," she says.
In Dhaka, Doctors Without Borders (MSF) provides supplementary nutrition for pregnant and lactating adolescent mothers, as well as referring women facing complications requiring caesarean sections to hospitals capable of performing the life-saving procedure.
MSF emphasises the importance of skilled antenatal, childbirth and postnatal care in all women, as skilled care is the only way to manage the many risks.
Young women are more prone to prolonged labour which can cause complications including ruptured uterus and haemorrhage. These can be fatal, particularly if emergency obstetric care is not available. If delivery doesn't happen, the baby will eventually die, due to infection and lack of oxygen.
Prolonged labour can also lead to the devastating disability that is obstetric fistula, a hole in the vaginal wall. If untreated, or inoperable, it has terrible consequences: incontinence and ongoing infection leading to disability and stigma.
MSF provides specialised surgery and rehabilitation in high prevalence countries such as Nigeria and South Sudan. In Jahun, Nigeria, 370 women underwent surgery for obstetric fistula in 2013, but many women missed out due to barriers to accessing care.
"When patients have fistula, some are shunned by their families and community so they will not have anyone to bring them to the hospital," says Caroline Nyoni, head of nursing and midwifery at Jahun hospital.
Reducing maternal and newborn mortality are key objectives in MSF approach to women's and children's health. To address these risks around the time of birth, MSF emphasises emergency obstetrics combined with newborn care.
In Kabul, Afghanistan, MSF has recently opened a comprehensive obstetrics unit that focuses on complicated deliveries and has the capacity to provide caesarean sections. The team expects to support more than 100 complicated deliveries each month.
Farzana, a young woman in her late teens, recently gave birth to her first child in the unit. Her labour was long and difficult and she seemed unprepared and anxious about what was to come.
But Farzana was lucky to have been taken to the maternity unit by her in-laws when she started labour: in Afghanistan, most women deliver at home and minor complications can quickly escalate into something more serious.
Not long after the birth, Farzana's baby was wrapped close to her in what is known as the 'kangaroo care' position. The skin to skin contact warms the newborn, encourages early breastfeeding and supports a close bond between the two.
Although her baby was firmly wrapped, Farzana still held her, in fear that she could fall. When asked about the name of her daughter she looked perplexed: "I really haven't thought about it. I just want her to be healthy."
Find out more about MSF