In June 2014, Mosul, Iraq's second-biggest city, fell under the control of the Islamic State group, which made it its de facto capital in the country. In October 2016, a military offensive led by an alliance of the Iraqi security forces and an international coalition was launched to retake the city. The battle of Mosul stretched over 250 days and was described as one of the deadliest urban combats since World War II. In July 2017, Mosul was declared officially retaken by Iraqi authorities. 
Five years later, the healthcare system in Mosul remains fragile. Many facilities damaged in the fighting have not been fully rehabilitated yet, and both space and medical supplies are still lacking in comparison to the needs. 
Bashaer, midwife supervisor.
Since I started working for MSF, I've learned the importance of neutrality. Whether you're coming from close or far, whether you're known or not, whether I like you or not, you deserve the same level of care.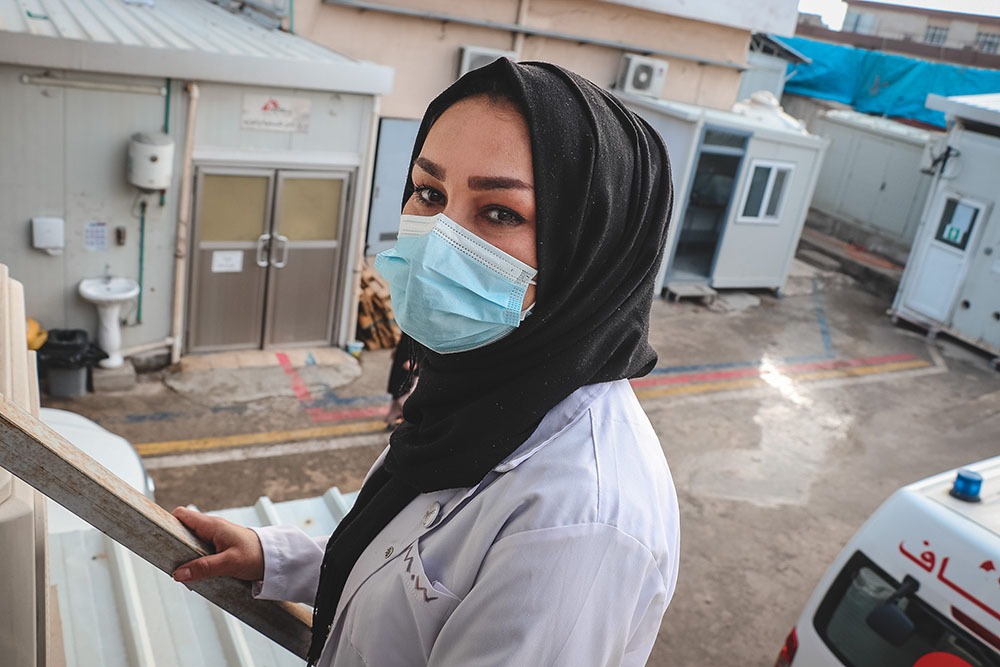 "My name is Bashaer, I am 29 years old and I am a midwife supervisor. I started working in the Al-Amal maternity unit in July 2019 and I became midwife supervisor in June 2021.  
Before working in this maternity unit, I used to work in one of the biggest public hospitals in Mosul. Now, I work in both places. There is a big difference between this maternity unit and the public hospital. I have learned a lot from working for MSF. I also try to apply what I have learnt in the hospital because right now many public health facilities are not yet working properly. Hospitals in Mosul are slowly improving but the level of services is still not optimal and resources, as well as the overall capacity to treat patients, remain limited.  
MSF's decision to open the maternity unit in this neighbourhood of West Mosul was smart because the environment is particularly complicated here. A significant number of people cannot access healthcare, either because they do not have the means to pay for it, or because they face other challenges, such as administrative barriers. So, when patients come to the facility, they are generally very grateful to receive good medical and obstetric care. They don't have other places to go; they cannot afford to pay for services at hospitals or private clinics. Our maternity unit makes a big difference to them because it's free. If this maternity unit didn't exist, it would be very complicated for them to access these services elsewhere.
I come from East Mosul. There's a big difference between East and West Mosul. The eastern side of the city wasn't as damaged as the western side during the war. Everything collapsed in the west: houses were damaged or destroyed, many people were injured or killed… In the east, we suffered too but not as much. When you go from the east to the west of the city, you feel the difference. That's why MSF's presence is needed here.
Neutrality is the value that I try to apply most in my daily work. And I think it means a lot to people here.
Rahma, midwife supervisor
My name is Rahma, I am 26 years old and I work in the Al-Amal maternity unit as an MSF midwife supervisor. Here we mainly take care of pregnant women. We provide a range of services before women give birth, such as antenatal check-ups. We provide mother and child health services, which are for both women and their babies. We assist at the delivery itself and then we provide postnatal care. We also offer other services for women, such as family planning. 
Rahma, MSF Midwife Supervisor
There are still a lot of needs, especially in West Mosul. People here cannot easily access health services.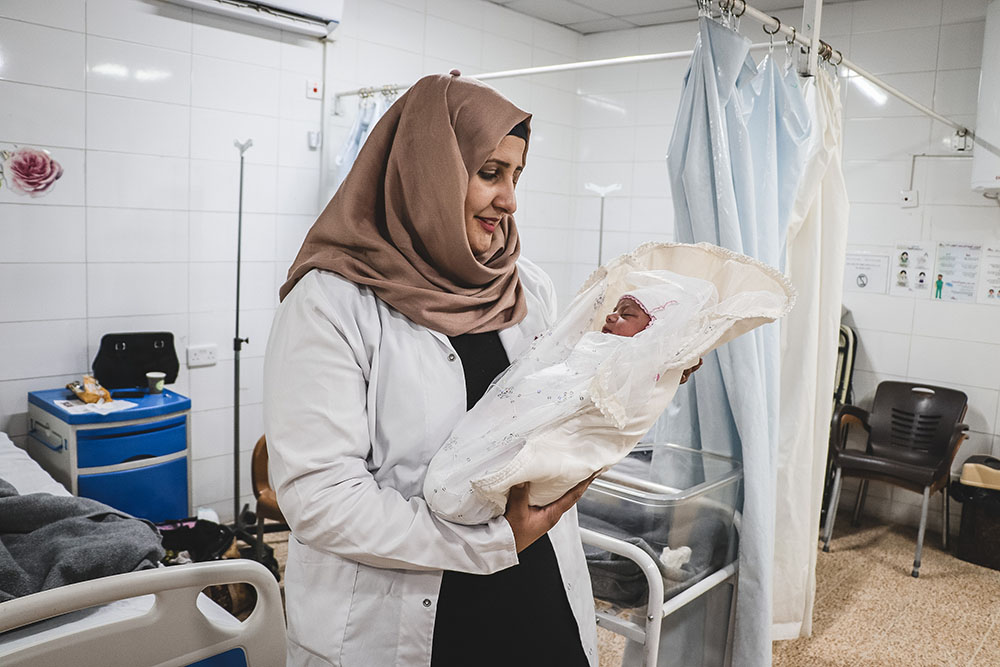 In 2017, when the conflict ended in Mosul, we experienced many difficulties. There were not enough functioning hospitals, as a lot of the facilities had been destroyed in the conflict; there were too few health workers and the number of beds in public hospitals had gone down. Consequently, more people relied on humanitarian organisations for these services. 
  
In this maternity unit, we can assist up to 100 women every day: some come for antenatal check-ups, others for family planning and others come to give birth. On average, we assist between 10 and 15 deliveries on a regular day, but it can go up to 20 to 25 deliveries on a busy day.  We have 30 midwives and five midwife supervisors working here, either on the night shift or the day shift. We alternate because the maternity unit is always open as we offer 24/7 services. 
I used to work in a public hospital. Public facilities don't always have the means to ensure proper infection prevention and control procedures. That's why most of the patients coming to this maternity unit say they've never seen such a level of cleanliness. In public hospitals, the availability of medications is still a big issue too.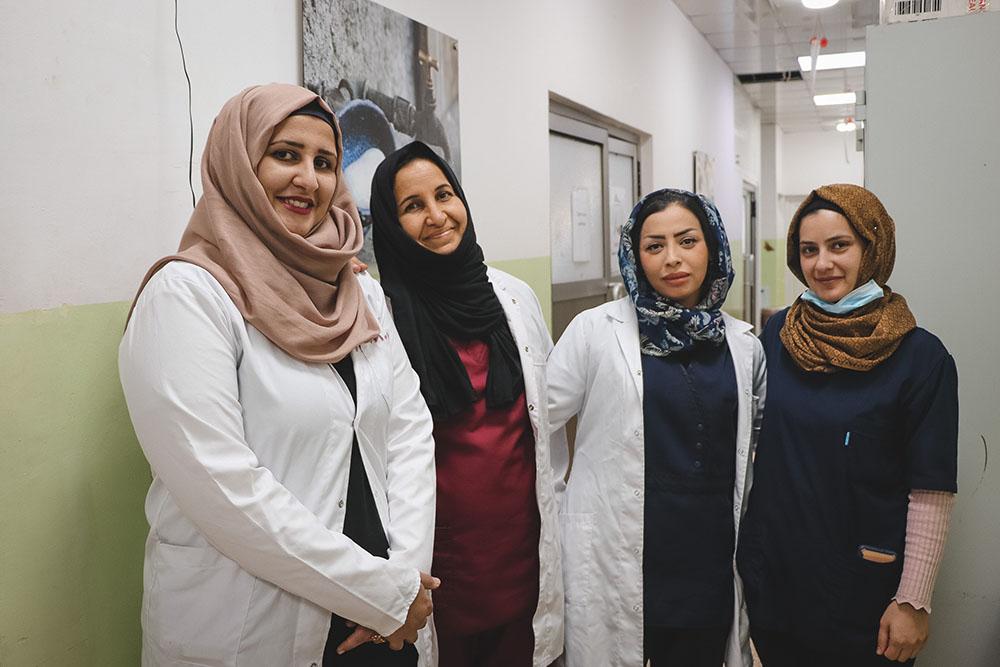 It's slowly becoming better but right after the end of the conflict in Mosul, there were no medications in hospitals, and we had no choice but to tell patients to go and buy them. Most people couldn't afford to do so, and they'd come back to the hospital later in a worse condition. 
What could we do? We didn't have the equipment to do anything. Five years later, things have improved in the public sector, but it is still not at the level as in health facilities managed by NGOs. That's why the presence of MSF is crucial.
Rebuilding hospitals in Mosul has been relatively slow. So far, what has mainly been done is to install containers next to destroyed facilities until they have been rebuilt, but the containers are often not properly equipped for receiving patients. Right now, especially in the time of COVID-19, the needs are too big for hospitals in Mosul to handle. 
On top of all these challenges to accessing healthcare, gender-based violence is an issue we sometimes witness. Some of our patients have experienced it, but they very rarely talk directly about being beaten or mistreated. Most of the time, it's the people who live with them who bring them here.
Rahma, MSF Midwife Supervisor.
There's still a big need for improvements when it comes to access to healthcare in the city and we witness it during the course of our own work. A lot of patients come here every day. Sometimes, patients come, and we are simply not able to help them. Unfortunately, we still can't cover all the needs. It's very difficult to hear patients say: 'Where should I go? I don't have another place to go.' We help most women who come here, but we must have admission criteria to maintain the best possible level of care within the limits of our own resources. The thought of people going home thinking 'they wouldn't take me' is the hardest thing for me. I wish we could help everybody.
There are still a lot of needs, especially in West Mosul. People here cannot easily access health services. We have hospitals, but for a caesarean section, you might pay up to 700,000 Iraqi dinars (US$500), and most people don't have this kind of money. People who are employed, yes, maybe, but for many people, that's not an option. Sometimes women arrive here, and they have not eaten anything. Sometimes it's impossible to tell how far along they are in their pregnancy. Sometimes they come with their kids, who are very thin or underweight. So, our work here is to offer an alternative for them and to try to help as much as possible with the services we can provide. 
 
The women themselves don't speak because they feel scared. A few days ago, a patient came to see us. You could tell she had been beaten. We tried to ask what happened to her and she said that she had fallen down the stairs. Gender-based violence is still very taboo and is an additional challenge we face when treating women here. 
Women in this community not only need access to physical healthcare, but they also need full mental health support. Our society needs to understand that. We really need to tackle mental health issues in Mosul. I hope that in the future there will be improvements in that field. But there is still a long way to go before proper access to both physical and mental healthcare can be guaranteed in Mosul. But I focus on the little wins to keep ongoing. One day a patient left us a note to thank us – for the services we provide, but also for our attention and the human approach we take at the maternity unit. Her thanks meant a lot to me."
Mariam, I'm 20 years old and I'm from the Yarmouk neighbourhood of Mosul
"My name is Mariam, I'm 20 years old and I'm from the Yarmouk neighbourhood of Mosul. I came to the Al-Amal maternity unit by car – it's a short car journey from my home to here. 
Mariam, I'm 20 years old and I'm from the Yarmouk neighbourhood of Mosul
My experience today was good. I had my first antenatal check-up. I think this maternity unit is important because there is no other place offering similar services in the area.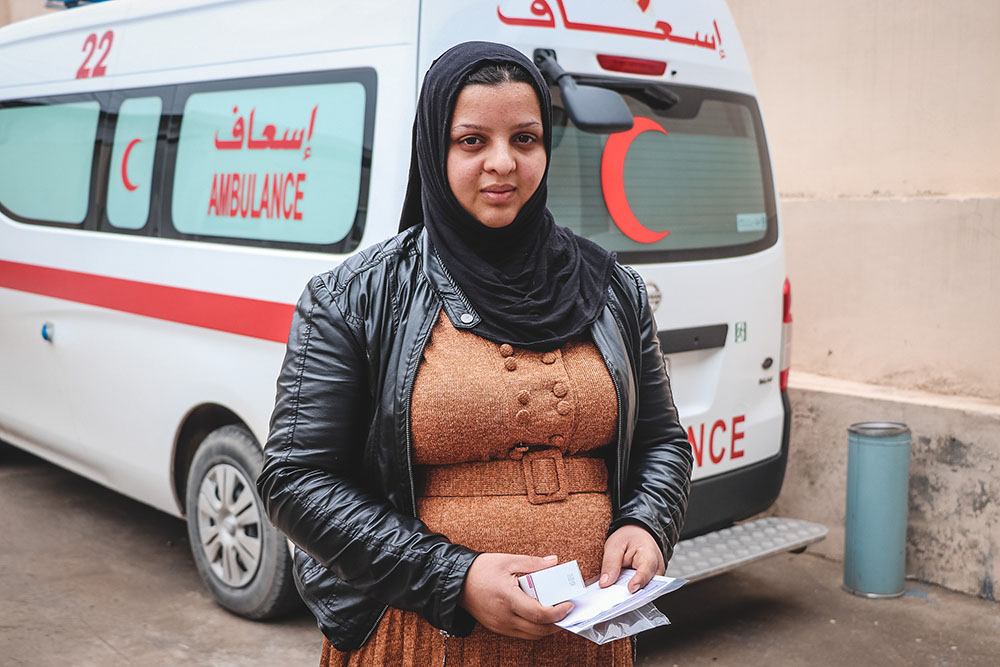 I'm three-and-a-half months pregnant, expecting my third child. It's my first time coming to this maternity unit. I gave birth to my first child in a public hospital, and I gave birth to the second in MSF's maternity unit in the Nablus neighbourhood. I didn't have to pay in either place. But whether services are free or not isn't the most important thing for me, it's really the quality of services and the way we are treated that matters. 
This time around, I came here because my relatives told me about the maternity unit. My sister-in-law had been here, and she recommended it – she said it was very good here. And if we go to the hospital or to see the doctor, usually we have to wait for hours to be seen. That doesn't happen here. 
I'll continue having antenatal check-ups until my baby is born. I don't know yet if it's a boy or a girl. I already have one boy and one girl, Raed and Arwa. I haven't thought of names yet for the third one; I'll wait until I know the gender. 
A normal day in my life is quite simple now: I do housework and take care of the kids. I live with my whole family, not just my husband and children. There are 23 of us in the house so there's a lot to do. My dream is to get out of the house one day and have a house of my own, with just my husband and children. But I'd like to stay in Mosul, close to my relatives."
Rafida is 15 years old and lives close to the maternity unit
"My name is Rafida and I'm 15 years old. I live close to the maternity unit, but this is the first time I've been here. My neighbours and relatives told me about this place.  I arrived last night and went into labour at 9 this morning. I'm going to stay here for another four hours here and then I'll go home with my son Layth. The treatment here is good. They even bring me things to eat and drink. The space is very clean. I am thankful. I have hopes of a brighter future."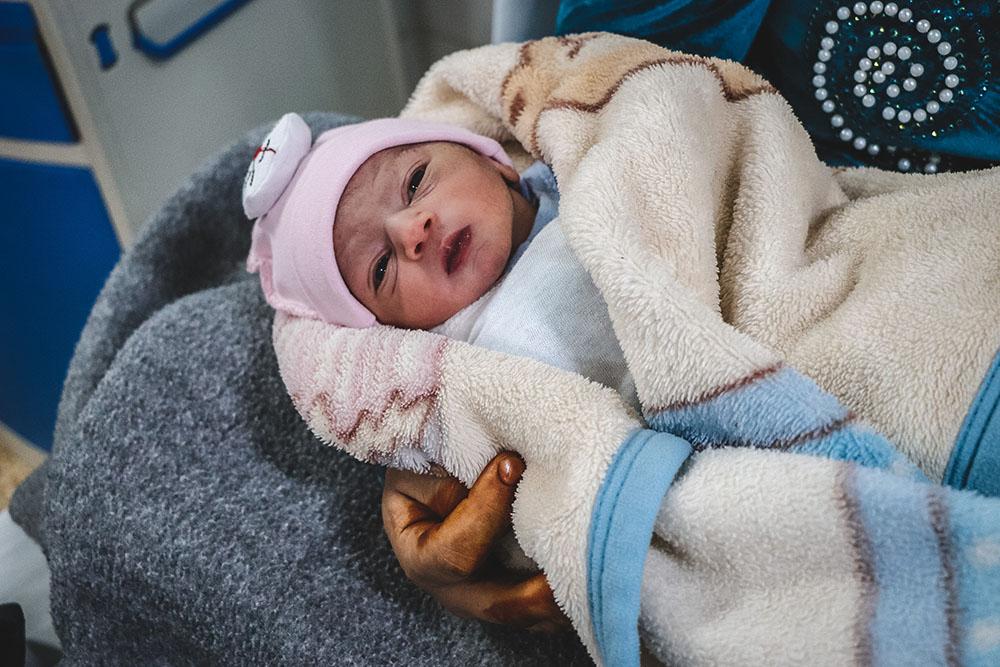 Bouchra is 19 years and lives in Mosul
"My name is Bouchra, I'm 19 years old and I'm from the Mejarin neighbourhood of Mosul. I came to this maternity unit to give birth because there are no hospitals close to my home – we only have emergency services close by. This is the first time I've been here. My relatives told me about it and told me the services here were good.  I arrived this morning at 9.30 am. I saw the doctor and I went into labour at 2 pm. The birth was difficult, but all went well, and the midwives helped a lot. Now I need to wait four hours before being able to go home. When I leave the maternity unit this evening I'll go to my relatives' house.  It takes about 90 minutes by car to get there. I won't go to my neighbourhood directly because it's too far. Rivan, my daughter, is my first child and I feel happy to have her. I hope the future will get brighter and brighter. I hope I'll bring other children into the world too. And if I do have other children in the future, I'll come back here."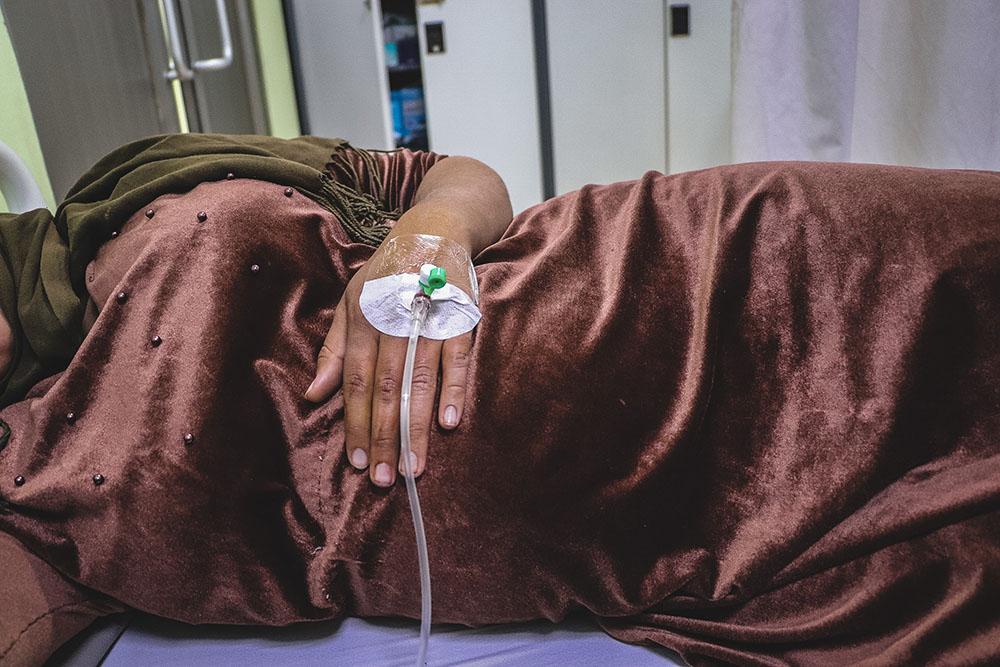 Mahaya is 50 years old and from Tel Afar
"My name is Mahaya, I'm 50 years old and I come from Tel Afar. I came to the maternity unit today because my daughter-in-law is about to give birth. It's the fourth time I've been here. I came before with my other daughters-in-law. My daughter and my niece also gave birth here. It's clean and the midwives are nice. Before this maternity unit existed, nothing was available, and we used to deliver at home. A midwife would come, and deliver the baby, and that would be it. There wasn't even a hospital we could go to. This maternity unit is a big improvement in our lives."
24-years-old Sarah
"My name is Sarah and I'm 24 years old. I had a baby not long ago. When I was pregnant with my baby girl, I came here for antenatal check-ups, but because the birth was looking difficult [requiring a caesarean], I couldn't deliver my baby here but needed to give birth in a hospital. I live very close to this maternity unit. A lot of my relatives had told me about this place, not only because of its maternity services but also because of all the other services, like family planning and postnatal care. If this maternity didn't exist, I'd have gone to a private clinic. They're both similar, but here we don't pay for the services. It's also better here because we're treated with respect and they take good care of us. When they speak with you, the midwives treat you more like a sister than like a doctor speaking to a patient."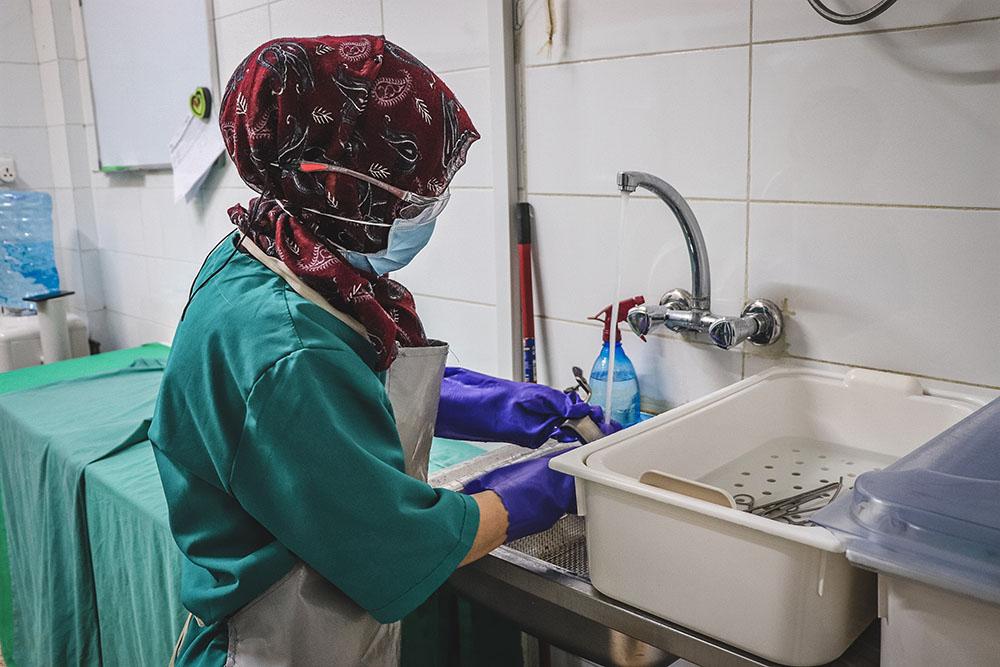 40-year-old Tarfa
"My name is Tarfa, I'm 40 years old and I'm from this neighbourhood. It's not the first time I've been to this maternity unit; I've been coming regularly. I have six children. The first time I gave birth was at home. Afterwards, I alternated between the hospital and my home, depending on whether or not the birth was complicated. If there's any risk, the hospital is always a better option than giving birth at home. My youngest child was born in 2020. I don't necessarily want any more children. I came today because my periods are late and I want to find out if I'm pregnant. I'm not sure. I think the services provided by this maternity unit are important and good. They take good care of people. Everybody knows MSF in this neighbourhood."
40-year-old Tarfa
I think the services provided by this maternity unit are important and good. They take good care of people. Everybody knows MSF in this neighbourhood.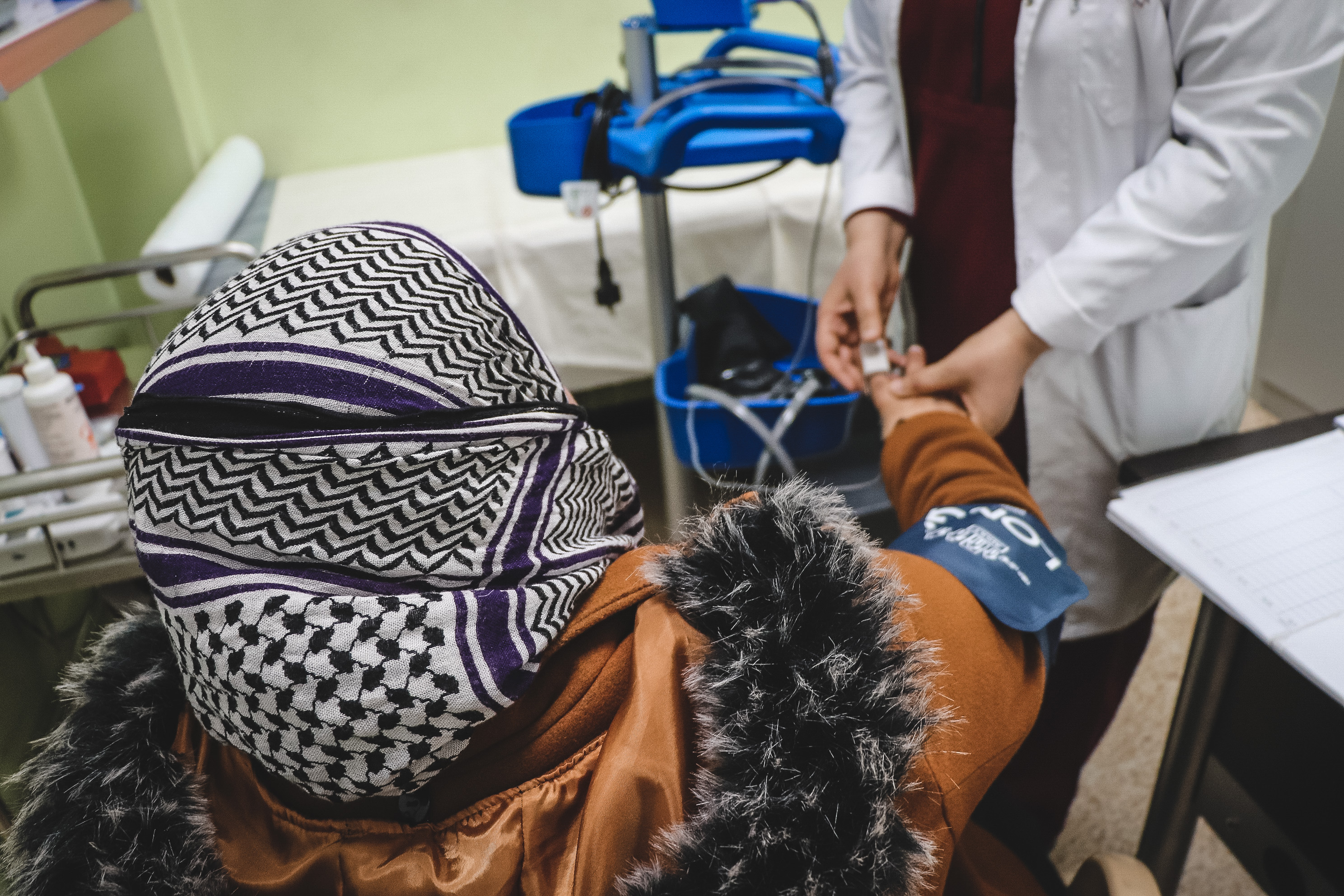 Zeina
"My name is Zeina and I'm here with my cousin Daha, who is about to give birth. She's 21 years old and we both live in the neighbourhood. One of our cousins came here not long ago and told us that the services were good. We arrived at 10 this morning. We saw the doctor and Daha was admitted to the maternity unit. They looked after us well. I have two children. I didn't give birth here because the maternity unit didn't exist when I had my kids, but I think the services here are great. Everything is made very easy. And it's more convenient and closer for us to come here than to go to a town far away to deliver our children."