Dr. Laura Trivino Duran is the Doctors Without Borders (MSF) Tuberculosis Programme Focal Point for MSF's HIV/AIDS programme in Lesotho. She is based in Morija, and works mainly in Scott Hospital and its 14-area clinics that serve about 200,000 people, amongst whom an estimated 35,000 are living with HIV/AIDS. Back in Spain, Laura's home country, she is a general practitioner. Before working in Lesotho, she worked with MSF in Uganda and Zambia.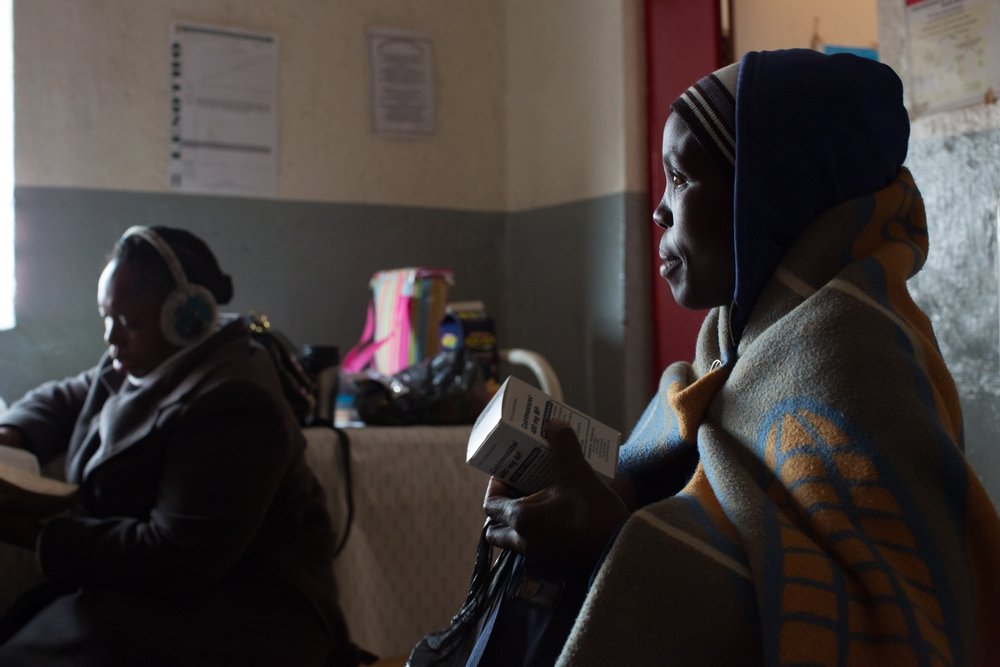 Lesotho has the third highest HIV prevalence in the world and the fourth highest tuberculosis incidence worldwide. Photo: Zethu Mlobeli/MSF
What does your day usually look like?
I start my day by visiting/reviewing patients with complicated cases of TB and HIV at the in-patient departments of Scott Hospital. After, I gear myself up for more than an hour of rugged travel from Morija to other MSF-supported clinics up in the mountainous areas. I spend a whole day in clinics such as Masemouse and Ribaneng, where I see patients and sit side by side to continue mentorship to nurses. I also conduct supervision visits to the clinics together with District Health Management Team to achieve successful handover of our HIV/TB integrated programme.

What are the main challenges in treating TB in Lesotho?
TB infection is a very big problem in Lesotho, having the fourth highest incidence in the world (637 out of 100,000 people per year). We are talking about huge numbers of people being diagnosed with TB in a country where the number of HIV infections keeps rising too. More than 23.2% of the population is HIV-positive, and up to 90% of the TB patients are co-infected with HIV. It worries all of us, because TB/HIV co-infected patients are more difficult to treat and have poorer prognoses. Diagnosing TB, especially in co-infected patients, is another challenge because the majority of them appear negative with the regular sputum test, which means we need a separate diagnostic tool such as chest x-rays to diagnose them properly.
Additional tests are too costly for our patients, who don't even have money to pay for transport to hospitals. The patients we treat often have to trek over mountains, sometimes for four hours or more. All these factors are barriers to getting patients into treatment as soon as possible. This is a good example where we need better diagnostic tools closer to where the patients are, which in turn improves the early detection of TB and rapid treatment. Enrolling co-infected people in treatment quickly is essential to helping them get healthy and live longer.
Which aspects of this TB programme can be successfully replicated in other rural and resource-poor settings?
The fact that this programme offers fully integrated HIV and TB treatment, is nurse-driven, and community supported have made it a success. We have a "one-stop shop" where patients visit the same clinic on the same day and receive HIV and TB treatment from the same nurse. This means a lot to our patients who already find it extremely difficult simply to reach the clinics. It improves patients' adherence to their treatment, and clinically, it is a better way to manage co-infected patients during drug interactions and other opportunistic infections that can occur during the dual treatment.
We also have realised patients who are first diagnosed with TB and are already adhering to TB treatment, find it easier to start anti-retroviral therapy (ART) because they are already used to taking medication regularly. This model of care is replicable if task-shifting is an option in the country and nurses are empowered to diagnose, prescribe, and dispense antiretroviral and anti-tuberculosis therapy.
During the last 8 months you have spent in Lesotho, is there a patient that you will always remember? 
There are sad and happy stories of patients I have treated as a doctor here in Lesotho. Many die before they are on treatment for HIV/AIDS or TB, and few others die during treatment, but I´d rather remember a smiling child. I will never forget one of my child patients, Napho. He is 5 years old now. When I met him he was very sick and unable to walk because of a swollen knee, and his mother died a few weeks later. Napho was diagnosed with extra-pulmonary TB in his lymph nodes, and he started on ARVs after eight weeks on TB treatment. Now he is doing very well, gaining weight, his CD4 count is increasing (a sign that his immune system is improving), and he has almost completed his TB treatment without further complications.
Find out more about MSF's work in 
Lesotho