The experiences recollected by these four survivors are sadly common among the women and men rescued by the Geo Barents, Doctors Without Borders (MSF) rescue ship in the central Mediterranean. On the occasion of International Women's Day on 8 March, Tales of Women at Sea aims to amplify the voices of women rescued and share stories from male survivors about important women in their lives.
Through portraits and testimonies, the survivors describe the circumstances that led them to cross the central Mediterranean, the deadliest sea migration route in the world. Their stories are accompanied by testimonies from female MSF staff, who explain their motivations for the life-saving search and rescue work, and the bonds felt with survivors on the Geo Barents.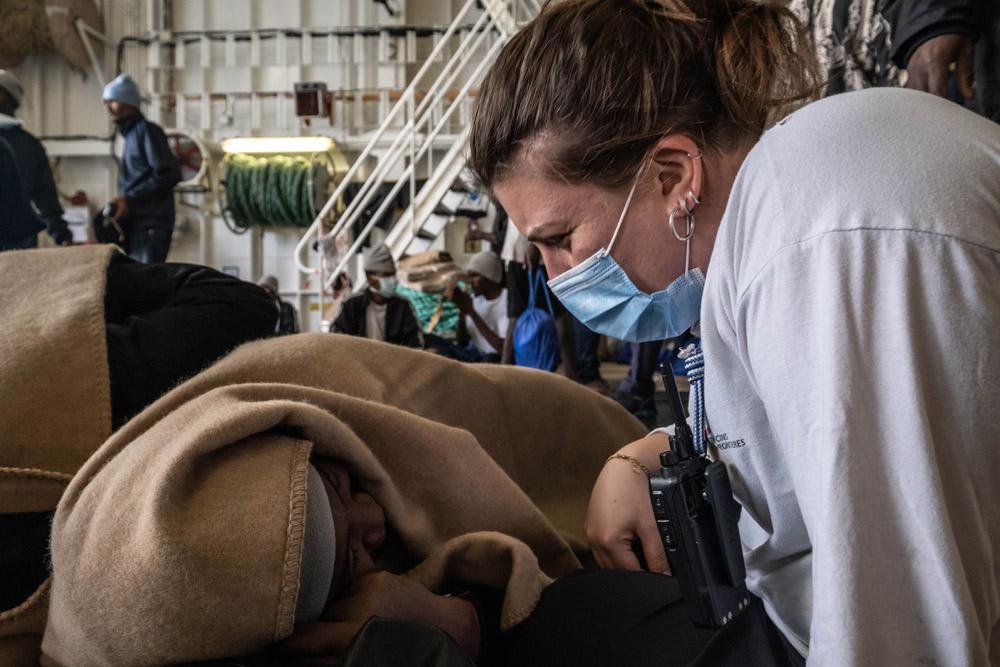 These are testimonies of survivors that fled across the central Mediterranean:
"The minute I was alone, they would have raped me." Adanya, 34 years old, from Cameroon.
"In Libya, I was sleeping under trucks and buses as I did not have any money." Afia, 24 years old, from Ghana.
"I know if I tell my mother I am in Libya, she will be crying every day." Ibrahim, 28 years old, from Nigeria.
"They said that if I had sex with them, they could take me [across the sea] without payment." Linda, 19 years old, from Guinea Conakry.
Anyone crossing the sea to escape a dangerous situation or to find a better life is in a vulnerable position, but women face the additional burdens of gender discrimination and, all too often, gender-based violence, along their routes. Women represent only a small proportion - around five per cent - of those who make the dangerous journey from Libya to Italy. 
On board the Geo Barents, female survivors regularly disclose practices such as forced marriage or genital mutilation (affecting either themselves or their daughters) as being among the reasons they were forced to leave their homes. Women also face specific risks during their journeys - MSF medical teams report that women are proportionally more likely to suffer fuel burns during the Mediterranean crossing, as they tend to be placed in the middle of the boat where it is thought to be safest. . Many women rescued also report having experienced  various forms of violence, including psychological and sexual violence and forced prostitution.
 
Decrichelle, who fled a forced marriage to a violent husband with her baby
I wanted to be here with my child. It hurts me to think that I am safe and I left her in the desert.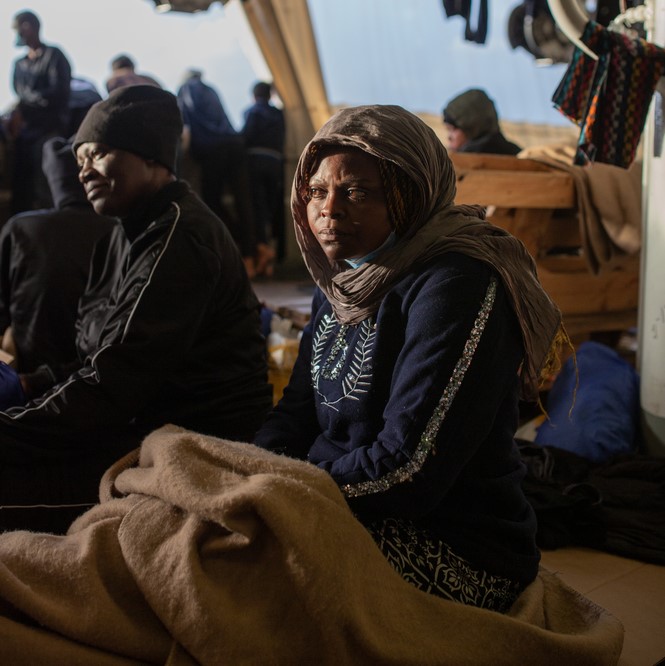 Among these women is Decrichelle, who fled a forced marriage to a violent husband with her baby. They left their home country of Nigeria and went via Niger to Algeria. When they arrived in the desert, Decrichelle's daughter fell ill, and she could not do anything to treat her because she had no access to care or medicine. The young girl died, and Decrichelle had to leave her behind before continuing the journey to Algeria: "an immense and inconsolable sadness" for her.
Decrichelle attempted to cross the sea once but was arrested and sent to prison, where she was released immediately, only to be taken by taxi to a brothel. Some Cameroonian friends helped her escape. For six months, she lived in the campos (the abandoned buildings or large outdoor spaces near the sea where traffickers gather migrants) before scraping together the money to pay her way for another crossing. "I want to be in a place where I can live like a normal person of my age. I want to be able to sleep at night," she says. "I wanted to be here with my child. It hurts me to think that I am safe, and I left her in the desert." 
Beyond the difficulties women face on migration routes and in Libya, MSF teams on board the Geo Barents often witness the strong bonds that develop between survivors on the women's deck. The women come together to support one another with daily tasks and childcare.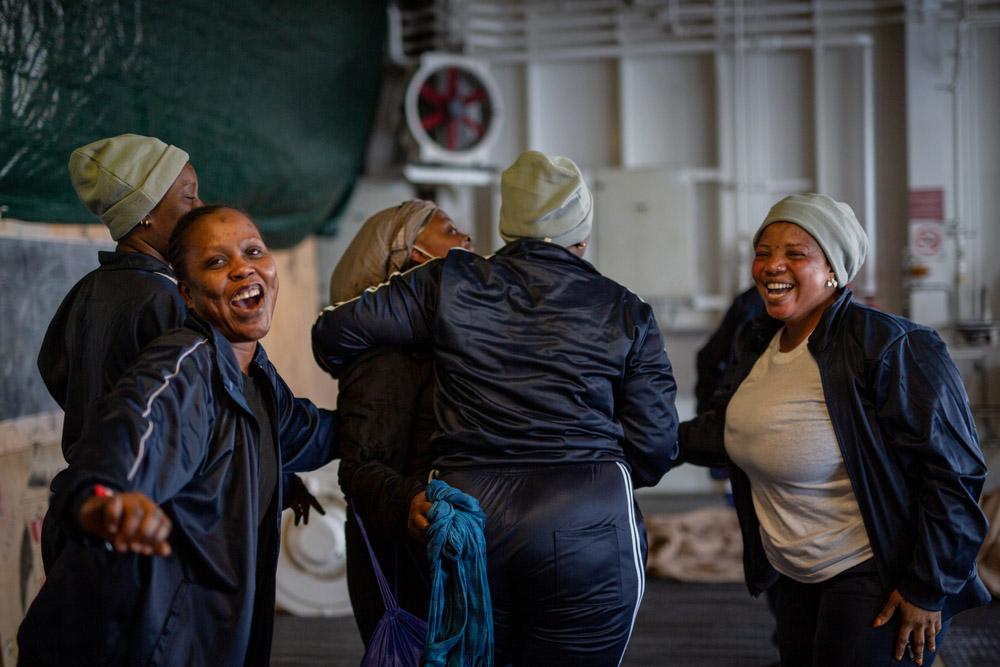 I want to tell women: it is not your fault. You are exactly the same person as you were before. You are even stronger,I think it has been really moving to see these women, who actually escaped what I experienced for an hour of my life, and in their struggle, strength and hope, [they do not stop] this fight,"
Lucia, MSF deputy project coordinator aboard the Geo Barents, who has herself experienced rape
Meanwhile, when male survivors are asked about the people they left behind or the reasons for their journey, a woman is always mentioned in their stories. Ahmed, 28 years old, was born in Sudan to Eritrean parents who moved to Sudan to escape the war. Having lived all his life as a refugee, Ahmed never felt that he belonged in Sudan. He wished to leave, but as an undocumented person, unable to return to Eritrea for fear of military conscription and an oppressive dictatorial regime, he decided to travel to Libya and cross the Mediterranean Sea to Europe.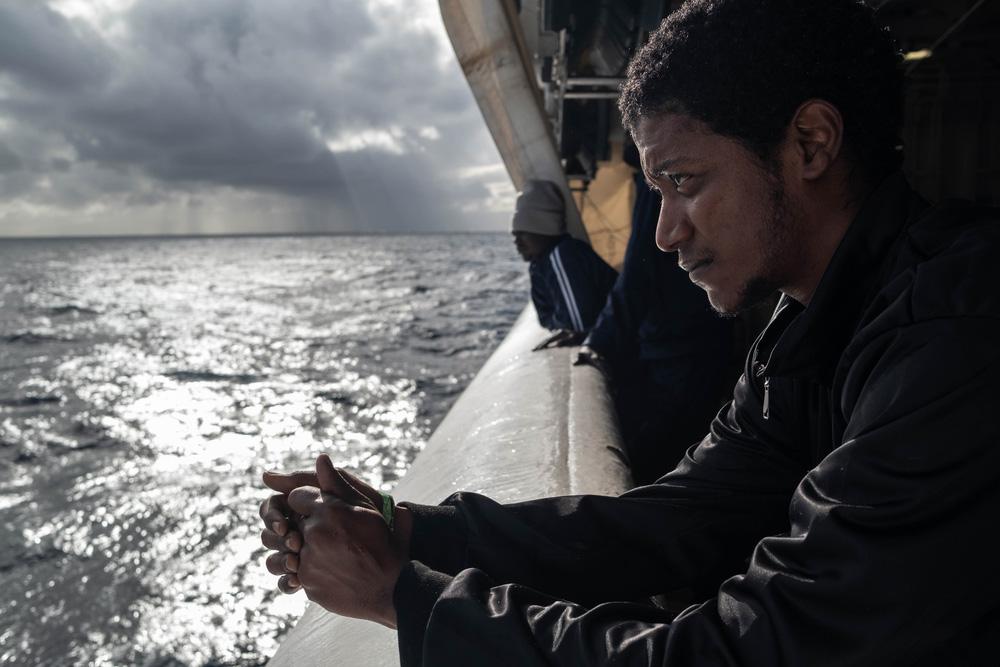 She has a really big role in my life. She was continuously supportive and motivating me, wishing me the best. She is my inspiration… I hope to meet her again.
. Ahmed, 28-years old, born in Sudan to Eritrean parents who moved to Sudan to escape the war
Ahmed's mother was the only one who stood by him when he decided to convert from Christianity to Islam, despite harassment from his other family members. "[Converting to Islam] affected me, affected my friendships… for sure [I faced issues because of that]. At first, from the family… in the beginning, I was secretive… until my family knew; then the harassment started. But my mother accepted me. She told me, 'Whatever makes you comfortable, do it.'"  Ahmed says his mother is one of the reason she was able to make the journey from Sudan through Egypt and into Libya. "She has a really big role in my life. She was continuously supportive and motivating me, wishing me the best. She is my inspiration… I hope to meet her again."
Nejma, cultural mediator on board the Geo Barents, explains her bond with survivors like Decrichelle and Ahmed: "I am African and I am Middle Eastern. I am a mother. I am a woman. There are so many things that link us together. Maybe also the fact that I had to flee. That is a big part of it. I think it helps me understand where people are at the moment we find them; it is an understanding that books could never teach me."  
As a refugee herself, Nejma shares what helped her to move forward in the places she fled to. "[Survivors need to] keep the strength... once they disembark in Europe, it is not the end of the journey," she says. "It is a different challenge: to not let go of who they are, to never forget who they are, where they are from. To be very proud of their origins. Because you will not know where to go if you do not know where you came from. And I want my brothers and sisters from Africa and the Middle East, or anywhere,  to remember who they are. It will make it easier to move forward."
Background information
MSF has been running search and rescue activities in the central Mediterranean since 2015, working on eight different search and rescue vessels, alone or in partnership with other NGOs. Since 2015, MSF teams have provided lifesaving assistance to more than 85,000 people in distress at sea. MSF relaunched search and rescue activities in the central Mediterranean in May 2021, chartering its own ship, the Geo Barents, to rescue people in distress, to provide emergency medical care to rescued people, and to amplify the voices of survivors of the world's deadliest sea crossing. Since May 2021, the MSF team on board the Geo Barents has rescued 6,194 people, recovered the bodies of 11 people and assisted in the delivery of one baby.
 
These stories of the women on board, the Geo Barents, were collected during rotations of the ship at sea. The portraits and testimonies were captured by two female photographers, with a view to amplify women's voices while respecting cultural sensitivities:
Mahka Eslami is an Iranian photographer who was born in Paris and lived there until the age of seven before her parents returned to Tehran. While studying engineering in Iran, she worked as a journalist for the Chelcheragh. She returned to France, where she finished her engineering studies before branching out into documentary photography and transmedia writing to become an independent photographer. Her work has been published by Le Monde, Libération, Society, Néon and Les Inrockuptibles.
Nyancho NwaNri is a lens-based artist and documentarian from Lagos, Nigeria, whose work revolves around African history, culture and spiritual traditions, as well as social and environmental issues. Her documentary works have appeared in numerous publications, including The New York Times, The Guardian, Aljazeera, Reuters, Quartz and Geographical Magazine.