Jean-Claude Dlamany (41), his pregnant wife Norma Dlamany (32), and their 18-month-old daughter L'or fled Durban following xenophobic attacks. When arriving in Joburg, they sought safety in a displacement camp in Mayfair on Friday 24 April. Their daughter L'or was treated by MSF for an upper respiratory tract infection, after being sick with no treatment for two weeks.
"I came to South Africa to get away from the violence in my country. I was a soldier there. In the Democratic Republic of Congo (DRC), I was stabbed, shot, and my brother and my father were murdered. I don't even know where the rest of my family are in the DRC. I don't know if my mother is alive.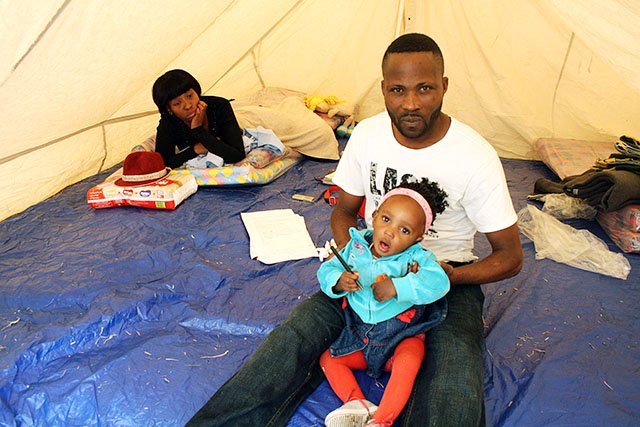 We came to South Africa to be safe. In Durban, I was doing security work – not a nice job or government work. Just security. But the people came and said, 'you are taking our jobs'. I was working when the attacks started – so I went to fetch my wife and baby in Umlazi, where we lived.
When the people came to our house, we left everything, and we ran away to be safe. They took almost everything, and broke what was left. We managed to grab our papers. But we don't have any property left. In Durban I saw people being tied up, and they put burning tyres around them.
We don't have any blankets, or money. And my wife is pregnant! We don't even have food for my baby.
I thought I would be safer in Joburg after the attacks. We didn't want to take the trains to Joburg – I was here when the attacks happened here in 2008.
When that happened, the people stoned the trains. So now we came here in a truck. When we got here, we couldn't take our baby to the clinic, because we don't have money.
Last night we slept in a bad place – where there are tsotsis. We haven't had a bed. Then someone told us about this place [Mayfair displacement camp]. There are many foreigners in South Africa. My wife says that Zuma is sending his people to kill us.
We want to be somewhere we feel safe. And now my baby is coughing. My baby is innocent. She doesn't even know what's happening to her. What will she say one day when someone asks her what happened? But my babies are a blessing. For a long time we waited for children.
If I could, I would tell everyone in South Africa that we are the same people – we are all Africans. They need to stop this. They are killing people like they are chickens. But we are people. We won't go back to Durban. There's no way. But we won't go to Congo either. At least in Joburg, we will be safer. It's better here – even if we have to sleep in the street."
Find out more about MSF's work in South Africa.