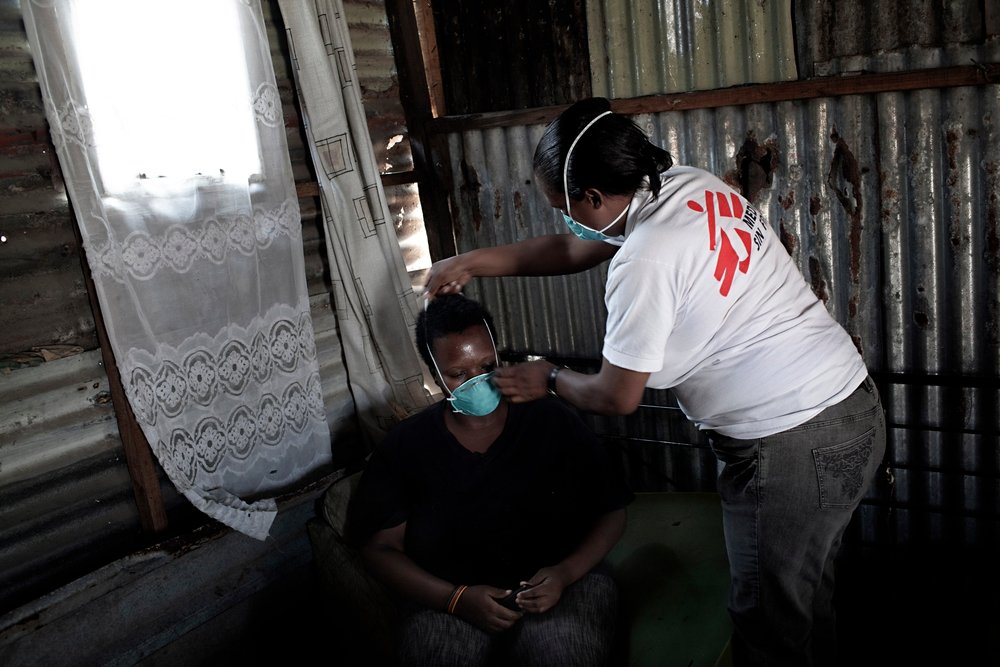 Follow-up report by Rural Health Advocacy Project, MSF, TAC and SECTION27 demands urgent action to resolve scourge of widespread stock-outs; a critical challenge for 6th SA AIDS Conference
DURBAN – Thousands of people living with HIV and TB still risk death and drug-resistance in the Eastern Cape due to ongoing interruptions to their supply of life-saving drugs. A new report released five months after a coalition consisting of the Rural Health Advocacy Project (RHAP), Doctors Without Borders (MSF), the Treatment Action Campaign (TAC) and SECTION27 first raised the alarm about the crisis at the Mthatha medical depot, paints a grim picture.
Releasing the report at the 6th SA AIDS Conference on 19 June, the coalition calls for urgent action from the National Department of Health and Eastern Cape Department of Health (EC DoH) to resolve the crisis by facilitating proper service at the depot and resolving the systemic failings in the drug supply chain affecting more than 100,000 people who depend on 300 facilities served by the depot.
"This situation is catastrophic. It means many thousands of people living with HIV have risked treatment interruption for months now. The stock-outs consequently undermine clinical benefits of life-saving ARV treatment. Over time, more deaths will occur as a result and the likelihood of increased drug resistance is significant,"says Dr Amir Shroufi, Deputy Medical Coordinator for MSF in South Africa.
Forty percent of the 70 facilities surveyed by MSF and TAC during May 2013 in the Mthatha catchment area had experienced HIV and/or TB drug stock-outs. At 24% of the affected facilities medical staff were forced to send patients home without treatment because they experienced stock-outs of essential HIV and TB drugs. These stock-outs were reported to last, on average, 45 days at a time and remain almost as common and severe as they were five months ago.
In January 2013, the coalition released its first report "Emergency Intervention at Mthatha Depot: The Hidden Cost of Inaction analysing the impact of a management and drug supply crisis at the Mthatha depot. It was estimated that thousands of people were forced to interrupt their HIV treatment – potentially leading to tens of excess deaths over the course of the year. Despite the report's clear recommendations to health authorities on solving the problem, five months later, the situation remains dire.
"It seems very little was learnt from our report in January to the Eastern Cape health authorities. It is unacceptable that there has been little or no change. We demand that Eastern Cape MEC for health, Sicelo Gqobana, take leadership to end these stock-outs,"says Vuyiseka Dubula, TAC General Secretary.
The Mthatha depot has a long history of dysfunction over many years. The recent crisis has been particularly acute and began around October 2012. The EC DoH's decision to suspend 29 depot staff without a plan to provide services in their absence contributed significantly to the crisis. The ongoing stock-outs are in part the result of this still unresolved situation, as well as chronic regional supply chain inadequacies and national drug shortages.
The coalition's May 2013 follow-up survey has revealed the cruel impact of the collapse of the depot which still does not have a fulltime manager and is operating with half the usual number of packing staff.
Disruptions at the Mthatha depot exacerbate a chronic cycle of over-ordering by health facilities which is the result of poor stock-keeping and, in some instances, appears radically out of step with actual levels of need. This vicious cycle appears to be further amplified by national drug shortages, leading to rationing of supplies to depots, which then adjust orders from facilities downward.
The EC DoH appears to be unable or unwilling to address the problems despite knowing of them for several years and despite immense support from civil society. We demand to see the national Minister of Health use his powers in terms of Section 100 of the Constitution to intervene on an emergency basis to provide health services in line with national standards," says John Stephen, SECTION27 legal researcher.
In recent months MSF projects around South Africa have also observed stocks of Tenofovir and Lamivudine – both drugs critical to the survival of the vast number of people living with HIV – being worst-affected by shortages. TAC branches in Gauteng and Limpopo also receive continued reports of stock-outs of essential drugs.
To beat this emerging national trend, the coalition will host a skills-building workshop on civil society responses to stock-outs at the 6th SA AIDS Conference on Wednesday, 19 June. The coalition will also soon expand activities by mobilising a campaign, including using the law, to restore quality healthcare services in the Eastern Cape and beyond.
---
For more info and to arrange interviews, please contact:
Kate Ribet, MSF SA Media Liaison Officer: 079 872 2950
John Stephens, SECTION 27 Legal Researcher: 073 077 5779
Marije Versteeg, Rural Health Advocacy Project Director: 074 106 3800
Vuyiseka Dubula, TAC General Secretary: 082 763 3005
Vuyokazi Gonyela, TAC District Organizer Eastern Cape: 073 636 1373
---
NOTES TO EDITORS:
1.     The coalition issued its first report on the impact of Mthatha depot crisis in January 2013. Read the full report "Emergency Intervention at Mthatha Depot: The Hidden Cost of Inaction".
2.    The coalition's report on the survey in the Mthatha catchment area highlights that from March to May 2013:
40% of the surveyed facilities had suffered either antiretroviral (ARV), or TB drug stock-outs;
Of them, 24% reported ongoing stock-outs;
In desperation, the majority of the facilities [64%] had no choice but refer patients elsewhere with the slim hope of getting treatment;
Only 7% of the facilities were actually able to switch patients to another drug, or drug formulation, for lack of the original regimen.
3.     The failure of health authorities to resolve the stock-outs involves a number of violations of the law, according to Section27. These include:
The state's obligations under the Constitution to provide for access to healthcare services and not to reduce the level of healthcare provided as well as to promote the efficient, economic and effective use of resources;
Obligations under the National Health Act 61 of 2003 to provide healthcare services and to plan, manage and control the cost of doing so;
Obligations under the Public Finance Management Act 1 of 1999 to ensure the proper and efficient use of public funds, including proper stock control and to prevent fruitless and wasteful expenditure;
Obligations under the Pharmacy Act 53 of 1974 to ensure the safe and effective storage of medicine; and
Obligations in terms of disciplinary procedures.
Find out more about MSF in South Africa