Business leaders and foundations challenge peers to match contributions to donate and save lives
JOHANNESBURG – Doctors Without Borders (MSF)'s rapid responses to South Africa's COVID-19 emergency – including the set-up of two field hospitals to ease the burden on the healthcare system, depends on sustained independent, private funding from local business and individuals alike. The medical humanitarian organisation's recently launched South Africa COVID-19 Crisis Fund has seen growing support, reaching 22% of the required R40 million target. 
We are now calling for wider support from corporations and generous donors to reach our target in order to protect the health of communities and bring medical care to South Africa's most vulnerable.
All the funds raised go directly toward procuring medical supplies (personal protective equipment, supplies for testing; the creation and distribution of health promotion materials), paying MSF medical teams and fieldworkers and financing the diverse practical interventions required (decongesting health facilities, screening, testing, contact tracing, isolation and case management). 
"MSF works in solidarity to confront the challenges faced by all healthcare providers in the COVID-19 pandemic: to rapidly develop specific activities in response to the outbreak and maintaining regular services while trying to reduce patients' exposure to SARS-CoV-2. To respond quickly and stay the course of this pandemic we depend entirely on private donations."

Vinayak Bhardwaj, MSF deputy head of mission
Since March, MSF professionals have established a range of COVID-19 interventions across South African communities in four provinces, in the Western Cape, KwaZulu Natal, Gauteng and the North West.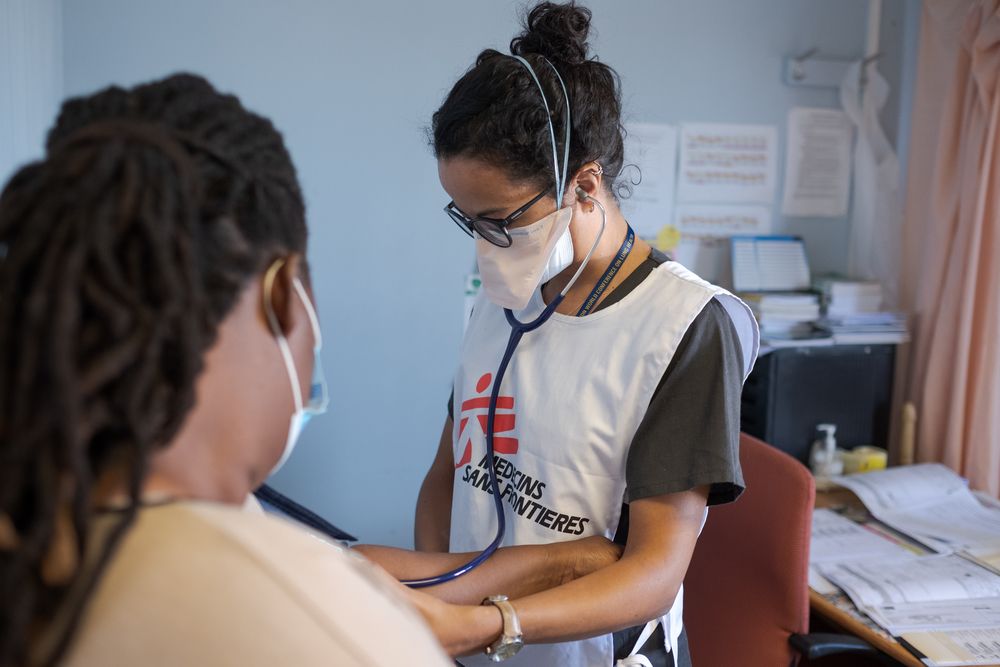 "MSF works in solidarity to confront the challenges faced by all healthcare providers in the COVID-19 pandemic: to rapidly develop specific activities in response to the outbreak and maintaining regular services while trying to reduce patients' exposure to SARS-CoV-2. To respond quickly and stay the course of this pandemic we depend entirely on private donations," explains Vinayak Bhardwaj, MSF deputy head of mission.
Our teams provide practical facility-based and community-based support to the National Department of Health's COVID-19 response in several locations. These range from densely populated urban areas like Khayelitsha where the spread is high; to rural communities such as Eshowe where community interventions are essential; and in Tshwane and Johannesburg we are bringing medical care to vulnerable homeless people.
Essential to the outbreak response is supporting health authorities for the screening and testing of people for COVID-19 in facilities and communities, while maintaining services for people living with TB and HIV in our project areas in adapted forms that reduce the number of non-essential clinic visits these individuals must make.  
For 20 years, MSF has been working in Khayelitsha pioneering antiretroviral (ARV) treatment for HIV. Today, in this hotspot for COVID-19 transmission, an MSF team is working non-stop to finish the set-up of a new 30-60 bed field hospital where people suffering from moderate to severe COVID-19 disease will receive treatment in the community. 
Once completed, the facility will have a team of doctors, nurses and non-medical staff working to bring care to scores of patients referred there. The facility will provide in-patient care and oxygen to the sick with COVID-19 infection-related breathing difficulties. MSF will run this field hospital in partnership with the Western Cape Department of Health, as an extension of the Khayelitsha District Hospital in order to reduce the burden on local resources and capacity. In Eshowe, in KwaZulu Natal, a similar field hospital is now in the planning stages.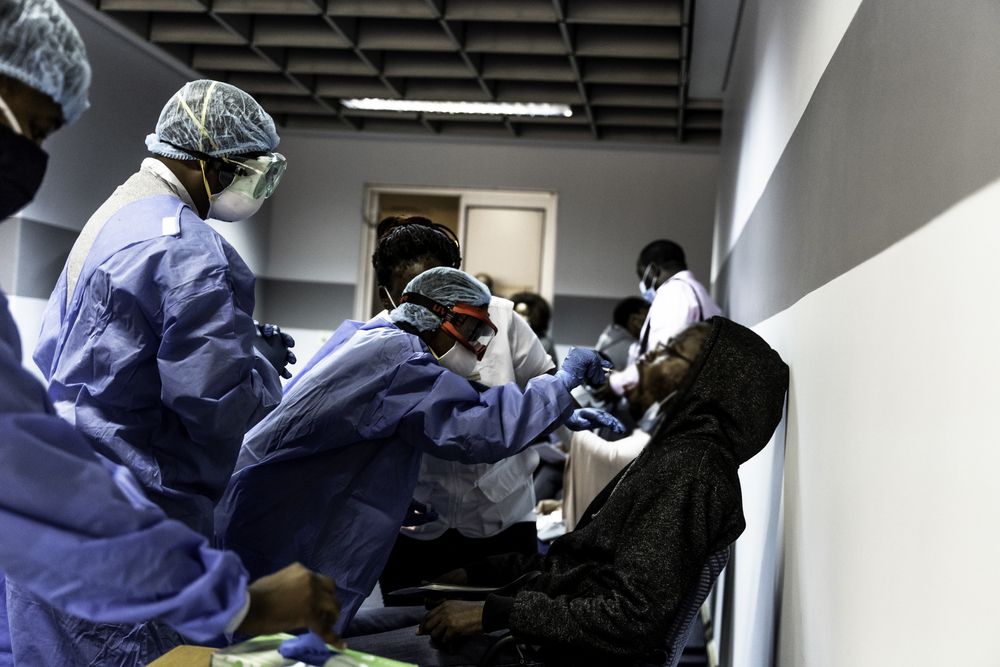 Meanwhile, a full team of 75 staff in Khayelitsha continues their work on infection prevention, triage and offering COVID-19 co-morbidity care for HIV and TB patients. Their other activities include mass health promotion and ensuring HIV patients get their ARV drugs delivered at home by community-based organisations after medicine parcels are collected for them, instead of having to go to health facilities.
In Tshwane and Johannesburg, an MSF team of 35 people, consisting of medical, psychological and support staff, works in 18 shelters for homeless people, offering primary healthcare and mental health services. A dedicated community screening, testing and contact tracing unit supports the Gauteng Department of Health.
With an operational budget of R40million required for these activities in South Africa, ongoing generous donations by corporates and business owners remain essential to scale up and maintain MSF's impact-driven healthcare. 
In recent weeks, the South African corporate sector and generous private individuals have responded to MSF Southern Africa's call: Standard Bank, the Nedbank Foundation, the Z Zurich Foundation, and Givaudan have donated to our COVID-19 Crisis Fund. A charitable trust, managed and administered by Investec Wealth & Investment, and nearly 100 individuals have also made significant contributions.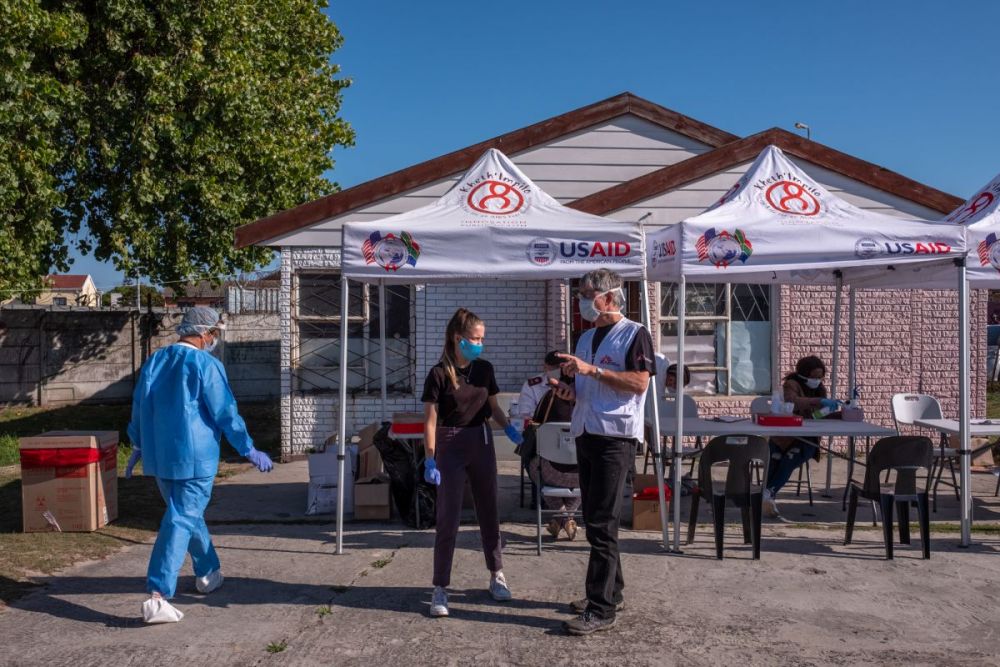 "The Z Zurich Foundation recognises that the COVID-19 pandemic is making it harder for charities and organisations like MSF to deliver on their mission. We are proud to stand alongside MSF Southern Africa and support them in their time of need. Our hope is that our donation brings aid and relief to the people of South Africa through the important work they do," says Amanda Crook, Zurich Services Company and Z Zurich Foundation champion.
"Standard Bank believes that corporate South Africa has a vital role to play in supporting government's response at this critical time and doing what we can to contain the spread of COVID-19 – especially in poorer communities, informal settlements, and rural areas. By partnering with organisations such as MSF, we're able to ensure a coordinated and impactful approach to mitigating the health, social and economic implications of the pandemic," adds Wendy Dobson, Standard Bank head of Group Citizenship.
"As a purpose led organisation that continues to contribute in flattening the curve and spread of COVID-19, Nedbank has committed to provide healthcare emergency relief to the most vulnerable communities during the current COVID-19 pandemic. Amongst various partnership initiatives to help curb the spread of the virus, the bank has donated R3 million to MSF. This pledge will go towards activities such as, screening, training, acquisition and delivery of medication," says Lindiwe Temba, Nedbank Foundation executive head.
This kind of support inspires MSF fieldworkers. "We are extremely grateful for the donations and support from businesses and individuals who have already pledged more than R9 million to date. This has helped us respond quickly but we need more support to maintain our essential medical response over the coming weeks and months," says Bhelekazi Mdlalose, MSF nurse and COVID-19 contact tracing team leader. 
Business leaders, among them Zurich Services Company are now challenging their peers to match their donations while Standard Bank and Nedbank have requested their employees to contribute too, in order to save lives and protect the health of communities.
"People have taken charge by adhering to physical distancing, washing their hands regularly and wearing face masks in public. It is incredible to witness this commitment from South Africans, particularly their generosity in supporting our work. To those who have not yet donated we say: Actions speak. Take a stand with MSF to save lives and limit the spread of COVID-19," concludes Samantha Ngcolomba, MSF Southern Africa's Head of Philanthropy & Partnerships.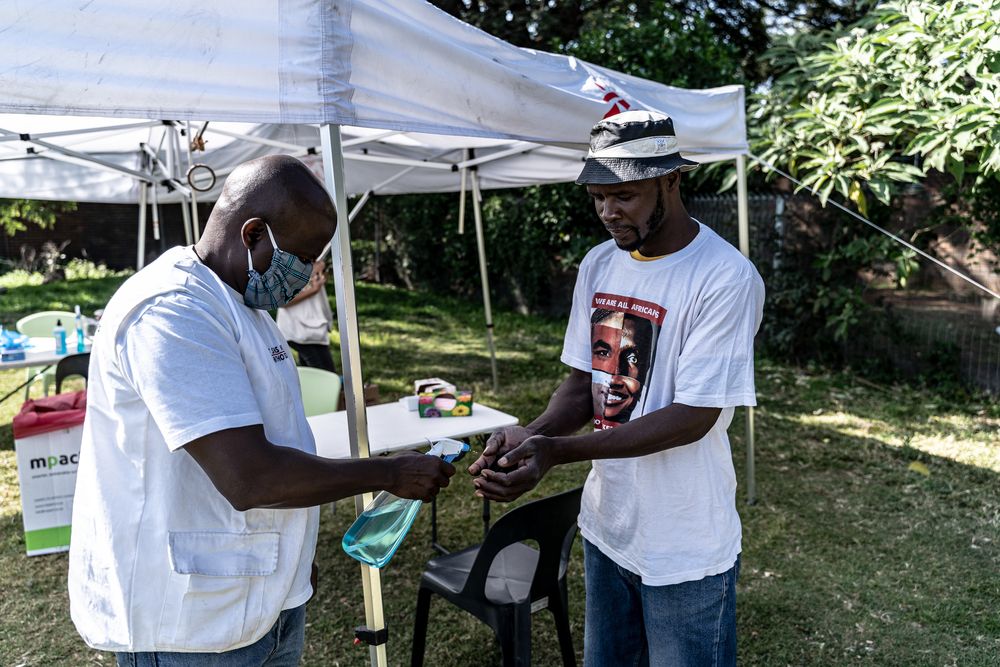 ---

HOW TO SUPPORT MSF's COVID-19 CRISIS FUND:
Online Donations: Visit www.msf.org.za/covid-19-crisis-fund to make a quick and easy direct donation within minutes 
Corporate Donations: Please contact Samantha Ngcolomba, MSF Southern Africa's Head of Philanthropy & Partnerships to discuss how your corporation, executive team or foundation can donate. Call +27 72 198  3535 | Email samantha.ngcolomba@joburg.msf.org
FOR MORE INFORMATION AND INTERVIEWS, CONTACT:
ABOUT MSF
Doctors Without Borders (MSF) is an international, independent medical humanitarian organisation. We help people worldwide in 70 countries where the need is greatest, delivering emergency medical aid to people affected by conflict, epidemics, disasters, or exclusion from healthcare. 
In South Africa, MSF continues to develop new testing and treatment strategies for HIV and tuberculosis (TB), support victims of sexual violence and push for better access to lifesaving drugs.  Globally, our teams are made up of tens of thousands of health professionals, logistics and administrative staff - bound together by our Charter.  Our actions are guided by medical ethics and the principles of impartiality, independence and neutrality. We are a non-profit, self-governed, member-based organisation.
MSF teams are racing to respond to the COVID-19 pandemic in dozens of countries, either by adapting existing activities to the COVID-19 pandemic, or by opening projects in new countries as they become pandemic hotspots. MSF's response focuses on three main priorities: supporting authorities to provide care for COVID-19 patients; protecting people who are vulnerable and at risk; and keeping essential medical services running.