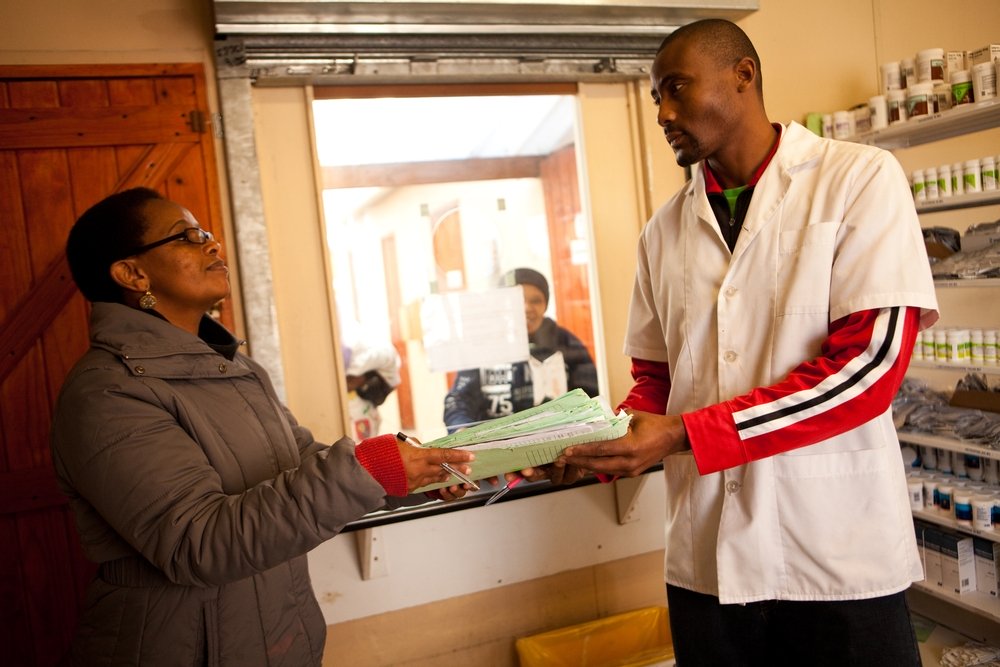 The success and integrity of South Africa's massive HIV programme is threatened by an invisible and insidious reality: crisis-level stockouts of life-saving medicines, which have affected one in five facilities serving 420,000 of the 2.4 million people who rely on public health services for their antiretroviral treatment (ART).
20% of the 2,139 health facilities responding to the first and largest ever national survey of its kind – conducted by the Stop Stock Outs Project during September and October 2013 – reported ARV and/or TB medicine stockouts or shortages. The sheer scale of the problem shows stockouts to be one of the principal barriers to maintaining an effective ART programme in South Africa.
"For people on ART who are forced to interrupt treatment and are left without medicine, this situation is nothing short of a national and provincial crisis, felt on a very personal level. The extent of medicine shortages, especially ARVs, is significant and far beyond previous estimations. In six out of nine provinces, over 17% of responding facilities said they were affected," said Anele Yawa, national chairperson of the Treatment Action Campaign.
On average, these stock problems lasted 30 days, and over the course of a year, such disruptions are likely to compromise patients' ability to maintain the required level of adherence for successful antiretroviral treatment. Unplanned treatment interruptions brought on by stockouts may ultimately lead to more drug resistance, illness and death.
"More than half of the facilities that reported medicine supply problems for three months prior to the survey were still experiencing ongoing stockouts and shortages when we contacted them. For hundreds of thousands of people, this is a dangerous waiting game," warned Yawa.
The survey results from responding facilities indicate supply and stock problems to be most acute in the Free State, Limpopo and Mpumalanga – accounting for about a third of all stockouts nationally.
Alarmingly, healthcare staff at 20% of facilities that reported stockouts or shortages said they were forced to send patients home or referred them elsewhere without medicines. When stocks are low, healthcare staff borrow medication from other facilities, ration the available supply between patients and request them to return later for more shortened supplies. These frequent returns to the facility force patients who cannot afford it to pay additional travel costs in the hope of getting their medication.
"Every month, there is a shortage of lamivudine, and they say you have to come back next week. Sometimes they have some other medicines and sometimes they don't. It's not the health staff's fault. If you are at the end of the queue, you don't get all your medicine," said Pretty Nkosi from Mpumalanga.
Another patient from Limpopo said she went to her clinic earlier this year and was given only two weeks' ARV supply. She was told to come back when it was finished. "When I went back they told me that the medicines were out of stock. I went for two weeks without treatment. My CD4 count has decreased from 987 to 530, and my viral load is up from 40 to 149.  Five people from my support group have died in the past year... I am scared of developing resistance," explained Francinah Chauki.
The medical impacts of the stockouts are significant. "The consequences and costs to the health system and patients can be grave. This includes the development of drug resistance, the risk of spreading resistant forms of HIV and TB, increased immunosuppression and increased risk of opportunistic infections. Stockouts threaten to undermine our messages of strict adherence to therapy," said Dr Francesca Conradie, president of the Southern African HIV Clinicians Society.
Aside from threatening patients' survival, stockouts also affect healthcare workers. "Having to turn away a patient because medicines are unavailable goes against the core of a healthcare worker's duty. The frustration of ongoing stockouts leaves them demotivated and eventually resigned to accepting the problem. Stockouts play a big role in destroying the trust and relationships between healthcare workers and patients," said Dr. Indira Govender of the Rural Doctors' Association of South Africa. "We must take action to end stockouts because it compromises the quality of care we provide."
To protect the health of people solely dependent on the public health system, the Stop Stock Outs Project calls on National and Provincial Departments of Health to eliminate stockouts with an urgent plan and clear timelines to improve the monitoring, prevention of, and response to stockouts.
"The survey clearly illustrates the failure of passive monitoring of medicine stocks and the chaos in replenishment orders. A proactive approach is required urgently. If not implemented, we are doomed to undermine an ambitious ART programme and risk the lives of tens of thousands," said Monique Lines, Stop Stock Outs Project Manager.
Download report Stockouts in South Africa: A national crises
NOTES TO EDITORS:
South Africa's three worst affected provinces and districts for HIV and TB medicine stock outs/shortages:
 
FREE STATE
 
LIMPOPO
 
MPUMALANGA

54% of its 167 responding facilities reported a stock out or shortage
30 days average duration of stock out
District: Fezile Dabi – 66.7%
(18 facilities)

 

41% of its 218 responding facilities reported a stock out or shortage
30 days average duration of stock out
District: Greater Sekhukhune – 45.5% (25 facilities)

 

26% of its 224 responding facilities reported a stock out or shortage
37 days average duration of stock out
District: Ehlanzeni – 28.2%
(29 facilities)
About the Stop Stock Outs Project:
The Stop Stock Outs Project (SSP) is an independent civil society consortium that monitors and speaks out about medicine stock outs and shortages, with the aim of achieving a stock out free health system.
The SSP consortium consists of the Treatment Action Campaign, the Rural Doctors Association of South Africa, the South African HIV Clinicians' Society, Rural Health Advocacy Project, SECTION27 and Doctors Without Borders (MSF).  
The SSP raises awareness and brings transparency to medicine supply problems facing patients during medicine stock-outs as they occur, to highlight problem areas in the supply chain that need urgent attention. The project seeks to empower tens of thousands of patients and clinicians.
TAKE ACTION NOW – REPORT STOCK OUTS
The SSP has launched a NATIONAL HOTLINE to ensure accountability and transparency to patients, while creating a network of proactive monitors to build on the success of resolving stock outs by working with the Department of Health.
Report medicine stock outs & shortages:
- Send a Please Call Me, SMS, WhatsApp message, or Call:
084-855-7867
- Email: report@stockouts.co.za
FOR MORE INFORMATION & INTERVIEWS, CONTACT:
• Kate Ribet, MSF SA Media Liaison Officer: 079 87 229 50 | kate.ribet@joburg.msf.org
Find out more about MSF in South Africa