We handed over our last projects in Cambodia in 2021, after 42 years in the country.
Our projects in Cambodia are currently focused on tackling hepatitis C and malaria.
We launched a hepatitis C programme in Cambodia in May 2016, offering the first free treatment for the blood-borne virus in the country. Although the prevalence of the disease is unknown, it is estimated that between 2 and 5 per cent of the population is infected.

The team started by screening HIV patients at the hospital for co-infection; today teams have expanded screening to include patients referred by Preah Kossamak hospital's hepatology department.

Our malaria research project in northern Cambodia was set up to find ways to eliminate malaria in an area where there is proven resistance to the most powerful antimalarial drug, artemisinin.

MSF teams responded to the coronavirus COVID-19 pandemic in the country between February and June 2020, in which training and technical support was provided in six hospitals.
Our activities in 2021 in Cambodia
STAFF IN 2021(FULL-TIME EQUIVALENT)
YEARS MSF FIRST WORKED IN THE COUNTRY
MSF IN CAMBODIA IN 2021
After 42 years delivering medical and humanitarian assistance in Cambodia, we handed over our last activities to the health authorities in 2021.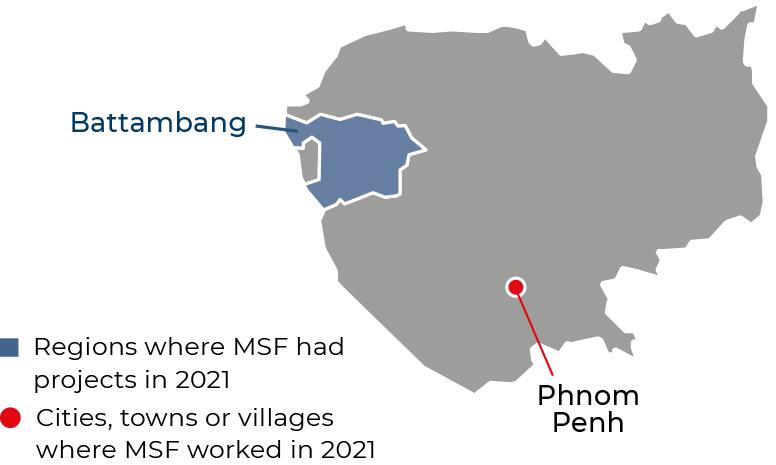 Highlights of our activities in 2021 in Cambodia
During the year, Doctors Without Borders (MSF) teams worked with the Ministry of Health to expand our community-based hepatitis C care project to a further eight districts.

The project was launched in the capital, Phnom Penh, in 2016 and then rolled out across Battambang province, using new, highly effective drugs called direct-acting antivirals (DAAs), which have fewer side effects and require shorter treatment regimens. This enabled our teams to reduce the monitoring phase while maintaining very high adherence to treatment.
MSF-trained nurses in health centres to screen patients' history and check if they have symptoms of cirrhosis, a complication of the disease. If they do, they are referred to the district hospital. Otherwise, the nurses initiate treatment with DAAs at the health centre. The success of this simplified model of care demonstrated that it could be implemented at the primary level across the country, and it has now been adopted into the Ministry of Health's clinical guidelines.

In five years, more than 19,000 patients have been treated for hepatitis C in Cambodia, thanks to this new treatment and model of care. MSF will remain engaged beyond 2021 with the authorities within a coalition of organisations called the Hepatitis C PACT, which aims to expand access to testing and treatment for hepatitis C in Cambodia and other low- and middle-income countries.

people started on hepatitis C treatment