Since May, South African nurse Annke has been helping treat patients who were wounded in the 'March of Return' demonstrations in the Occupied Palestine Territories. She writes about a patient the team has been nursing back to health…
Early this morning I was awakened by the sound of two explosions in Gaza. It sounded some distance away, but it was still loud enough to wake me up and rattle the glass sliding door of my room in the MSF house. It took me a few seconds to orientate myself and for my heart rate to go back to normal again.
As I sat on the small balcony outside my room with my cup of coffee a bit later, where the almost constant hoot-hoot of taxis below never really quietens down, I thought about the people here, our neighbours and Palestinian national staff members, who live through this everyday. Explosions and airstrikes are part of their everyday life, but still, life goes on...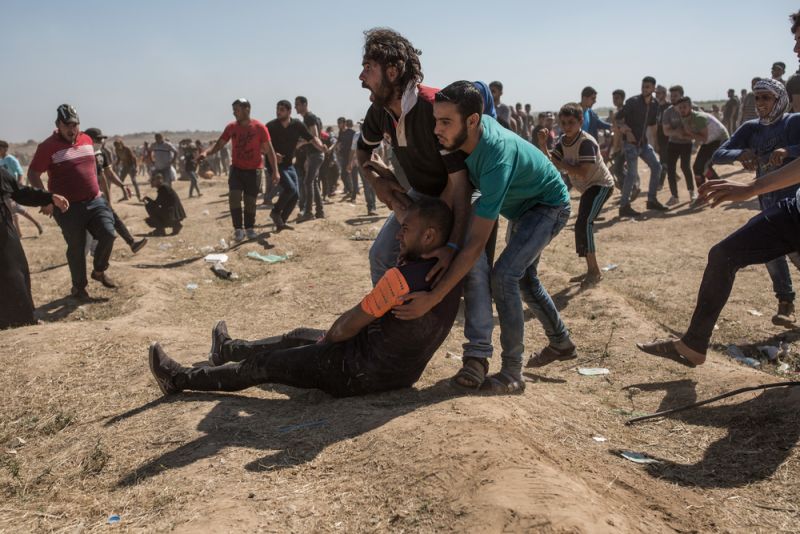 A few weeks have passed since I began my assignment as a nursing supervisor at two wound care clinics in Gaza, where I help train and guide the newly employed MSF nurses. The faces of the regular patients are becoming familiar to me. Most days I am the only foreign nurse around and the people have started to ask me questions. From the way my name is written in Arabic script, I am now greeted with a loud and friendly: "How are you Ankie?"
The patients want to know where I am from and why I came to Gaza. It is very nice to be able to introduce myself in Arabic and explain that I am a nurse from South Africa. Sometimes the Palestinian staff nurse has to help with some translation, but it is always a good discussion.
At the Khan Younis clinic, I have noticed a quiet, friendly man who always wears a cap on his head. He comes in to the clinic regularly. This week I asked him to tell me his story, while Palestinian nurse Siam translated from Arabic to English.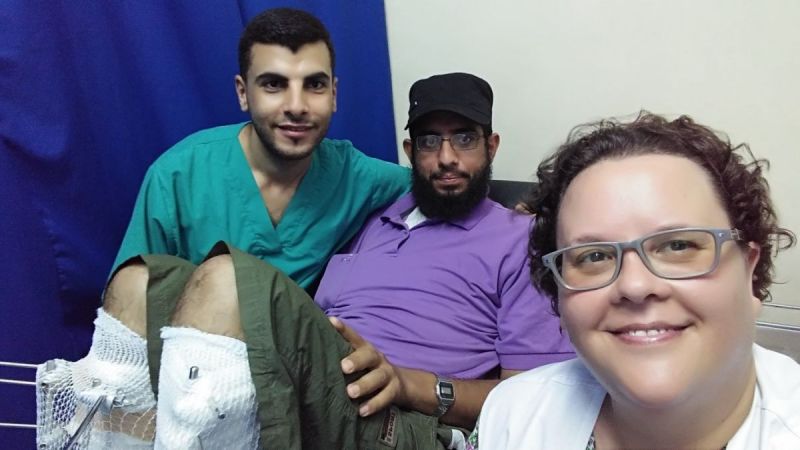 Fadi abu Shab is the patient's name. He is married and he has one son. Normally he works as a salesman, and has a small roadside tea shop. But he has not been able to work since he got wounded a couple of months ago.
Since 14 May 2018 Fadi has been a patient of the MSF clinic. He and his friends were protesting along the border with Israel on 2 May, when there was gunfire from the other side. He sustained a single bullet wound to his lower legs, and as a result suffered tibia fractures in both legs.
Fadi now has external fixators in his legs to keep the bone fragments in place so he can heal properly. He comes to the clinic three times a week for wound care. MSF sends an ambulance to pick him up at his home and take him back again after wound care and physiotherapy.
At the clinic he receives wound care from the nurses. We monitor, clean and dress his wounds on each visit to prevent infection and to promote healing. He then receives physiotherapy form the team at the clinic.
Fadi gets to do exercises to maintain the range of motion in his joints and to strengthen the muscles in his lower limbs. The team then uses the parallel bars to do gait training, which is a type of physical therapy that can help improve a patient's ability to stand and walk.
Fadi hopes to recover quickly and be able to work in his shop again so he can provide for his family.
He smiled as he expressed his gratitude towards MSF for the care he is receiving in the clinic. "The care is excellent and MSF is just fantastic," he said.
---
Read more from Annke Yssel in Gaza: Nursing in Gaza: "Most of the patients we see have gunshot wounds in the legs"
Find out more about MSF's work in Palestine