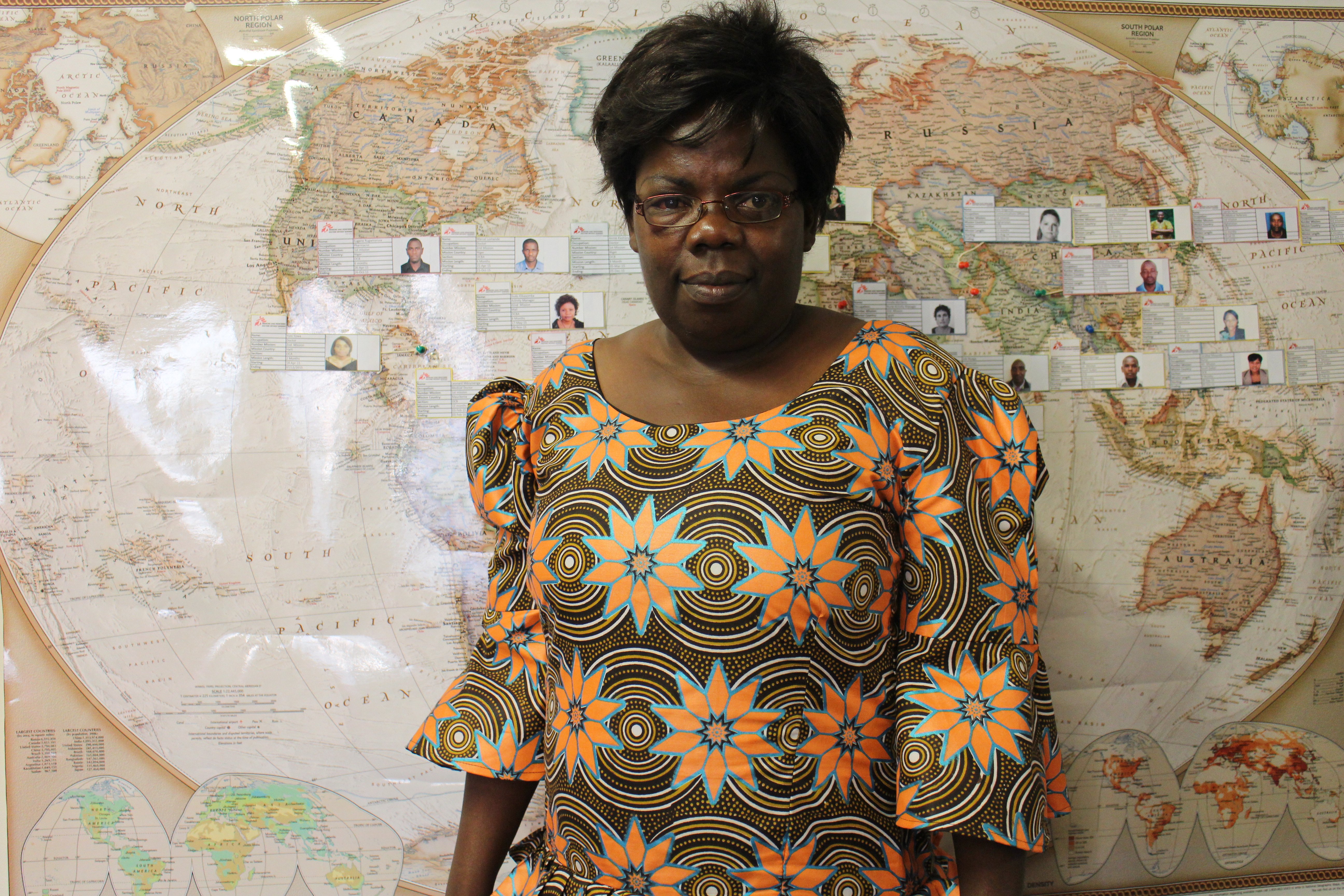 Mirriam Sakala, 51, arrived in
South Africa
on 23 October 2015 from
Swaziland
to undertake an assignment at the Eshowe project in KwaZulu Natal. This is her first assignment and she will be joining the Eshowe project as a Midwife Supervisor for a year.
For the past 12 years, Mirriam has been working as an MSF national staff member, nurse, midwife and an Occupational nurse therapist (MDR-TB) at Matsapa Clinic in Manzini.
Mirriam is a qualified general nurse and midwife. She studied at the University Teaching Hospital in Lusaka, Zambia in 1988 and 1992 respectively for both qualifications. Then she also studied a Tropical Paediatric Course.
What are some of the duties you will be involved in Eshowe?
I will be supervising midwives at the clinic
I will be responsible for the sexual reproductive health including antenatal, family planning clinic among other things
I will also know more about my responsibilities once I get to Eshowe
What do you know about the MSF project you will be working in?
There are plans to largely help the Ministry of Health scale out the DR-TB treatment centres
​
Why are you leaving your post of 12 years to become an international staff member?
I am somebody who doesn't like to remain static, I always endeavour to rise and upgrade myself from one position to the next. Also with my experience at MSF, and since I qualified in 1988 as a general nurse and midwife, I have been hands-on and have gained enough experience that has prepared me to take up this position of responsibility. Of course, I will continue to be hands-on, but this time sharing my years of experience with my colleagues at Eshowe, mentoring and leading the way.
What motivated you to join MSF?
The desire to work for a humanitarian organisation drove me to join MSF because I love to help and save lives. I also joined because my nursing background has really prepared me to work for an organisation like MSF.
How does your family feel about your long absence at home?
My children are very supportive of me and my work, so I have never had any problems leaving them since they were very young. I am originally from Zambia, so I left them and worked in Swaziland for all the 12 years and they would come to visit me during the school holidays. They are now 24 and 21 respectively. The older one is now a Chartered account and is independent. I am glad that they have understood that I am an MSF worker who has no borders, I have to go where my services are required at any moment. If I don't go there, who will?
What are your expectations for your upcoming assignment?
I expect to learn more about expatriation and what is involved in international assignments and I hope to share my experiences from my many years of fieldwork with my colleagues.
What has prepared you for your first assignment?
My upbringing has always taught me to be resilient and I have learnt that when things are tough, I will always get through any situation no matter how difficult it can be. Also, my nursing background has really been helpful. As a nurse working for MSF, your mindset is already set and prepares you to go anywhere to help people in need of healthcare services, so all these things have prepared me enough to take up this assignment.
What are your future plans or ambitions with MSF?
I look forward to working in one of the rough places where there are conflicts and war. 
Find out more about MSF's work in South Africa