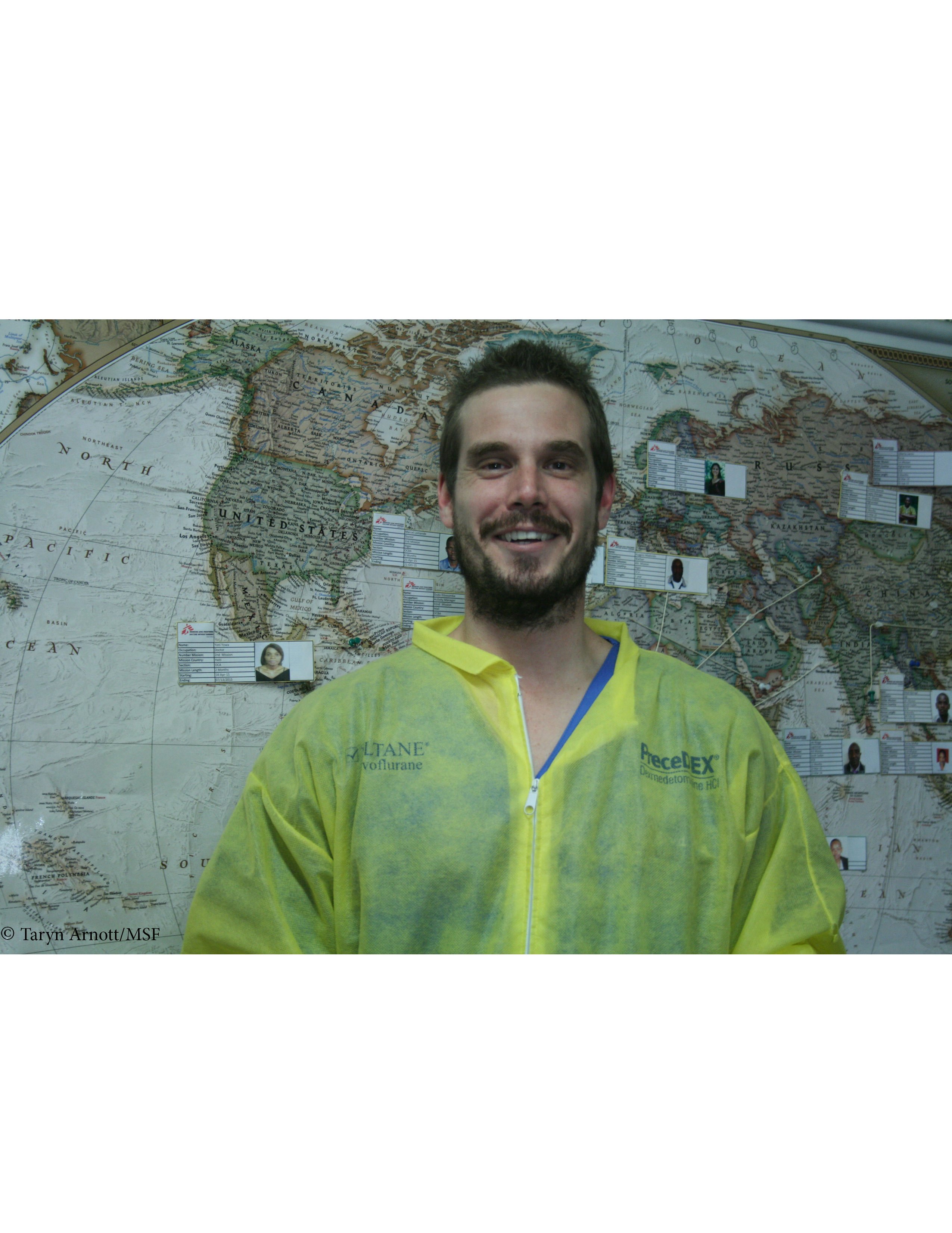 Nic van der Walt is an anaesthesiologist from Johannesburg. He completed his first assignment with MSF in Pakistan during August 2015. He tells us about joining the organisation and working in the MSF-supported hospital in Hangu.
"When I was still studying to become an anaesthesiologist at the University of Pretoria, I had imagined myself joining MSF for a time after graduating. But after I started working, I realised that the long working hours we face in South Africa would make it difficult.  I had been working in anaesthetics for five years on the Wits training circuit, and just about to qualify as an anaesthesiologist in June 2015, when I attended a talk by one of MSF's field recruiters, Brett Sandler, in Johannesburg. MSF wanted anaesthesiologists to join their teams in projects around the world.
Brett's presentation highlighted the fact that you could be contracted to work for MSF for as little as a month at a time. This was ideal for me as I was about to write finals and would soon be switching hospitals. It was this move that gave me the time gap I needed to join MSF. Joining MSF was all about a new adventure, getting out of my comfort zone and experiencing something different.
As an anaesthesiologist, I enjoy being so involved with a person's physiology and that I am able to make them healthy again. It's a great responsibility to be responsible for ensuring that a patient survives surgery – one that I take very seriously and which gives me fulfillment. To be able to practise this while helping people who are in need really appealed to me. I knew that I wanted to work in a project where there would be a lot of trauma cases to see to. I was recruited to work in Pakistan for a month, in an MSF-supported hospital in Hangu, in the Khyber Pakhtunkhwa province.
Doctors trained in South Africa, who are used to large workloads and working with a multitude of different people and cases, are ideal candidates for working with MSF. That said, the kind of projects MSF doctors work in often require basic practical skills – so sometimes being too overly-qualified can be a hindrance.
When I arrived in Pakistan, I was extremely nervous. But I soon realised that the security measures put in place by MSF work well and that safety is MSF's number-one priority. I had extensive briefings in Paris before arriving in Pakistan and had a fairly accurate idea of what to expect. 
I was appointed as the anaesthesiologist on-site at the hospital in Hangu, where MSF teams manage emergency and surgical services. It was my responsibility to manage the operating theatre, as well as the surgical wards – in conjunction with the surgeon. I was also tasked with pain management and airway management in the Emergency Room (ER). When I arrived, the ER doctor had to leave, so for the last two weeks of my assignment, I had to cover the emergency room (ER).
As we worked with a small core team, our team was on call 24/7. That meant I would often need to manage cases in the ER in between planned surgical procedures. This was done amidst ward rounds and new acute surgeries.
But there is a bit down time in the evenings, when all the MSF staff – who stay together in a compound – would eat dinner together. As we were close to the hospital, I would respond to calls from the ER for the rest of the night. Some nights were quiet, and some nights were very busy.
In the operating theatre, we saw so many cases of blunt abdominal trauma caused by motor vehicle accidents. We also dealt with many gunshot wounds, perforated gastric and duodenal ulcers, acute appendicitis, burns and having to perform caesarean sections. In the ER, our team was faced with Myocardial Infarctions, heart failure, head injuries, snake bites, asthma and poisoning.
At times, the language barrier between myself and patients was challenging, as it made it difficult to get the accurate history of a patient. Even though the hospital did not use Morphine or Fentanyl as anaesthetics, we were still able to use Nulbuphine – which worked well.
While the hospital is well-equipped to a point, there are some patients we had to refer to other hospitals.  The trip to the closest alternative hospital was at least three hours long on a bumpy road, so it would take the ambulance we sent – with nursing staff in tow – at least six hours to get back to our hospital. The worst was not knowing whether or not the patient would be able to survive the trip.
Being on call 24/7 is very challenging, as is living with the people you work with! But the gratitude that patients and their families showed after the procedures made it worth it. We could really see from the way MSF was accepted that we were truly valued in the community. There were many things that happened on my assignment that kept me positive. I will fondly remember the watchman at our compound gate, who always made me sweet tea when I walked past.
We would take the time drinking tea to share stories from our home countries. It was also extremely rewarding earning the trust and respect of the local staff who live and work permanently in Pakistan.
On one occasion, a 16-year-old boy and his friend who had both been severely injured were brought to our hospital. They had been wounded in a landmine explosion. Because boy he had extensive wounds, he came back to the theatre for many surgeries. The boy had bilateral open tibial fractures, and lost his right hand and most of his left.
He also lost one testicle and suffered some eye damage - but later regained most of his sight. His recovery was remarkable, and the way he accepted and dealt with his new disability – with positivity – was inspiring. Being in Pakistan with MSF taught me just how different cultures can be, while at the same time being fundamentally similar.
Working as a professional in a new and demanding environment improves one's professionalism and ability to adapt. I learnt a lot about a different culture, and how to respect different views."
Nic's best advice for other anaesthesiologists wanting to join MSF
"Pack light – you won't need a lot of clothes. Don't over-think, and don't overcomplicate it – just do it! There will always be an element of risk in taking on new adventures: if you over-analyse them, you'll never go on any! You'll be recruited if you're good at your work – so don't stress the details. Focus on being confident, decisive and practically skilled."
 
Find out more about MSF's work in Pakistan