Sana'a  – Yemeni authorities have freed 1,620 migrants held by smugglers on farms – some of them for months – in Haradh region, in the north of the country since 7 April. The international medical organisation Doctors Without Borders (MSF) is assisting these migrants – including 62 children and 142 women – and is treating 71 severely ill people at the MSF-run hospital in Al-Mazraq village, close to Haradh town.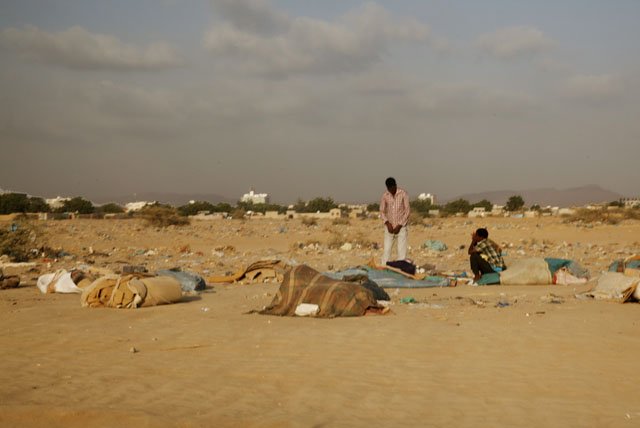 Most of the migrants referred to the Al-Mazraq hospital were victims of human trafficking, forced labor and slavery. They showed signs of torture and verbal, physical and sexual abuse at the hands of their captors. Some of them had their nails pulled out or their tongues partially cut off, others have been severely beaten. MSF staff have also treated people who suffer from life-threatening diseases including pneumonia, complicated malaria and dengue fever.
MSF has provided counseling services to the migrants after their release and transferred them to a compound on the outskirts of Haradh town. "Many of them are physically and mentally exhausted and suffer from severe mental trauma due to the horrific condition and treatment they experienced during their detention," says Angels Mairal, an MSF psychologist working in Haradh. Most of the migrants who have received psychological support from MSF said they were victims of torture.  
The migrants' medical and humanitarian needs were extensive as some of them did not eat for up to seven days before their release by Yemeni authorities. MSF provided some supplementary food rations and also intervened to improve the sanitary conditions in both Haradh and Amran transit locations.
From Haradh, 800 Ethiopians have been transferred to migrant centres in Sana'a, where they await repatriation.  A total of 550 Somalis were transferred to Kharaz refugee camp, in Lahj governorate. MSF is extremely concerned about their welfare as these centres do not have the means, capacity and services to adequately assist those transferred.
Yemen is located along one of the main routes for people leaving the Horn of Africa to get to Arab Gulf States. Many of the migrants from Ethiopia are fleeing extreme poverty and unemployment, trying to enter Saudi Arabia through Haradh. Often they end up in the hands of smugglers who try to extort money using torture and psychological abuse.
"We are facing an emergency on top of this chronic situation. We are extremely worried about the future of thousands of migrants who are stranded in Yemen generally and Haradh in particular where they have with very limited assistance," says Tarek Daher, MSF's head of mission in Yemen. "They are exhausted after so many attempts to cross the border and with no resources; the majority of them become beggars in the street of Haradh. They try to survive, and live without any decent shelter, sanitation or regular meals."
MSF acknowledges the efforts the Yemeni government has made to free, host and protect the newly liberated migrants in Haradh and emphasises that this support must continue. MSF urges the international community to help restore the dignity of these migrants by supporting institutions working with them.
MSF, together with authorities and some nongovernmental organisations, is scaling up its intervention in order to improve the living conditions of the migrants stranded in Haradh and to improve access to healthcare for those who are released or in transit waiting for repatriation.
---
MSF has been working in Hajjah governorate, in the north of Yemen, since 2009. The organisation manages the hospital near Al Mazraq, which provides local and displaced people with basic and specialist healthcare, surgery, and emergency services. Since 2012 MSF also provides mental health assistance for migrants in Haradh town. MSF carries out regular medical activities in Aden, Ad-Dhale, Abyan and Amran governorates.
Find out more about MSF's work in Yemen