For almost a year now, I have been working in the middle of a large refugee camp in Ethiopia on the border with South Sudan. MSF operates here a health center with 120 beds. I see a lot of suffering and need here.
But I also see a lot of joy - because I am a midwife: when children are born, it is always a special moment - anywhere in the world.
My name is Christine Tasnier and this is my first assignment with MSF. I will be here until November 2018 and I would like to share with you my letter of my experiences and impressions. Because it is your donations that make our help possible.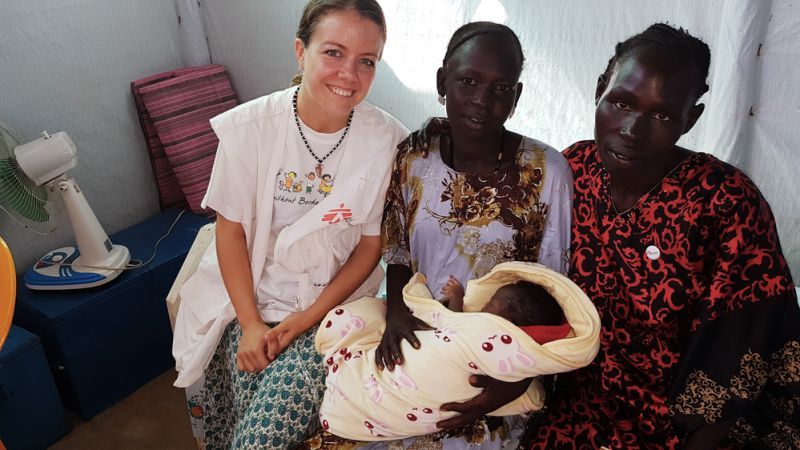 54.000 people in a Refugee Camp
The refugee camp in Kule is home to 54,000 people - most of them for almost four years. They fled here because of the civil war in South Sudan. People have built simple huts made of wood, plastic sheeting and loam.
They have a maximum of four square meters. The refugees do not have more than a few mats to sleep on in it.
When you walk through the muddy, holey streets of the camp, you will notice little shacks of corrugated iron at the side which reflect the sun. If you open the door you will find a floor plate with two footprints and hole – a very simple outhouse.
There are also places with water pumps that have to be shared by hundreds of people. Unfortunately, it happens from time to time that the water stops running. Then people have to fetch their water from puddles or an adjacent swamp.
Our health advisors tell people that they cannot drink this water, or at least have to boil it. But firewood is precious. There are always existential dilemmas for the inhabitants here in the camp, which I as Briton have never experienced.
A colleague from the mobile team recently told me that she met a woman at the fence of her hut. The woman had an inflamed wound. She asked if she should come to our health centre. "Definitely," said my colleague.
But the woman hesitated. On this day was also food distribution, which she must not miss. This food is virtually the only way for the refugees to survive. So she did not want to come until the following day - despite her great pain.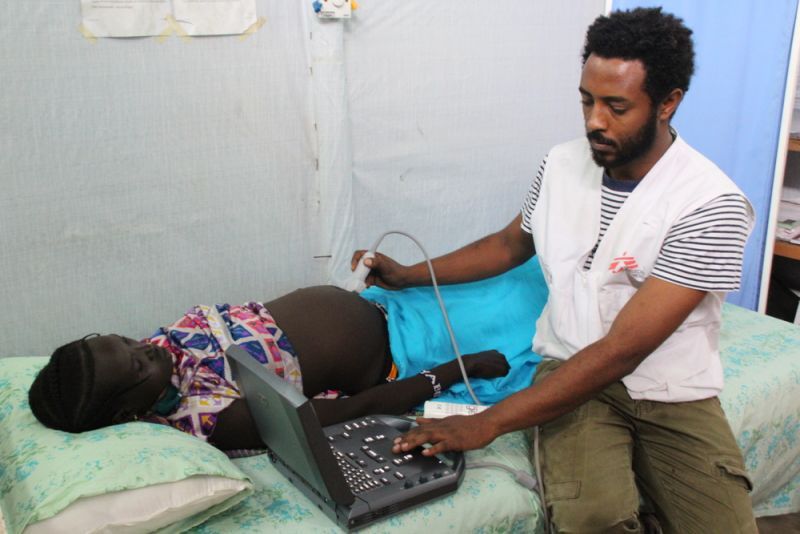 But she still had one concern: would she be moved to the larger hospital outside the camp? Because then her children would be left alone. The colleague could not promise her that. We hope the woman has the courage to come.
Nights of Hope for Peace
There is also a church in the camp where I have often gone to with my translator colleagues, who themselves live as refugees in the camp. The services were always very long. Once I asked why that is. "We pray for peace in South Sudan.
That's why we have to pray for a long time, "said the women. At night, when I am lying in my bed, I have often heard loud songs and cheers. The news had spread that there was a new peace agreement in South Sudan.
People are so keen to return home, but so far their hopes have been disappointed each time.
In such nights of hope, a baby is sometimes called "hope" or "peace". Because that is a custom in South Sudan, that one calls his child after the circumstances of the birth. One of our translators is called Mosquito because there were a lot of mosquitoes flying around during the night of her birth.
I like her very much, she is an incredibly happy, warm person. Some time ago she told me proudly that her niece is pregnant. And it was clear that Nyadak should deliver with us.
A birth and a good decision
Recently Nyadak came to us with labour. At first, everything went well, but then Nyadak's birth was not progressing. I checked her belly and felt that the baby had not turned properly. We tried different birth positions, unfortunately, it did not work.
Finally, we decided to move Nyadak to the hospital in Gambella which is also supported by us. There, colleagues can make a caesarean section in an emergency. The drive to Gambella takes one and a half hours over a bumpy road.
Luckily, everything went well and the hospital team was able to deliver the baby to health.
Nyadak came back to our maternity ward a day later. Mosquito and I greeted her warmly. The joy of reunion was great. In my joy, however, I quietly wondered for myself what would have happened if MSF were not here.
Without medical help, Nyadak and her daughter, whom she called Nyamire, would probably have died. It was a good decision to transfer her to the hospital in time. By the way, Nyamire means "decision". Her mother said that despite all the difficulties, the baby decided to live. A really fitting name - in my opinion.
The life here in Kule is full of existential dilemmas and needs for the people. At the same time, I experience a lot of warmth and humanity. No one is left alone – as during birth that I can't get out of my head – unfortunately, a stillbirth.
The baby's heart had already stopped beating in the womb. After the dead child was born, the mother was bleeding heavily. The atmosphere at the maternity ward was very tense. Everyone sensed it's about life and death. I had recently trained with my Ethiopian midwife team to stop bleeding.
The other patients began to pray and sing
The team took all the measures they learned: draining the bladder with a catheter, blood stopping medication, and finally, I was holding the wound closed. The other patients on the ward began to pray and sing.
After a felt eternity, the bleeding finally stopped. I was physically exhausted from the straining posture but at the same time happy and boisterous. My team and I did it together. We happily hugged each other.
In general, I'm always impressed by how much happiness and positive energy people live here in all the hardship.
The Nuer - as the ethnic group from South Sudan is called in the refugee camp - are very optimistic in my perception and their basic attitude is always: "Come what may. It's okay." I'm determined to cut a slice off when I'm back home. There are so many things that stress you in everyday life, although it is completely unnecessary.
I'll see if I can take more serenity into my everyday life. First of all, I decided to extend my one-year hospital break to two years with MSF. The work is very fulfilling for me.
It is enriching to work together with colleagues from so many different countries. I have come to appreciate not only the colleagues from the refugee camp but also the Ethiopian colleagues and my international team.
We all share the desire to provide emergency medical care for the most vulnerable who would otherwise not receive care. It is important to us that MSF does not ask about origin, religion or political beliefs.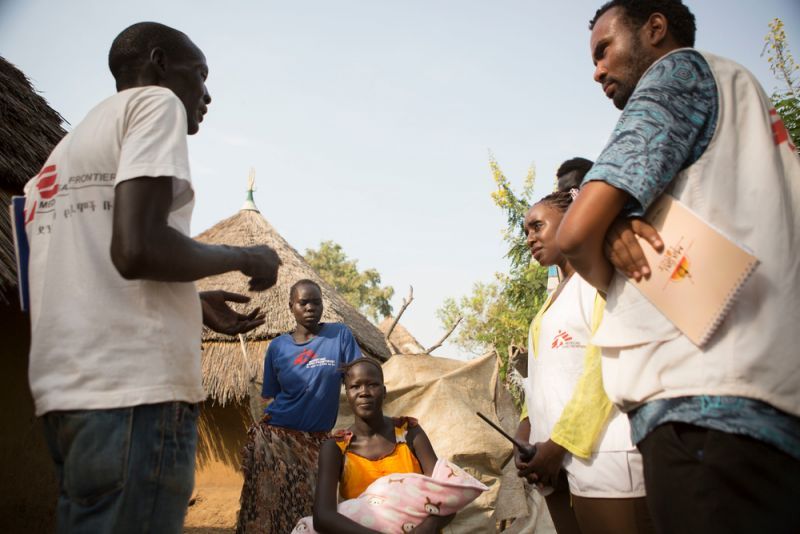 Not forgetting them
The people here, again and again, thank me for being with them and not forgetting them. Life in the camp depends on humanitarian aid. As soon as possible, people will return to South Sudan and take their lives back into their own hands.
This applies here - as in other crisis regions worldwide. For example, I am thinking of the Central African Republic, where hundreds of thousands are living on flight in their own country and in the neighbouring countries. Or the largest refugee camp in the world in Bangladesh, where we also operate.
In many places, our teams are where people would be without medical help - like here in Kule. I hope my letter has given you an insight into what is possible thanks to your donations. Currently, MSF is required in around 70 countries worldwide. Thank you for your support.
---
Read more about MSF's work in Ethiopia.