HIV, TB and malaria: world leaders' commitment to combat mass killers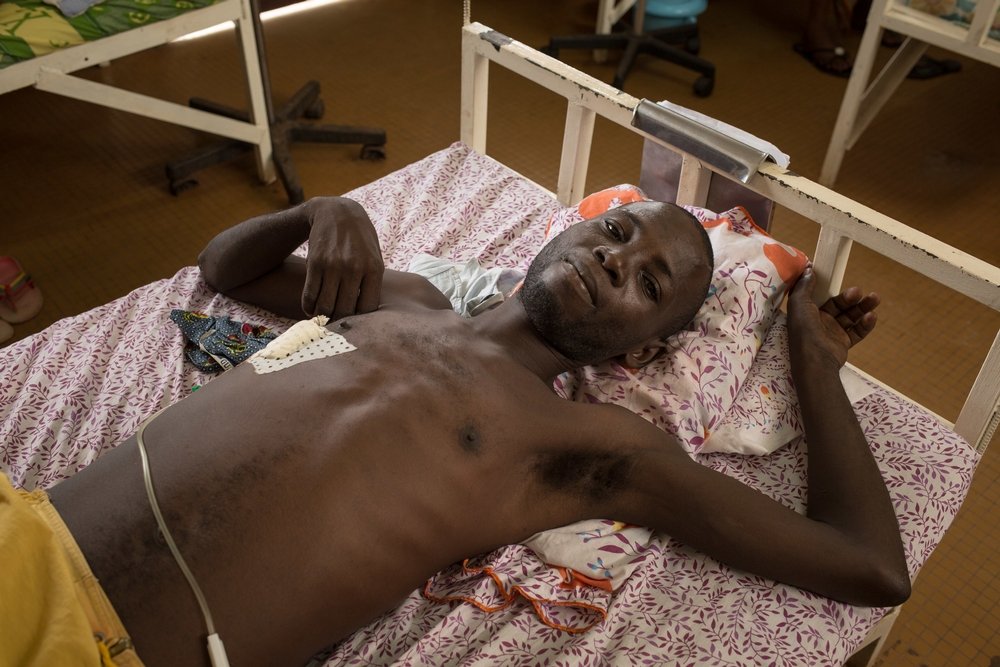 The replenishment conference of the Global Fund to fight AIDS, TB and Malaria (GFATM) that takes places in Montreal this week will be a yardstick against which to measure how well world leaders' actions reflect their words in promising to end the three epidemics by 2030. Such a goal was the centrepiece of the Sustainable Development Goals (SDGs) just a year ago. Falling short on the Global Fund's target would imply that global health is falling off the international donor agenda and would seriously undermine the fight against the three diseases. But the three epidemics are far from over as global health threats. Governments across the globe will need to increase their commitments to address critical gaps and implement the strategies proven effective to fight the main killers. On September 16th it will be up to the rich countries to step up to the mark.
Over the past 15 years, unparalleled resources for health have been mobilised. Following the Millennium Development Goals (MDGs) with their bold targets to combat HIV, TB and Malaria, the creation of the Global Fund played a significant role in the global stride to save lives and reduce illness as a result of the three diseases. By adopting the new Sustainable Development Goals last year, world leaders renewed their political commitment and set a target to end the three diseases as global health threats by 2030.
However, while the successes over the past decade have been widely celebrated, the gains made are still fragile. They must be consolidated and accelerated, and continue to evolve to produce flexible solutions to tackle new obstacles. The worthy aspirations and future vision enshrined in the SDGs will require concrete and resolute actions and commitments, right now. There is a real risk that by focusing on the distant goals of 2030, we will put off taking urgent steps, backed by adequate resources, that are needed today. We simply cannot let the longer term political commitments of the SDGs distract us from the urgent need for commitments necessary to address today's needs. Now is a good time for a reality check.  
HIV/AIDS - only half of the people in need have access to life-saving treatment
The human toll of HIV/AIDS
People living with HIV: 36,7 million

HIV-related deaths per year: 1.1 million

New infections per year: 2.1 million

Source: UNAIDS
Despite the now broadly adopted mantra of the global HIV response being on a fast track towards ending AIDS as a global health threat by 2030, HIV remains a major health threat. Nearly half of all people living with HIV are yet to be initiated on treatment and new research has found that progress in reducing new HIV infections has been slowing down. Over the past ten years 74 countries saw an increase in rates of new infections.
While our teams on the ground observe steady progress in many countries, success is uneven. In West and Central Africa (WCA) barely one in four people among the 6.5 million with HIV have access to treatment and the region accounts for one third of AIDS related deaths globally. At an MSF hospital in Kinshasa, Democratic Republic of the Congo, one quarter of people with HIV arrive too sick to be saved, while in Central African Republic, in one hospital supported by MSF, over 80% of deaths are related to HIV/AIDS.  The situation observed by MSF teams is reminiscent of the early 2000s in South Africa in terms of health facilities overwhelmed by severely ill patients, the result of a cruel lack of access to lifesaving antiretroviral treatment.
The importance of the Global Fund against HIV/AIDS
The Global Fund is the most important donor for many of these countries and its ability to encourage ambitious scale up by tripling the number of people on treatment, as well as providing them with sustained and reinforced financial and technical support will largely depend on a successful outcome of this year's replenishment conference.  
The world's efforts cannot slow down before reaching the finishing line. On the contrary, UN agencies and research institutes are calling for a frontloading of resources now with an additional USD 7 billion per year required annually in order to curb the epidemic. However, the latest trends in funding are pointing in the opposite direction. A recent report from the Kaiser Family Foundation shows that funding from donor governments had fallen for the first time in five years from USD 8,6 bn in 2014 to 7.5bn  in 2015. Other studies confirm a gradual funding slow down over time.  Compared to a 22.8% annual increase in development assistance for HIV/AIDS between 2000 and 2010, a significant drop to 1.3% is noted from 2010.
These gloomy trends reported at the AIDS conference in Durban last July cast a shadow over the innovations in the HIV response on display. This included new MSF data from Southern Africa and Swaziland suggesting that the implementation of "Test and Start" (WHO-recommended offer of treatment for all people living with HIV regardless of clinical status, reduce both illness and transmission risk) is feasible, and that community-led outreach and differentiated models of care are necessary to test and link people living with HIV to care and support them on lifelong treatment.
Tuberculosis: an old, curable disease with strains increasingly resistant to common treatments
The human toll of tuberculosis
New cases of tuberculosis per year: 9.6 million

New cases of drug-resistant TB per year: 480.000

TB deaths per year: 1.5 million

Source: WHO
Tuberculosis (TB) is now the largest deadly infectious disease, causing 1,5 million deaths annually.  Yet the fight against TB and especially multidrug resistant TB (MDR-TB) is lacking a sense of urgency. In fact, there is currently an astonishing discrepancy between the stated ambitious goals and the slow implementation. Less than half the estimated cases of MDR-TB are diagnosed successfully and only 2% of those in need of treatment for drug resistant TB have access to new, more effective treatments.
According to the Stop TB Partnership, if progress continues at the current rate, this 2030 target will not be reached until 2182. Reaching ambitious targets will require a paradigm shift in prevention and treatment responses, through optimising the use of existing tools, fully implementing effective policies and the new WHO guidelines as well as ensuring access to the most effective drugs and diagnostics.
A painfully slow progress in introducing badly needed new tools against resistant TB
For the first time in nearly 50 years, two new drug compounds for the treatment of MDR-TB  – bedaquiline and delamanid – have been conditionally approved where an effective treatment regimen is not otherwise available. However, more than two years after these new drugs were introduced, only 2% of the 150 000 who need them have access. MSF and other treatment providers have showed that treatment regimens containing one of the new drugs along with repurposed drugs can significantly improve the health of people with MDR-TB. There is an urgent need to make the drugs affordable and available to more people who need them. (Read MSF's Out of Step report)
Earlier this year, WHO recommended that countries move toward shorter treatment regimens for some people with drug-resistant tuberculosis (DR-TB), including people co-infected with HIV. This is a positive step and countries should rapidly move into putting these recommendations into practice, where feasible and appropriate.  Based on MSFs own experiences in Swaziland and Uzbekistan, shorter regimens are easier for people to tolerate and more effective for some people with DR-TB. Significantly lower costs could enable TB programmes to scale up treatment for many more people.
With new tools and evidence at countries' disposal, there is no time to lose in capitalising on the new international consensus on ambitious goals. Countries must now make progress in updating tools, strategies and guidelines in international guidance and provide the political will and adequate resources to ensure effective implementation.
As the largest donor, providing over 65% of international funding for TB, the Global Fund has a major role to play in the fight against TB by prioritising and leveraging new tools and recommendations while supporting countries in bridging remaining policy gaps.
Malaria : less than half the necessary funds are currently mobilised to eliminate malaria as a serious public health threat
People at risk for malaria: 3.2 billion

Malaria cases per year: 214 million

Deaths due to malaria: 472.000 a year
Among the three diseases, the biggest successes reported in reaching the Millennium Development Goals is Malaria, with a 60 percent decline in the mortality rate and a 37 percent reduction in the incidence rate between 2000 and 2015. However, with an estimated 214 million cases and 472, 000 deaths worldwide in 2015, malaria remains one of the major killer infectious diseases.
The progress seen over the last 15 years is also uneven. MSF teams continue to see contexts where the malaria toll on people's health remains high and where seasonal peaks lead to dramatic spikes in patient numbers. In 2015, MSF treated approximately 2 million cases of malaria around the world.
The number of cases observed in countries such as Democratic Republic of Congo and Central African Republic remain unacceptably high.
While the reasons behind these high numbers are multiple and often context specific, the responses have often remained largely reactive and suffered from weaknesses in the supply and provision of reliable and affordable prevention tools and treatments that are truly accessible for patients. Emergency responses to outbreaks that allow for flexible and rapid measures to be taken are also often lacking.
Meanwhile, in countries where substantial progress has been made, continued investment in surveillance and management is needed to avoid a resurgence.
Investment in Malaria prevention has resulted in more than half of Africa's population now having access to a mosquito net.  However, mosquito resistance to insecticides used to treat the nets is rising.
Alternative products for nets and spraying are becoming available, but they are more expensive and increased investments will be needed.
Moreover, parasite resistance to the most commonly used artemisinin based treatment has also been documented, accelerated by the use of drugs with substandard quality or administration, making resistance an increasing threat to gains made.
Global Fund replenishment: what is at stake?
For the three diseases, there is no doubt that increased overall financial investments will be needed to scale up access to treatment and improve quality of care. Additional international resources in the next five years are a prerequisite in order to reach ambitious international targets for the three diseases. Without international support, many countries will be forced into backtracking, with devastating consequences for the people affected and at risk.
The Global Fund has been instrumental in enabling governments, health agencies and civil society groups to implement innovative strategies, to pay for medicines and health staff, and to tackle stigma and obstructive policies and laws. Working alongside the Global Fund supported programs, MSF teams have witnessed the visible progress in improving the response to major causes of people's ill health. In many countries the GF is now providing half or a third of overall health expenditure while many bilateral donors have withdrawn or reduced funding for health.
For this replenishment cycle, the GF has already tempered its ambitions. The target of USD 13 billion for the 2017-19 period is largely based on what is considered feasible to achieve from donors and significantly lower than what is really needed to do the job the Global Fund has been tasked with.
Gains against HIV, TB and malaria are fragile and further progress could stall without new resources.
Yet, donors refer to a 'resource constrained environment' and use the rhetoric of 'shared responsibility' and 'sustainable financing' to convey how poorer countries with increasing Gross National Income (GNI) per capita are now expected to more rapidly finance their own healthcare, while using 'untapped' resources from the private and loan sectors. Or they refer to domestic agendas and conveniently use the opportunity to finance refugee reception costs with foreign aid budgets.
In reality, countries crossing Gross National Income (GNI) per capita thresholds towards acquiring the label of Middle Income Country (MIC) are home to the majority of people affected by HIV, TB and Malaria, and access to health care is often limited and inequitable. Using a simple economic indicator such as GNI per capita is widely agreed as inadequate to assess health needs and the need for international assistance.
While indeed domestic resources for the fight against the three diseases have increased over the years, UNAIDS' projections of annual HIV funding that expect a 450% increase in domestic funding by 2020 in Low Income Countries and 530% for Lower Middle Income Countries appear highly unrealistic goals  given the political and economic context.
While OECD donors tend to highlight the potential of private finances in financing the SDGs, there is little or no evidence that these can fill the existing gap to address current health challenges in the developing world, and in particular in assuring increased access to care for the most vulnerable. Achieving the SDGs will be impossible without significant public funding from international sources.
The implementers involved in the disease responses have continuously been improving on 'value for money', long before the current donor obsession with the concept. But it will not be possible to do even more with even less. The discussion must be focused on how to achieve ambitious goals by using effective strategies, not on how to simply further ration funding, while pitting people's health needs in Low and Middle Income countries against each other in the process. Donor governments backtracking on the disease response now would only mean trading their investments for lives.
Robust pledges at the Global Fund Replenishment in September 2016 would not only demonstrate a continued commitment to finishing the job of the SDGs , but would also indicate a sustained international commitment to fighting major health threats and improving people's health globally. 
If donors fail to meet their part of the deal towards achieving global health targets it could be a harbinger of things to come: of global health being neglected among a range of development issues on an expanded SDG menu, and a Global Fund forced to wither into a less effective and less strategic tool.
Instead, donor countries should honour their commitments, and build on past achievements by making bold pledges that will enable countries to have a real impact in the fight against the three main killer diseases.