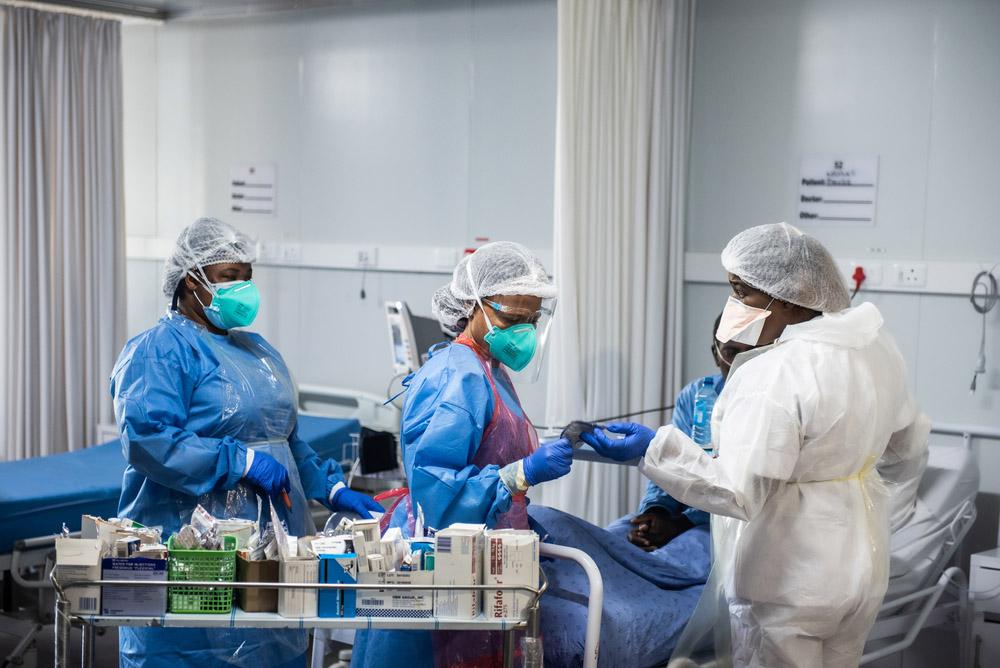 How donations to MSF were spent in 2020
A year like no other: a letter from MSF Southern Africa treasurer, Walter Taderera
MSF's medical humanitarian work is rooted in responding to emergencies and crises, but there is no way we could have completely prepared for the largest global public health crisis in recent history.
COVID-19 presented our medical teams around the world with several daunting challenges in 2020.
Within several weeks of the outbreak, it became clear that healthcare systems and healthcare workers were going to need as much support as possible, especially in under-resourced settings. But not even the world's wealthiest countries could sustain the high-level medical care needed to avoid massive and devastating loss of life. As a result, our teams rendered assistance not just in low-income countries, including 28 countries in Africa, but we also intervened in cities in Italy, Belgium, Spain and the US.
To date, MSF has provided support to COVID-19 patients in 80 countries on five continents and our interventions are ongoing during 2021.
"It is the unique nature of how MSF is funded – via a network of supporters across the globe – that enables us to retain this independence, neutrality and impartiality. With the emerging Covid-19 vaccine inequality that we also now see in 2021, guarding our independence and fighting for our vulnerable patients is just as important as it ever was."
Andrew Mews, General Director, MSF Southern Africa
Our second challenge was maintaining medical care for our existing patients in regular programmes worldwide as restrictions on the movement of staff, and medical supplies threatened our action. Of particular concern was ensuring that our HIV and TB patients could continue receiving treatment without risk of exposure to COVID-19 infection at health facilities and in communities.
Thirdly, while for some, it felt like the world had come to a standstill, it felt like it was spinning rather uncontrollably for millions of vulnerable people. Conflicts raged – people were wounded, people continued to be displaced, babies were born. Last year, two devastating conflicts erupted in northern Mozambique and Ethiopia – reminding us just how unpredictable war can be, even in a pandemic.
We are reminded daily why the work of MSF is so important. We go where we are needed most to provide life-saving medical care to people affected by conflict, disasters, epidemics and exclusion from healthcare.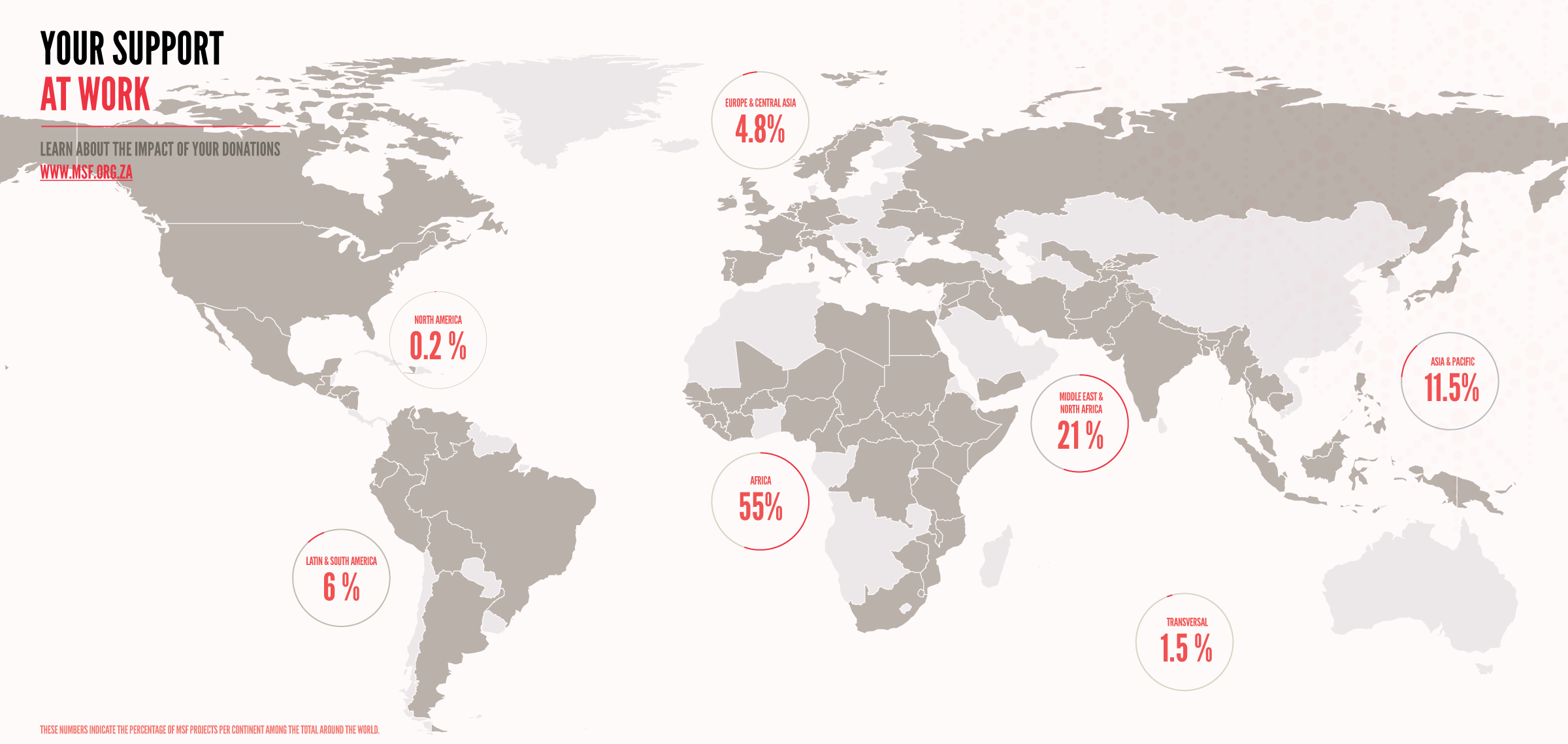 However, there would be no access to patients at all without your continued support that keeps our operations going year after year, crisis after crisis.
It is thanks to your generosity – in the midst of an unprecedented global crisis – that our medical teams were able to conduct over 9.9 million outpatient consultations across 499 projects, worldwide in 2020.
For the 2020 financial year, MSF Southern Africa once again received an unqualified audit of our financials from our auditors, PWC, confirming that our team manages your continued generous contributions with the utmost respect, care and accountability. 
REVENUE
MSF ENSURES INDEPENDENT, IMPARTIAL AND NEUTRAL MEDICAL CARE THROUGH INCOME FROM PRIVATE INDIVIDUAL DONORS AROUND THE WORLD. 
88% of this income goes directly to our field projects. MSF Southern Africa is one of two sections in Africa and receives financial support from MSF's Belgian headquarters (OCB). The powerful contribution of African donors is essential to enabling our capacity to demonstrate independence when negotiating access to people trapped in conflict areas.
| | | |
| --- | --- | --- |
| CHANNEL | 2020 | 2019 |
| INDIVIDUAL MONTHLY GIVING | 29 902 941,00 | 29 992 770,00 |
| MAJOR GIFTS | 1 456 692,00 | 5 194 369,84 |
| CORPORATES, TRUSTS AND FOUNDATIONS | 18 088 400,00 | 1 669 486,00 |
| LEGACY | 4 679 330,00 | - |
| INDIVIDUAL OCCASIONAL DONORS | 2 567 010,00 | 1 309 114,00 |
| TOTAL PRIVATE CONTRIBUTIONS | 56 694 373,00 | 38 165 739,84 |
| GRANTS RECEIVED | 84 576 785,00 | 77 987 822,38 |
| OTHER INCOME | 720 155,00 | 733 168,75 |
| | | |
| TOTAL REVENUE | 141 991 313,00 | 116 886 730,97 |
| EXPENDITURE | 135 053 022,00 | 118 803 292,37 |
| | | |
| SURPLUS/NET LOSS | 6 938 291,00 | -1 916 562,40 |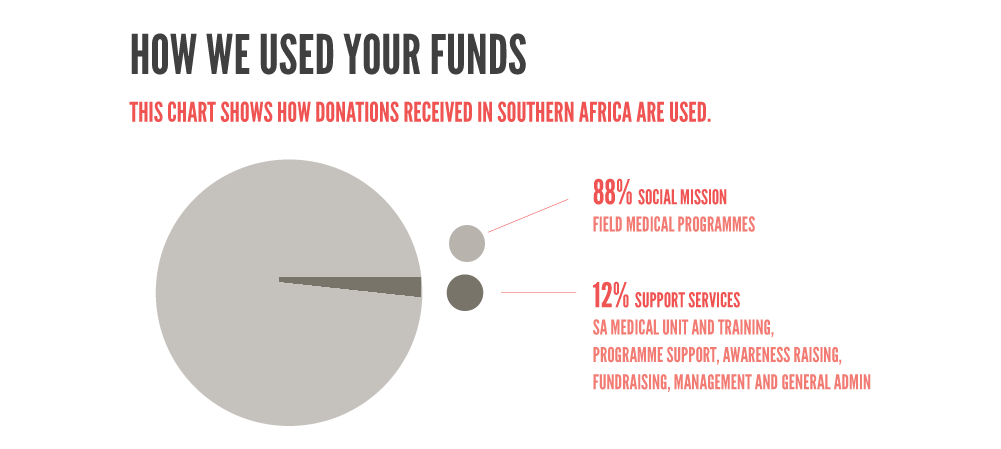 | | |
| --- | --- |
| PROGRAMME | REVENUE |
| SOCIAL MISSION | 49 682 019,10 |
| SUPPORT SERVICES | 7 012 353,90 |
| | |
| TOTAL EXPENDITURE | 56 694 373,00 |
Annual Financial Statements 2020
pdf — 474.12 KB