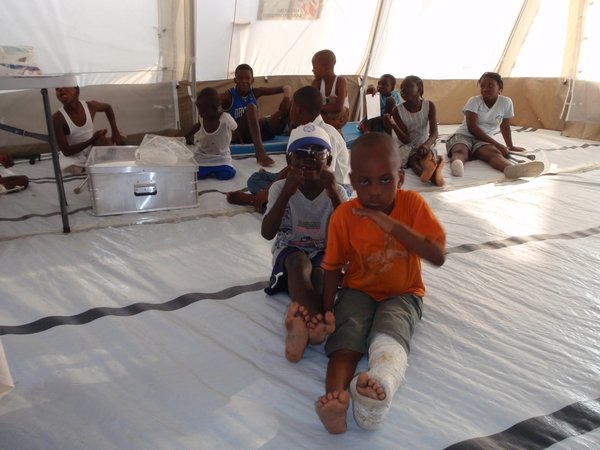 For more than a month, Walson and his wife have been keeping watch at the bedside of their five year-old son, Walderson, at the Doctors Without Borders (MSF) Saint-Louis Hospital in Port-au- Prince. They take turns at the hospital while caring for their other three children. The family lives in the Delmas 33 neighborhood, in a little tent set up in front of their house, which was badly damaged by the earthquake that hit the island on January 12.
Some time ago, Walderson suffered third-degree burns to his right leg. His mother was cooking in their tent while Walderson was playing with his twin brother. His pants caught on a pot of boiling water and he was scalded over 12 percent of his body.  "Ca faisait mal ampil," the child says, in Creole. "It hurt a lot."
"He had blisters on his skin and he was in pain," Walson explains. He is wearing the protective clothing required in this sterile unit, which is under a tent. "Fortunately, his mother snatched him up right away. He used to go to the operating room and receive his treatments under anesthesia, but now we just change his dressing every other day."
The emergency surgery team at MSF's tent hospital, set up on the playground at the Saint-Louis school, operated on Walderson. In early April, when MSF established the island's only specialized treatment unit for victims of severe burns, Walderson was admitted.
All 27 beds in the unit are occupied. Some patients were injured in car accidents, while others were electrocuted while repairing wires damaged in the earthquake. Most are children burned by boiling water or oil.
Living conditions for the hundreds of thousands of earthquake victims – in Port-au-Prince and elsewhere – create considerable risk of domestic accidents.  In cramped spaces that house large families, meals are prepared on the ground, over burning coals.
Today, Walderson is working very hard. He sits on the bed, stands, takes a few steps, then lies down again. The burn unit's large sterilized tent has become his playground, but Walderson already has other plans. "I want to go to school to learn and play soccer outside."