Beneath a leafy mango tree in the backyard of Nametil health centre, the main health facility in the Mogovolas district of Mozambique's Nampula province, volunteers sit in a tent waiting to donate blood. They have responded to Doctors Without Borders (MSF) call for more voluntary blood donations. The blood they donate will better support the medical response for people suffering from severe anaemia, primarily caused by malaria. 
In this region, MSF teams are running a blood donation campaign in close collaboration with the Ministry of Health. The initiative aims to ensure the availability of this vital fluid for patients with severe anaemia in a context of high prevalence of neglected tropical diseases (NTDs), such as schistosomiasis and soil-transmitted helminths, and of diseases exacerbated by the climate crisis, such as malaria.
Mercia, a 25-year-old mother, has just been given the green light to donate blood after passing the necessary screening and tests. "So far, so good. I was a little nervous because it's my first time donating," she says, nestled in the hospital chair with a smile on her face. Mercia says she sees giving blood as a noble act of love toward others. Motivated by the awareness sessions run by MSF, and by the desire to save lives, she pledges to donate regularly and invites others to embrace this cause.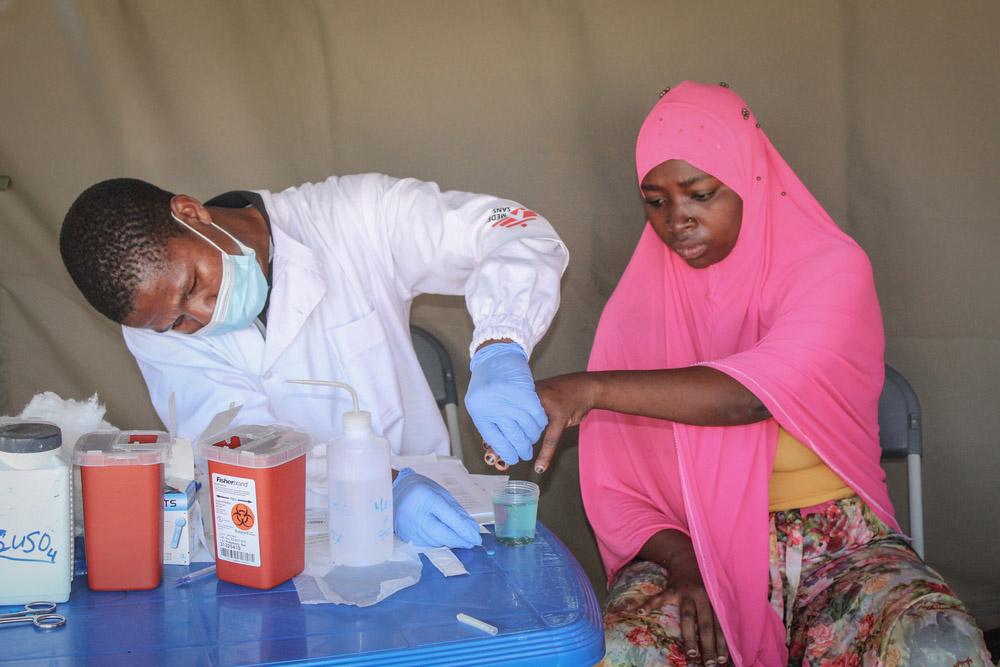 Eurico Airone, an MSF staff member in charge of the blood bank at Nametil health centre, explains the safety measures in place for this life-saving process. After collecting blood from donors who have previously been screened for HIV, syphilis, and hepatitis B and C, among other conditions, the blood is safely stored in refrigerated containers. It is then transported over 70 km away to Nampula hospital centre for further testing, to ensure safe transfusion processes. 
"The rapid testing process before donation is critical to determine whether or not the candidate (volunteer) is eligible to donate blood," explains Eurico. He adds that the donation only proceeds if the candidate meets the requirements, ensuring both donor and recipient safety.
By the end of this day, close to 20 units of blood have been collected, a significant increase compared to the daily average collection under routine conditions, which is three units.
The rapid testing process before donation is critical to determine whether or not the candidate (volunteer) is eligible to donate blood
Eurico Airone, MSF Staff member
In Nampula province, people are prone to baseline anaemia, mainly due to iron deficiency caused by poor diet and a high prevalence of intestinal parasites. When other diseases that cause anaemia enter the equation, the situation worsens. The MSF-Ministry of Health blood donation campaign plays a crucial role in safeguarding the health of these communities.
MSF health promotion teams at the Nametil health centre blood bank regularly run blood donation campaigns with the goal of finding at least three voluntary donors per day. Additionally, the MSF team provides supervision and training for the clinical team responsible for blood transfusions to ensure staff are well prepared to respond to any emergencies associated with the process.
Mozambique ranks among the countries that are most vulnerable to climate change. Since 2022, Doctors Without Borders (MSF) teams have been actively responding to climate-sensitive diseases in the Nampula province of Mozambique. The primary objective of our activities is to address the gaps in the healthcare system in relation to neglected tropical diseases such as Lymphatic Filariasis and Schistosomiasis, as well as vector-borne diseases like severe malaria and dengue.